Ireland has marked a milestone in its membership of the European Union.
On 22 January 1972, the Treaty of Accession was signed at a ceremony in Brussels by Taoiseach Jack Lynch and Minister for Foreign Affairs Patrick Hillery.
Today, Taoiseach Micheál Martin inspected the original treaty at the National Archives of Ireland.
During the visit, the Taoiseach reflected on the transformative impact of 50 years of membership and Ireland's emergence as a modern, open economy and society.
It is the first of several events planned to reflect on the 50 years of EU membership, which will take place across the year.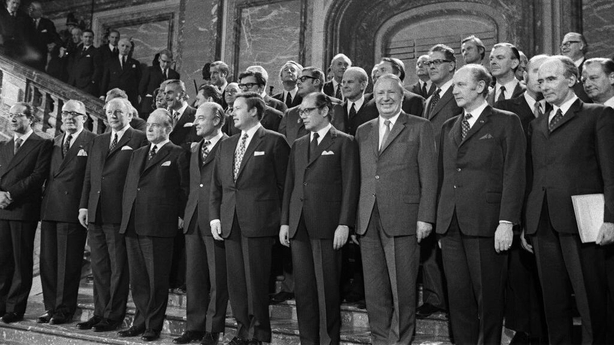 Ireland first applied for EU membership in 1961 and again in 1967. The Accession Treaty followed a period of intense negotiations, which began in September 1970.
It was subsequently endorsed by a large majority of the Irish people at a referendum held on 10 May 1972.
Turnout was high at 70.3% and four out of five people (83.09% of the electorate) voted in favour. Ireland joined the EEC on 1 January 1973.
---
RTÉ Archives: Ireland says yes to Europe | EEC Yes or No?
---
European Commissioner Mairead McGuinness described treaties as historical high points, and said Ireland's Accession Treaty was one of the most important milestones in its history.
"It brought the country into the European family allowing Irish people's talents, ingenuity and entrepreneurial spirit to blossom into building better lives and a prosperous, secure future.
"Never has Ireland been more at the heart of Europe than it is now, with all the responsibilities and benefits that go with EU membership. All this started with the Accession Treaty signed on this day 50 years ago," she added.