The Health Service Executive has said it expects more hospitals will have to curtail non-essential work in the coming days, because of the high number of staff absences due to Covid-19.
HSE Chief Operations Officer Anne O'Connor said they expect the staffing situation to get worse in the coming days and that it is not clear when the situation will peak.
She said in the Mater Hospital in Dublin there are 400 staff out, 250 of whom are Covid-positive and that has led to the curtailment of work and the cancellation of all leave.
"There's about 10% of staff out and that is of serious concern to us in one of our large model four hospitals," Ms O'Connor said.
We need your consent to load this rte-player contentWe use rte-player to manage extra content that can set cookies on your device and collect data about your activity. Please review their details and accept them to load the content.Manage Preferences
She said across the UL Hospital Group there are 320 staff member out and that almost doubled from yesterday's figure of 170. She added that they are bracing themselves for further issues in the comings days.
"We expect to see more and more of this, a rapidly increasing number of staff unavailable to work...we don't know when this will peak," she said.
Ms O'Connor said the high incidence rate was contributing to the staffing problem and that could result in bed closures.
"All sites will manage their capacity in line with the available staff. So, clearly we can't have beds open if we don't have staff for them. And we are wholly dependent on staff being at work," Ms O'Connor said.
"If we don't have sufficient staff there, our first step will be to reduce activity where we can reduce, it in terms of the scheduled work. We will then look at redeploying staff either within the site or across different hospitals within the hospital group.
"And then after that, it will be about closures of beds. And we know that there are certain beds that we just cant close, so we'll be prioritising on the basis of clinical prioritistion."
She appealed to the public only to attend emergency departments if needed.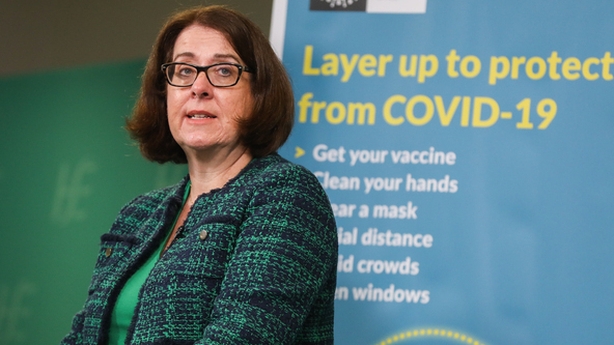 Meanwhile, the Irish College of General Practitioners said that new rules which say a GP can certify if someone has symptoms of Covid-19 for the purposes of illness benefit will create too much of an administrative burden on GPs.
Covid adviser to the ICGP, Dr Mary Favier said there needs to be more work done by the Department of Social Protection and the HSE which would allow patients to self-certify online without contacting a GP.
"It's an issue for a number of reasons. One because of the sheer demand on general practice services at the moment, with a significant booster campaign, we're only undertaking otherwise emergency urgent work. But also to take on this administrative burden is an issue and would cause a lot of difficulties for GPS and displace new, important non-Covid work," Dr Favier said.
Dr Favier said she supported changed to the rules, but they did not discuss this element in enough detail with GPs.
"It needs a little bit more thought. The HSE and the Department of Social Protection need to work together so that patients would self-declare onto the HSE website rather than through the general practitioners," she said.
"Because in times that we're in, it's just not going to work for GPs to face this very significant amount of work, which are entirely appropriate institutional changes, people need to get social welfare, they need to get notes to say they're fit for work, they're fit for school, but not through the general practitioner."
---
---
Following a change to the guidance around PCR testing, the Government announced three new documents can be used to apply for Enhanced Illness Benefit.
The Department of Social Protection says it will now accept confirmation from the HSE of an antigen test order, a HSE close contact text or certification from a GP of Covid symptoms.
In a statement, the department said that people applying for Enhanced Illness Benefit have always been able to use GP certification as proof of having Covid-19.
These changes being introduced by the Department of Social Protection offer another option for customers who need to apply for this payment and should decrease the burden on GPs.
The department recognises the pressure that GPs may feel and appreciate their co-operation at this very challenging time for all.