GPs and infectious diseases experts have expressed concern about the changes to the rules around Covid-19 testing.
They said the use of the PCR system to confirm positive antigen tests in some people is not the best use of resources and could discourage people from correctly isolating.
However, the Health Service Executive welcomed the move, saying it will free up PCR testing capacity.
For most of the pandemic, public health officials had discouraged the use of antigen tests by those with symptoms of Covid-19, but in a major U-turn last night, the Government said antigen tests should now be used for some young people who are symptomatic.
It said this would ensure the best use of testing capacity.
Under the new guidelines, people aged between four and 39, who develop symptoms should self-isolate immediately and take regular antigen tests.
They should only book a PCR test if they have a positive antigen result. Healthcare workers are exempt from these new rules.
We need your consent to load this rte-player contentWe use rte-player to manage extra content that can set cookies on your device and collect data about your activity. Please review their details and accept them to load the content.Manage Preferences
The new guidance around self-isolation has reduced the isolation time from 10 to seven days for those who are vaccinated and who have had a booster at least seven days before or who have had Covid in the past three months.
---
---
However, GPs and infectious diseases experts are concerned about the changes.
Dr Ilona Duffy, a GP in Co Monaghan, said she believes the move was a "big mistake" and it would discourage some people from correctly isolating.
"I don't actually feel this is a good idea. Those who are symptomatic and testing positive with an antigen test, it's clear they have a Covid infection, and we can advise those people on what they should be doing, which is isolating and there should be a means of being able to register them," she said.
The HSE said it will be possible to log a positive antigen result on its website from Monday, 3 January.
Dr Duffy added: "My concern is those people who are symptomatic and are having negative antigen tests, especially if they're vaccinated and especially if they have mild symptoms, my fear is that they're going to consider that negative antigen test as meaning they don't have infection.
"And they're going to continue to mingle to mix and perhaps even leave their homes and not follow the advice, which is that they should be staying home and presuming they have Covid.
"So I think this is a big mistake and it's not going to help in our attempts to stop the ongoing spread of the Omicron variant of this virus."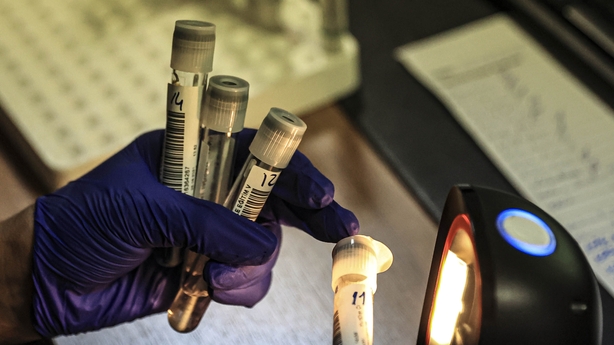 Dr Duffy also said she is concerned about the impact the move could have on the cost and supply on antigen tests here.
The Infectious Diseases Society of Ireland also expressed concern about the new rules.
It said a positive antigen should be considered a true positive and a system should be developed to allow the public to report these.
In a statement, the society said: "Insisting on confirmatory PCR testing duplicates effort for little gain at a significant cost to the public purse."
However, it added, a negative antigen test in a symptomatic person does not exclude Covid infection and these cases should be prioritised for PCR testing.
"Clear consistent messaging is necessary to ensure we all follow the public health advice.
"Our concern is this will lead to confusion and place undue burden on symptomatic individuals who may opt not to comply with guidance rather than isolating and seeking amd performing a test."
Dr Cathal Ó Broin, Consultant in Infectious Diseases, St Vincent's University Hospital said: "If we use our capacity to confirm a diagnosis we already know it's simply not effective.
"The Ferguson Report published in March highlights the need from infrastructure to report antigen testing and has been very mixed communication about antigen testing since then. So, at the moment we're left in a system where it's not working as effectively as it should."
The HSE said the new rules will be kept under review, but that the changes will free up testing capacity.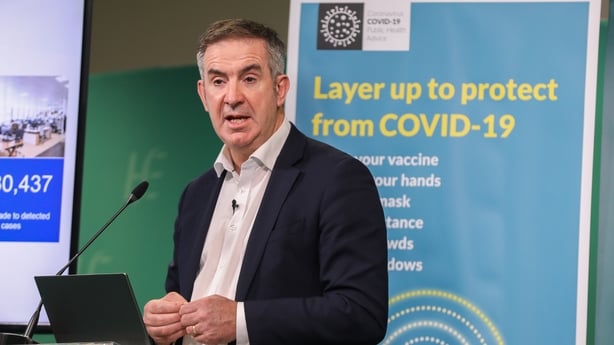 Damien McCallion, HSE Test & Trace and Vaccination Lead, said that this is an initial step and the HSE will keep everything under review.
"What is important in terms of the steps we've taken for Monday is that it will release PCR capacity and that will hopefully help to address some of the delays that people are having," he said.
"But this is something we're going to have to monitor day by day. We had 100,000 PCR tests [a week] in September, we've built that to 300,000.
"And now we have 350,000 antigen tests giving a total testing capacity of 650,000 a week in place from Monday, that's well over 10% of the population and that may still not be sufficient.
"That's something that we'll have to review and monitor as we go through the week, given the widespread transmission of this disease at the moment."
Mr McCallion said that, at present, a positive PCR is required for things like 'recovered from Covid' certification and illness benefits.
"Our system for contact tracing is very sophisticated and highly automated and that's currently based on the PCR test and an automated solution," he said.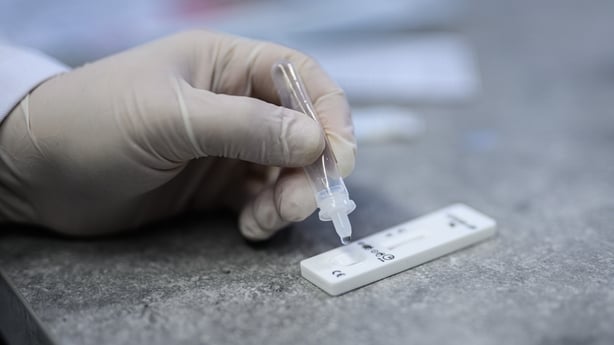 "We are, however, looking at how we can incorporate those positive antigen results directly through to our contact tracing system, and that's another initiative that we're working on as part of our surge planning."
From Monday, those who qualify can request free antigen tests from the HSE.
"People will go to the 'book a test' section on the HSE website, or then be directed based on their age and also in terms of their particular group that they're in," Mr McCallion said.
"They will be directed to a web link which will allow them then to book an antigen test or a PCR test as appropriate. On the antigen test, people will get a box of five and they must take a test for three consecutive days on receipt of those, but still follow the public health guidance and this is really important."
Mr McCallion also said the HSE has the supply and capacity to provide the free tests.
"We have, at the moment, well over a million tests and we're continuing to work on supply chains with good access, certainly in the short-term, January into February. We're continuing to work to look to strengthen that further should we need to do so."