The first batch of Covid-19 vaccines arrived into Ireland on St Stephen's Day last year.
The doors of a lorry were opened to reveal the slightly belated Christmas present - two solitary white boxes.
Inside, there were around 10,000 doses of vaccine from manufacturer Pfizer/BioNTech.
The supply was small and the task was enormous: to vaccinate the population.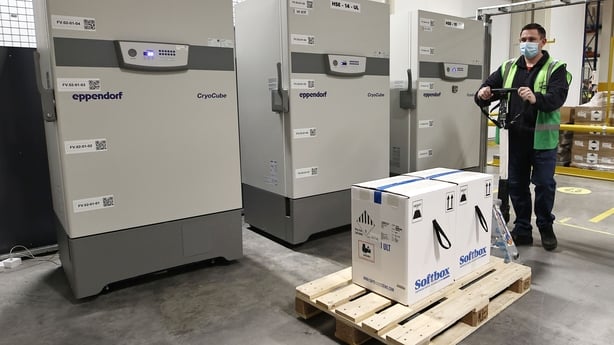 Humble beginnings
"Two very unremarkable cardboard boxes arrived. It was an emotional moment, but somewhat underwhelming as a visual," remarked Professor Brian MacCraith, who chaired a high level taskforce which oversaw the vaccine roll-out.
Three days later, on 29 December, the first doses made their way into the arms of their first recipients: Annie Lynch, a patient at St James's Hospital in Dublin and Bernie Waterhouse, a clinical nurse manager at the hospital.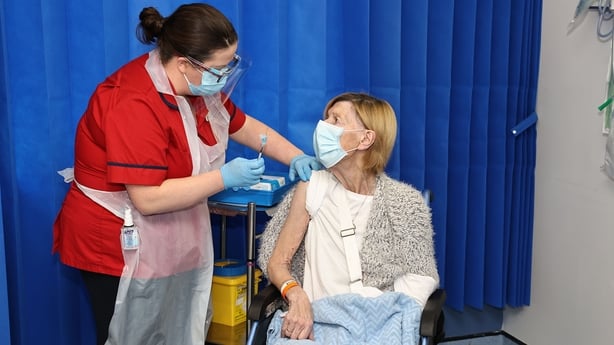 "We were really excited about the vaccine, because the Covid wards were really tough at that time," recalled Ms Waterhouse.
Bernie Waterhouse worked on a Covid ward looking after patients with the virus for a year-and-a-half.
"It was quite a negative place on the Covid ward, but the vaccine brought great positivity that staff, relatives could get back to normal."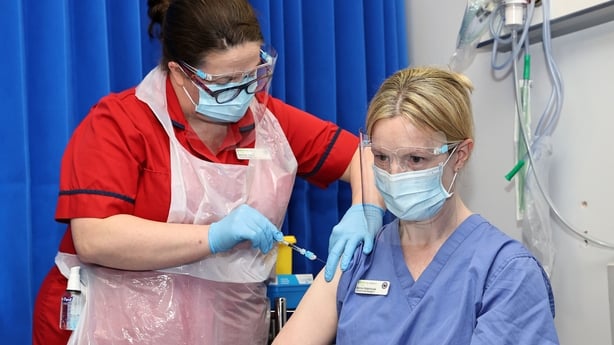 The third and most severe wave of Covid-19 followed in January 2021.
But Ms Waterhouse said that the difference the vaccines made to patients was clear.
"Definitely in the last year, the patients, when you compare this year to last year, are much less sick than they were this time last year. There was a lot of deaths, a lot of transfers to ICU.
"There is still Covid around now, but much less than what it was and staff and patients are much less sick from Covid," she said.
Vaccination roll-out
From those two boxes, the vaccination programme grew to administering up to 50,000 doses per day, and more than 350,000 per week at the peak of the roll-out during the summer.
In the 12 months of the initial roll-out, 7.5 million vaccine doses were administered in Ireland, from which more than 94% of the adult population is fully vaccinated, and more than 90% of the over-12s.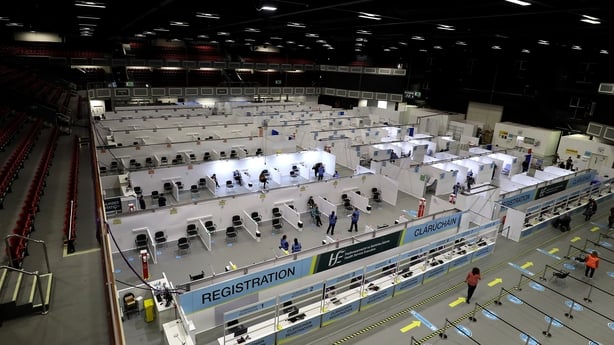 "The vaccine programme globally has been a massive success", said Kingston Mills, Professor of Experimental Immunology at TCD.
"It has probably saved hundreds of thousands of lives and millions of hospitalisations from Covid-19.
"The programme in Ireland was very impressive. The HSE did a great job in the early part of the campaign getting as many people as possible vaccinated."
Prof Mills said it was also a massive scientific achievement to have vaccines ready within a year of the start of the pandemic, backed by a decade of work and research.
Since the first Pfizer/BioNTech delivery, three other vaccines were approved for use in Ireland from AstraZeneca, Johnson & Johnson and Moderna.
"It's a huge success for science, the industry and now for society," he said.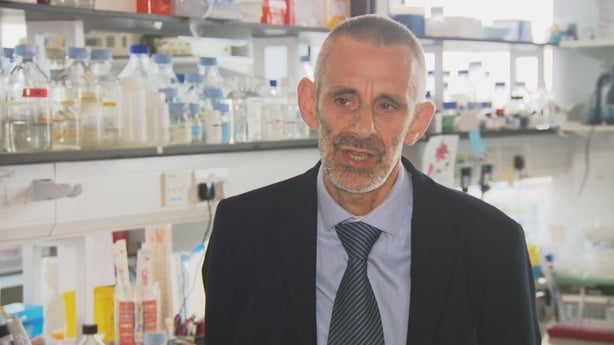 The plan involved GPs, mass vaccination centres and pharmacies, but was not without its challenges.
"It was a series of highs and lows," says Prof Brian MacCraith of the roll-out.
"There were many challenges, we had supply volatility and constraints. There were many changes in the clinical guidance, which were necessary but difficult. Overall, we had 35 operational plan changes in the programme itself," he said.
Prof MacCraith said Ireland's vaccination programme was a "remarkable story of human endeavour", of the "commitment to public service", and the "remarkable response of the Irish people".
"We're still number one in Europe," he boasted, adding that it is not a competition, but rather demonstrates the success of the programme.
Such a success, that countries like Jamaica and New Zealand looked to Ireland for advice and expertise on how to implement a vaccine strategy.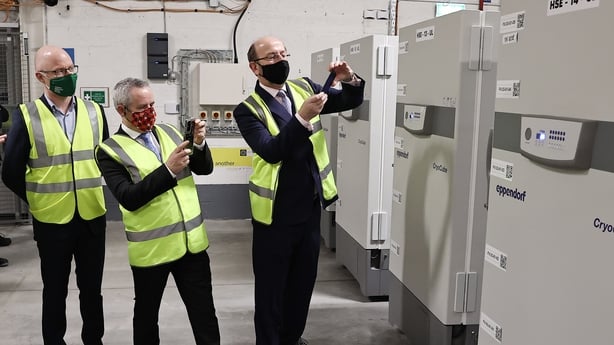 Vaccine inequality
Ireland's high vaccination rates stand in stark contrast with uptake around the world.
The global rate is about 40%, while some developing countries are below 2% vaccination.
While Ireland has committed to donating around 5 million doses through the Covax scheme and through other bilateral agreements, many experts and organisations say the solution to this inequality is for the vaccine manufacturers to lift the patents to allow poorer countries to make vaccines themselves.
"There is a really stark divide between access to vaccines between rich countries like Ireland and poor countries in the global south," said Infectious Diseases specialist Prof Cliona Ní Cheallaigh.
"It's incredibly shocking that there are still many countries where healthcare workers aren't vaccinated going into work, or people who are old or at risk of severe disease," she said.
"Hundreds of thousands if not millions of people are dying deaths that could be prevented if we just shared the recipe for the vaccine, if we allowed those countries to go ahead and manufacture the vaccine themselves."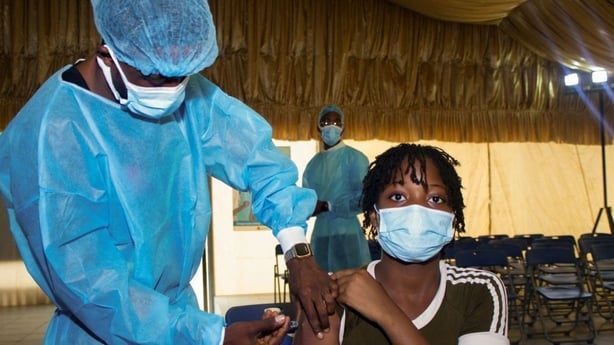 Prof Ní Cheallaigh said that the TRIPS waiver needs to be lifted and that "hundreds of factories" in India, Brazil and South Africa are ready and have the capacity to manufacture vaccines if they could.
Professor Kingston Mills agrees.
"It would be nice to see the manufacturers waive the patents. It would give more equity across the globe. These countries simply cannot afford to buy the vaccines at the cost the companies are selling them at," he said.
Not improving global vaccine supplies in this way, has the potential to come back to bite us in other ways, according to Prof Ní Cheallaigh. The longer the virus spreads among unvaccinated populations, the greater the risk of new variants emerging and the longer the pandemic could continue.
The Irish Pharmaceutical Healthcare Association said the TRIPS waiver debate is a "diversion", and has urged richer countries with surplus doses to share them.
It said manufacturers are investing in their own sites and working with partners to scale production.
"We urge richer countries with surplus doses to share them with poorer countries. We urge governments and NGOs to work with poorer countries to help them to absorb and distribute the vaccines they get within the shelf life and to help to reduce vaccine hesitancy, which is often very high in these countries," the IPHA said in a statement.
"The TRIPS waiver debate is a diversion: the real question is how can much more of the world's population be vaccinated faster? Two ways: surge production through on-site investments and voluntary, collaborative links between vaccines innovators and expert manufacturing partners, and share more surplus vaccine doses in developed countries with poorer ones.
"Although the EU and the US are boosting their dose-sharing commitments, that needs to happen faster and at greater volumes. Key to vaccinating poorer countries' populations faster is improving their capacity to absorb and distribute vaccines. Often, that capacity is very limited".
The IPHA said that waiving patents would make no difference to Covid-19 vaccine production, and would set a "dangerous precedent for the discovery of new medicines for other diseases" and "could hamper the scientific community's response to variants of concern".
Boosters
One such variant is the new Omicron variant, first detected in South Africa and now circulating widely in Ireland.
Authorities here are trying to rapidly roll out a new booster campaign to further protect people from the new variant of the virus.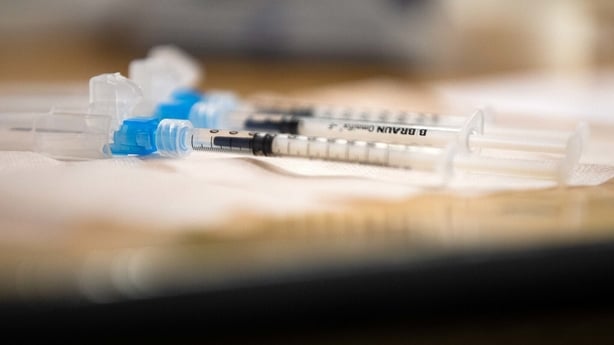 "It turned out that the MRNA vaccines turned out to be particularly effective, and the others perhaps not quite as effective. But all vaccines prevented hospitalisations, at least with the early variants. It's only with Omicron that vaccines are really struggling, even with two doses. That's why the third dose is so important", said Prof Kingston Mills.
Prof Brian MacCraith said a baseline infrastructure from the original roll-out existed, and the HSE has been able to build that up again for this new phase.
Indeed, this momentum helped the programme reach the milestone of 1.5 million booster doses administered before Christmas.
He said that over the coming weeks, everyone over 50 and in high risk groups will have been vaccinated, or had an opportunity for a walk-in or a vaccine by the end of the year.
"That's a significant milestone," he said.
Not only will those fully vaccinated people be offered a third dose, plans are under way to begin vaccinating younger children too.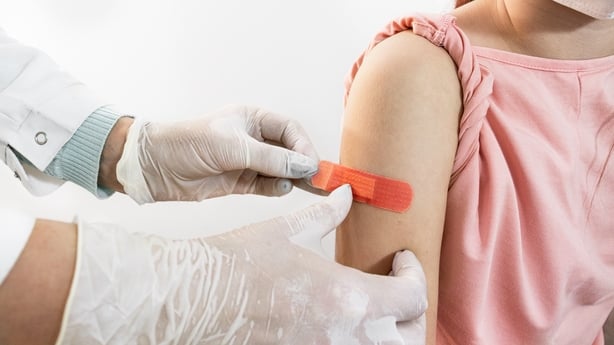 How long will such a vaccination oversight group be in place here?
"I'll stay as long as I'm needed," said Prof MacCraith.
"It's a privilege to be involved in such a significant national effort," he said, adding "I hope it's a short period".
"I hope this booster phase will bring us to a much better place."
But what we do here in this country will not be a global solution.
And now, two years after Covid-19 first emerged, the now famous words from the World Health Organization still ring true.
"No one is safe, until everyone is safe."