The Chief Executive of Oxfam has said Ireland and the European Commission, are acting as "blockers" to poorer countries getting Covid-19 vaccines.
The charity has highlighted vaccine inequity; its data shows countries in Sub-Saharan Africa have only received enough doses to vaccinate one in eight people.
The World Health Organization figures show a similar picture; it said only 7.2% of the population of Africa are fully vaccinated.
To bring the comparison a little closer to home; the Democratic Republic of Congo has received enough doses to vaccinate just 1% of the country's population; last week, the HSE said 93.5% of adults in Ireland are fully vaccinated while almost one million booster vaccinations have been administered here.
It was one year ago this week that Margaret Keenan became the first person in the world to receive a Covid-19 vaccination - outside of a clinical trial.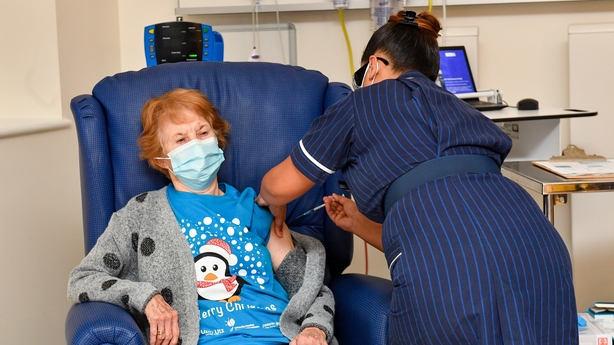 Seeing the 90-year-old grandmother, living in the UK but originally from Enniskillen, get the jab was a momentous occasion that gave people a much needed boost after a difficult 18 months.
It was the beginning of the biggest mass-vaccination campaign in history. Just over eight billion doses have been administered globally.
It sounds a lot but vaccine disparity is serious and now the charity Oxfam, as part of the organisation, The People's Vaccine Alliance, is calling on the Government and the EU to do something about it.
It wants certain World Trade Organization rules, the Trade-Related Aspects of Intellectual Property Rights or TRIPS, to be waived.
Jim Clarken, CEO of Oxfam Ireland, said it is a very simple solution to help developing countries get access to the vaccines they need.
If the TRIPS rules were waived - which is a move that is supported by over 100 countries including the US - he said it would mean many more manufacturers could begin to produce more vaccines.
Mr Clarken said the EU is not supportive of such a waiver and that it, and Ireland as a member, are "huge blockers" in the way of poorer countries getting vaccines.