The Taoiseach has described the new mica redress scheme as an "unprecedented State intervention," which would cost €2.2 billion and will cover 6,000 to 7,000 properties.
Micheál Martin also told the Dáil that the new scheme would result in "no upfront costs for homeowners".
The enhanced version was launched today by the Minister for Housing Darragh O'Brien, following Cabinet approval.
It will see grants capped at €420,000 and will also be open to rental properties, if they were registered with the Residential Tenancies Board by the beginning of this month.
Homeowners will be able to receive €145 per square foot on the first 1,000 feet of a property.
This will reduce to €110 for the next one thousand square feet and a sliding scale will apply after that.
These rates will be reassessed early next year, and every year, by the Society of Chartered Surveyors Ireland (SCSI).
Welcoming the scheme earlier today, the Donegal TD and Minister for Agriculture Charlie McConalogue told reporters that it was possible that these rates could increase next year due to inflation.
Agriculture Minister Charlie McConalogue has welcomed Mica redress scheme.

He believes it offers a comprehensive solution for many @rtenews pic.twitter.com/WeqL6KnLKk

— Tommy Meskill (@TommyMeskill) November 30, 2021
"Obviously, we have seen inflation over the course of this year and the commitment, and the agreement made at Cabinet today is that it will be updated year-on-year to reflect the building costs of the day," he explained after today's Cabinet meeting.
Minister McConalogue said the scheme may not please everyone, but offers a comprehensive solution for many.
We need your consent to load this rte-player contentWe use rte-player to manage extra content that can set cookies on your device and collect data about your activity. Please review their details and accept them to load the content.Manage Preferences
Scheme does not go far enough, claim opposition parties
However, over at Leinster House, opposition took aim at the enhanced scheme, accusing the Government of not going far enough.
During Leaders Questions, Sinn Féin's Pearse Doherty told the Dáil that in Donegal, the average cost of demolition and rebuild of a home was €150 per square foot and that the average size of a mica affected home was 2,300 square feet.
Therefore, he predicted that the average homeowner would have to find an extra €45,000 to rebuild their house.
Similar concerns were raised by Independent TD Thomas Pringle, who told the Taoiseach that families were facing "the same again".
Independent TD Thomas Pringle criticises the mica redress scheme, saying Donegal families were facing "the same again". The Taoiseach described the scheme as an "unprecedented State intervention" which would cost €2.2bn | https://t.co/HLeoEw2Z6p pic.twitter.com/6QNa6Elmiv

— RTÉ News (@rtenews) November 30, 2021
During a press conference this afternoon, Minister O'Brien said that he recognises the toll this process has taken on affected homeowners, adding that he wanted to thank them for their time and efforts throughout the process, "which was not easy".
Minister O'Brien said this scheme importantly removes any "prohibitive upfront costs for entry" to the scheme and homeowners are no longer expected to pay €6,000 to enter the scheme.
He said that has been a barrier for many which has been removed.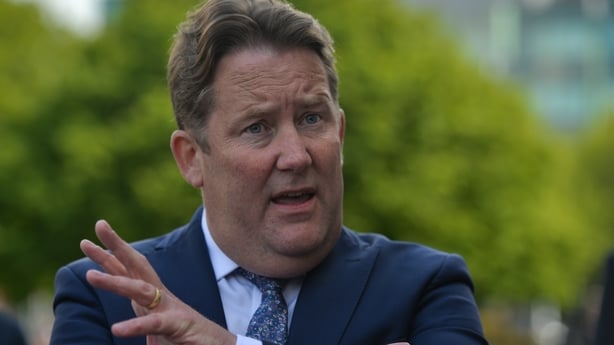 Under the scheme, alternative costs will be provided for, subject to a maximum of €20,000, for storage plus accommodation costs. This will be in addition to the €420,000 cap.
Asked if he could assure people who fear that they will be unable to insure their homes in the future, following repair works, the Minister said that this would also be addressed.
"A letter of guarantee through certification will be provided covering works carried out under remediation options 2-5 with a second grant option to be available should it be needed."
He added this will give homeowners confidence in the options which are available to them and it was something he was "anxious" to see being brought in.
A new independent appeals process will be introduced for any cases where there may be disputes.
"It will cover RTB registered rental properties subject to the introduction of a clawback mechanism upon resale within a set time period and depending on the remediation options used," he said.
In a bid to address culpability and liability, as well as to ensure that this does not happen again, a review will be undertaken by a senior counsel into the role of the industry and regulations in generating mica and pyrite issues.
Meanwhile, the Fianna Fáil TD for Mayo Dara Calleary has said he has been "assured" that the "major point of concern" over the Government's mica package, regarding the impact of the price-per-square-foot sliding scale ".. will be addressed".
He added: "The Chartered Surveyors of Ireland process, in relation to the price per square foot, is "vitally important."
In a statement, the Mayo deputy said: "I welcome the fact that it will be an annual and an independent process and accordingly should take the current rate of building costs into account."
Deputy Calleary said he "welcomed the significant progress on the scheme" and in particular the "... fall of entry costs, the 100% commitment, the inclusion of rental properties and the mental health supports".
'Scheme falls well short of 100% redress,' says Mica Action Group
Michael Doherty of the Donegal based Mica Action Group said some families will have to dig deep to cover the full cost of a rebuild.
His group had argued for €150 for every square foot - a figure he says is based on real life data from homes already assessed for demolition and rebuild.
He says it also takes account of recent hikes in the cost of building materials.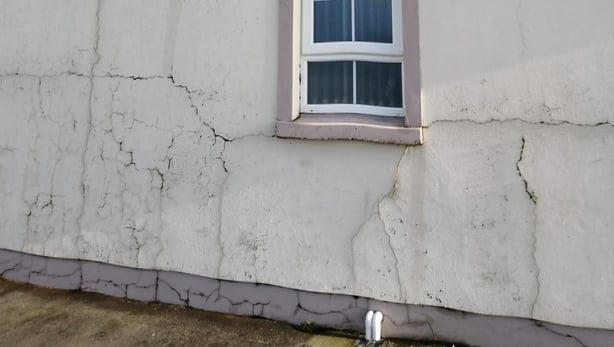 He feels the current scheme falls well short of campaigners' rallying cry of 100% redress and that remains a major point of contention.
"We get something which at face value looks ok, or at least something we could work with, only to be told later on that that's not going to be the case.
"So that's something that's definitely going to need clarification."
---
Read more
Campaigners and local TDs assess mica scheme
Mica scheme falls short of 100% redress- campaigners