It's one of the biggest redress schemes ever sanctioned by any Irish Government.
The enhanced package for mica homeowners is estimated to cost €2.2 billion. That's up €800 million on the original plan - dismissed as inadequate by those affected.
This is certainly a big win for campaigners who have mounted a relentless push for 100% redress.They targeted their efforts at Government TDs in affected counties and those deputies heard the call and lent their support.
So what are the changes?
The overall cap has gone from €247,500 to €420,000 while the square foot rate will also rise from €138 to €145 for the first 1,000 square feet, falling to €110 after that.
A significant win for homeowners is the inclusion of 900 rental properties - something resisted by officials.
Other changes include an independent appeals system and a higher limit on accommodation costs set at €20,000.
On the face of it, the Government has also capitulated on the promised 100% redress. But in reality, the scheme does have limits, albeit much looser ones than the original plan.
The €420,000 cap is the headline number but the more relevant figure is the square foot rate which will likely come into play for far more homes, dictating a lower spend.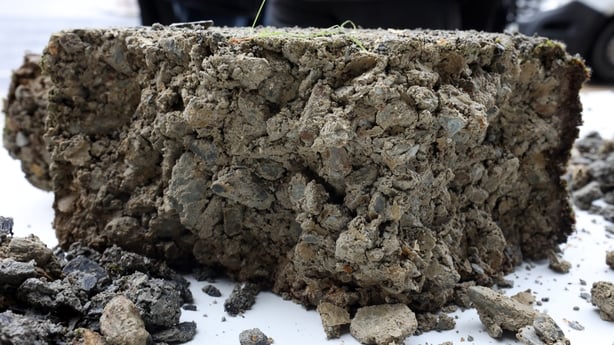 Homeowners have said the average size of affected homes is 2,400 square feet. Redress for them will be capped at €299,000.
And that is where homeowners will be focusing their calculations today. Their concern is that such a sum will not be enough to cover the full cost and would leave homeowners liable for the shortfall.
On that point, Sinn Féin's Pearse Doherty has called for "serious clarification". He said "these families will not get 100% redress, because if there's a sliding scale that brings them below what the market cost to actually demolish and restore the houses, that means they have to put their hands into their own pockets, and that is to the tune, potentially of tens thousands of euro".
But despite those misgivings, mica campaigners have scored a massive win which is a testament to the strength of a highly effective organisation. Their representatives have made it very clear they would aim to oust Government TDs in Donegal and Mayo if they were not happy.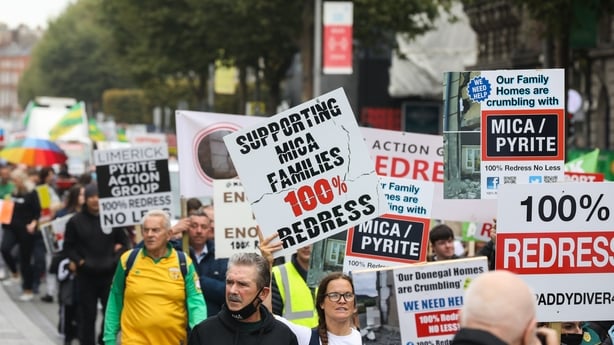 That left Fine Gael's Joe McHugh and Michael Ring on the hook as well as Fianna Fáil deputies Dara Calleary and Charlie McConalogue. The Agriculture Minister is particularly vulnerable as he sits at the table where the contentious decision was to be made.
All four are said to have given the enhanced scheme their backing, according to Darragh O'Brien. They will be praying it is enough. The Housing Minister said today they were all kept in the loop last night and this morning as the fine detail was hammered out.
There were also suggestions of a no-confidence motion in the minister and even darker mutterings of rumblings in Fianna Fáil around that.
But the mica scheme is not the only State-sponsored redress scheme finalised by Government in recent months. Compare today's announcement with the package for survivors of mother-and-baby homes.
That has been costed at €800 million for 34,000 people, with a six month minimum stay required for babies to qualify for the financial payment. That means many children forcibly separated from their mother will not qualify.
Their advocates have called for changes as have many members of the Opposition. But so far, the minister for Children Roderic O'Gorman has held the line.
How is the mica scheme so different?
Asked to justify the spend, the Housing Minister said he was acutely aware of the scale, but he said the State had to make an "extraordinary intervention" because it had a moral obligation.
He said that nobody else was willing to step in while homes were crumbling.
Plans for a future levy on the construction industry were also announced today. But with that slated to pull in around €80 million per year, it is clear the State is on the hook for this scheme.
Officials in the Department of Housing predicated that ultimately, the solution reached would be political.
Internal emails released under freedom of information to RTÉ News revealed that the ask of homeowners was viewed as "off the scale" and "miles apart" from the position of civil servants.
However, officials were aware of the political realities with one saying "expect the political system would be prepared to go further than we will advise".
But by giving in on so many of the homeowners' demands, the Government may have created a hostage to fortune.
Organisers have certainly set out a blueprint for how to exert maximum pressure on politicians. And where they have largely succeeded, others will follow.