In the hills of Donegal the Mica redress announcement got a mixed reaction.
No-one underestimates the scale of the state intervention - the unprecedented bill is set to be north of €2 billion.
But the inclusion of a tiered compensation payment has taken some of the shine off a scheme thousands of families had been anxiously awaiting.
The tier will see the first 1,000 sq feet of any rebuild attracting a grant of €145 per sq foot.
But then the rate starts to drop. €110 per sq foot for the next 1,000sq feet and a sliding scale after that.
The effect, says Michael Doherty of the Donegal based Mica Action Group, is that some families will have to dig deep to cover the full cost of a rebuild.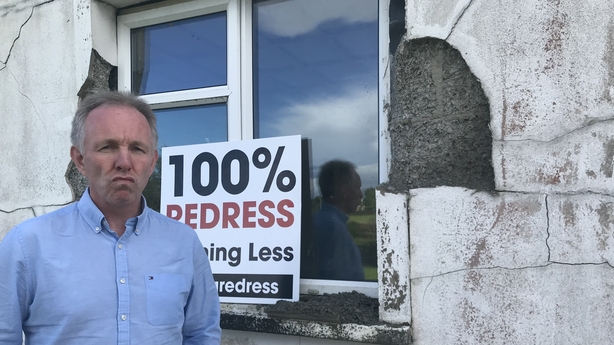 His group had argued for €150 for every square foot - a figure he says is based on real life data from homes already assessed for demolition and rebuild.
He says it also takes account of recent hikes in the cost of building materials.
He feels the current scheme falls well short of campaigners' rallying cry of 100% redress and that remains a major point of contention.
"We get something which at face value looks ok, or at least something we could work with, only to be told later on that that's not going to be the case.
"So that's something that's definitely going to need clarification."
Housing Minister Darragh O'Brien insists the scheme will deliver for the vast majority of homeowners.
"We're looking at an overall cap of € 420,000 euro (per property) - that is not insignificant - and that will cover the vast bulk of homes.
"And even within the square footage cap I'm absolutely certain from looking through it that it will cover the vast, vast bulk of homes substantially."
Sinn Féin aligned itself with the campaigners saying the €150 per sq foot figure was a fair one and the Government scheme would leave an average sized affected home, short by €45,500 of the rebuild cost.
Some homes remain entirely outside the scheme and that's causing concern too.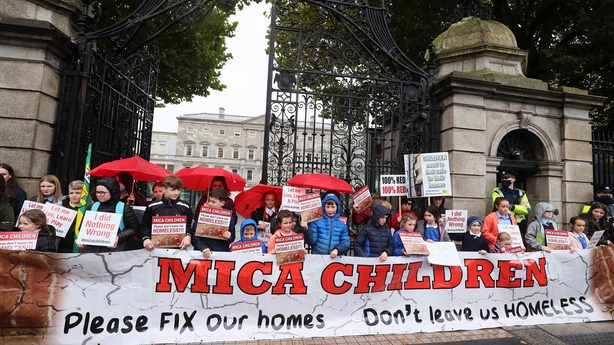 In a neat cul-de-sac in the Donegal village of Culdaff there are 18 houses, a mix of detached and semi-detached.
Six of them are owner-occupied or rented properties - both of which are eligible for redress under the scheme.
But the other 12 are holiday homes, many of them owned by holidaymakers from Northern Ireland.
For now, they don't qualify.
Lisa Mills is a permanent resident here. Her detached house bought in 2007 is crumbling around her and is due for demolition.
She will qualify to have her home rebuilt, but worries about what will happen to the houses that won't - and the knock-on effect on the value of her own property.
"We couldn't even sell our house because no-one would want to buy a house on a derelict estate.
"So, our house will never get its value back."
There's no doubt that the redress scheme as currently constituted is significantly better than what was originally on offer.
But some homeowners are saying it still potentially leaves them having to find tens of thousands of euros to complete repairs to their homes.
Homes which were bought in good faith and which hid the secret of their crumbling brickwork for many years.