The National Public Health Emergency Team has "legitimate concerns" that antigen tests are not being used appropriately, according to NPHET member Professor Philip Nolan.
Speaking on RTÉ's This Week programme, Prof Nolan said NPHET's own data shows that antigen tests are not being used well.
"For instance, of people who used an antigen test in the last week or so, for those who were symptomatic and had a positive antigen test, less than a third of them went on to get the confirmatory PCR test," he said.
Prof Nolan said that it is "important that the right test is used in the right way at the right time".
He added that the rapid tests should only be used if someone is an asymptomatic close contact or an asymptomatic person involved in higher risk activities.
Prof Nolan said people should not use antigen tests if they have symptoms of Covid-19, as PCR test is required in such circumstances.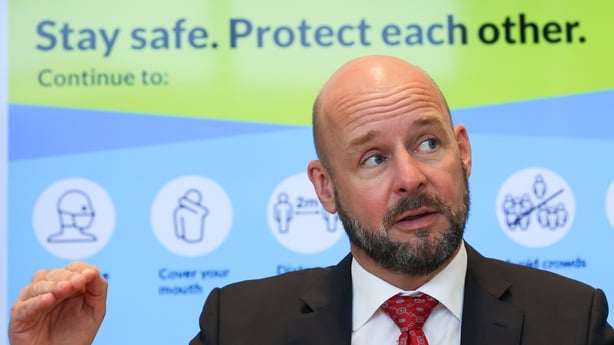 Earlier today. Chief Medical Officer Dr Tony Holohan said the public should only consider using an antigen test if they have no symptoms of the disease and only as a further additional tool, along with all of the other public health measures.
"Unfortunately, our data suggests that the majority of people who are using antigen tests at present are symptomatic and that of those, the majority who get a 'negative' result are incorrectly assuming that this means they no longer have to self-isolate or get a PCR test – potentially placing many others at risk of Covid-19," Dr Holohan said.
Meanwhile, Secretary General of the Irish Pharmacy Union Darragh O'Loughlin said he expects pharmacies will sell subsidised antigen tests when the Government decides how the model will work.
---
---
Also speaking on RTÉ's This Week, Mr O'Loughlin said supply is "under a bit of pressure" at the moment and everyone involved in the supply is doing everything possible to try and increase it.
He said the European Commission has produced a list of tests that they are satisfied with the quality of and any test being supplied to the Irish market will have to be on that list.
Mr O'Loughlin added that tests are supposed to be an added precaution and are not supposed to give people reassurance that they can start circulating even if they have symptoms.
---
Read more:
Government to proceed with subsidised antigen tests despite CMO warning
Step-by-step: How should I use an antigen test?
---