The Government is to go ahead with a plan to provide subsidised antigen tests despite renewed warnings against the move by the Chief Medical Officer.
It is understood that Dr Tony Holohan sent an email to the Health Minister Stephen Donnelly on Wednesday warning against the plan to roll out reduced rate antigen tests.
Dr Holohan restated his view that such tests could be used incorrectly and could lead to an increase in cases.
The Government is aiming to sign off on the cheaper antigen tests at next Tuesday's Cabinet meeting.
Minister Donnelly is proposing to apply a universal subsidy which would then be deducted from the retailer's price.
When asked about the Chief Medical Officer's reported opposition to subsidised antigen testing, Taoiseach Micheál Martin said the use of antigen testing had expanded over the past few months.
He said the CMO's main concern was that there had to be clear communication around the proper use of antigen testing and that people should not use them if they had symptoms.
Mr Martin said there would be a twin approach now of clearer communications with a wider deployment of antigen tests.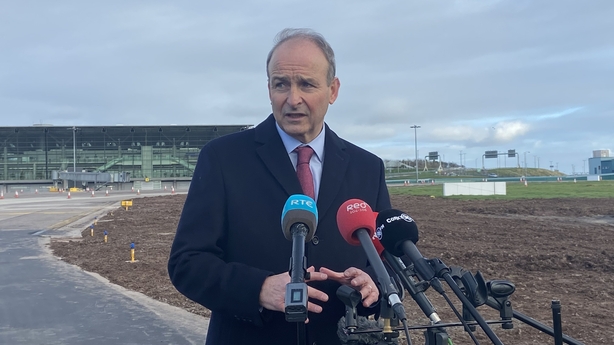 Earlier, the Chair of NPHET's Expert Advisory Group and Director of the National Virus Reference Laboratory said it was important to inform people how to conduct an antigen test, but he said the tests have limitations in and of themselves.
Speaking on RTÉ's Saturday with Justin McCarthy, Dr Cillian de Gascun said: "With antigen testing there isn't necessarily an internal control," he said. "So, the test might work, but we don't necessarily know the quality of the sample, we don't know that it's been effective.
"We also know that the sensitivity can be reduced in certain settings and that's why we want people to compensate for that reduced sensitivity by repeat testing, because you're very unlikely to get repeat false negatives.
"We want people to use them properly, but also not to use them as a green light."
NPHET's @CillianDeGascun says antigen tests should be subsidised.
'If we're expecting people to do them, they're not cheap, and there will be a large number of families and individuals that will struggle with that recurring cost of between €4-7 per test.'#SaturdayRTE pic.twitter.com/922FKyzW10

— Saturday RTÉ (@SaturdayRTE) November 20, 2021
Govt to consider delaying EWSS cuts
Taoiseach Micheál Martin has said the Government would consider delaying cuts to the Employment Wage Subsidy Scheme in light of renewed restrictions and the impact they would have on some sectors.
Speaking to reporters in Cork, he said an economic recovery Cabinet sub-committee meeting will take place on Monday to discuss it.
Mr Martin said: "We will now, given what has transpired and given the fact that in some instances and areas there will be an impact from the decisions we took we will be reviewing that."
He said the Government would explore how to continue to support sectors like the entertainment sector which is "undoubtedly suffering".
A Cabinet sub-committee on economic recovery will meet next meet to discuss supports for the entertainment industry and the changes to the PUP, Taoiseach Micheál Martin has said | Read more:https://t.co/6NQamD6IdV pic.twitter.com/m2lTHI9rQi

— RTÉ News (@rtenews) November 20, 2021
When asked about the need for a curfew, he also said that recent advice about working from home unless absolutely necessary and self-isolating if a household close contact would have an effect on Covid-19 transmission.
Mr Martin refused to be drawn on any specific sector or group, but said it was important that people "reassess events and so forth and reduce congregation and socialisation where possible".
He said that nightlife had been curtailed with closing time brought back to midnight.
Mr Martin said Ireland was going through "another difficult and very challenging phase" of the pandemic. He also said every effort was being made to alleviate pressure on the health service.
Taoiseach Micheál Martin is urging people to get their Covid-19 vaccinations as he says the non-vaccinated are disproportionately represented in hospitals and ICU admissions with serious illness compared to those who are fully vaccinated | Read more: https://t.co/mPhJnC0X7P pic.twitter.com/GAMJ1aQ0U6

— RTÉ News (@rtenews) November 20, 2021
He said that anyone who was called for a booster should take up the offer to get one.
Mr Martin said the Government was very concerned with the high numbers, but reiterated the country was in a much better position with its level of vaccination.
Public opinion shifting on restrictions
Public opinion has "swung hugely" towards wanting the Government to introduce rules and restrictions, according to the head of the ESRI's Behavioural Research Unit.
Speaking on RTÉ's Brendan O'Connor programme, Professor Pete Lunn said that 48% of those asked in a study earlier this week if they would be in favour of more restrictions said yes, while 38% said no, and the rest said they did not know.
The answers were gathered before the Government's announcement on new measures this week.
The data also suggests that the idea of young people taking more risks than older people "simply isn't true," he said.
He said older adults are as socially active as younger people, particularly retired people.
The new data also suggests that people are now most worried about the health service, as well as their family and friends.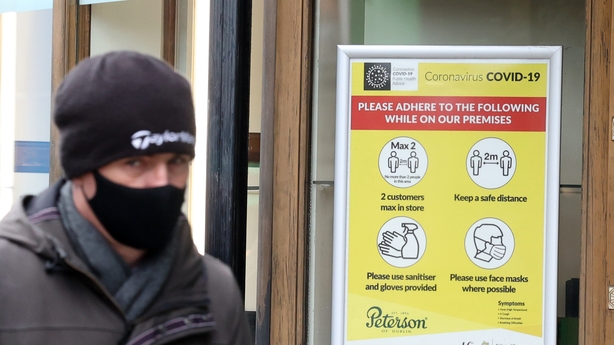 Prof Lunn said that throughout the pandemic, every time Covid-19 case numbers went up they could "measure public worry going up with them".
He said people changed their behaviour as case numbers increased, but that relationship changed as the vaccine programme was rolled out.
"What we've found since, therefore, is that the drivers of behaviour are now different," Mr Lunn said.
He added that their data suggests public opinion has "swung hugely" towards wanting the Government to introduce rules and restrictions.
Meanwhile, the Chief Executive of the HSE said that the whole health service is now surging.
In a social media post, Paul Reid said the service is taking all mitigating actions.
"We value and appreciate everyone's support," he added.