The Department of Health has confirmed 5,959 new cases of Covid-19.
There are 640 patients in hospital with the virus, down three on the same time yesterday.
Of these, 121 people are being treated in intensive care, up three from yesterday.
The number of Covid-19 cases reported today is the highest since 10 January, when 6,888 cases were confirmed.
It also represents the sixth highest daily total since the start of the pandemic, and is close to double the 3,138 cases notified yesterday.
Despite the sizeable day-on-day increase, a spokesperson for the Department of Health said "there is currently no specific delay in processing time or backlog of laboratory diagnoses".
In Northern Ireland, 1,846 positive cases and six deaths have been reported over the last 24 hours.
The Chair of NPHET's Expert Advisory Group and Director of the National Virus Reference Laboratory has said Ireland cannot afford to continue as a country on this trajectory over the coming weeks.
Speaking on RTÉ's Saturday with Justin McCarthy, Dr Cillian de Gascun said the situation is "very serious in many respects".
He said nobody has yet been infected in December and he urged people to redouble their efforts to try and control the infection.
We need your consent to load this rte-player contentWe use rte-player to manage extra content that can set cookies on your device and collect data about your activity. Please review their details and accept them to load the content.Manage Preferences
"We know that the public health measures that people have been practising over the last two years will be effective against this virus," he said.
"The problem is that we have to do them better and do them for a longer period of time to get the same benefit with Delta as we would have had with the original virus back in 2020, and even with Alpha around the start of the new year."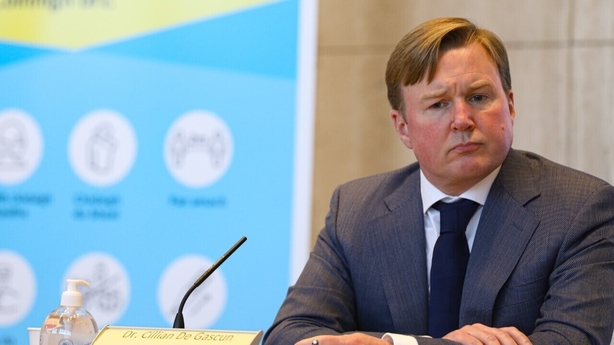 Dr de Gascun said no one wants to return to the days of lockdown because that was detrimental on society as a whole.
He said one of the metrics that has tracked the epidemic well over the last two years is the average number of close contacts that a case has.
He said they know that if the average number is three or above, the epidemic is growing, and if it is in or around two, then the epidemic is shrinking.
"Our current number is between six and seven, and that's just not sustainable," he said.
"And this isn't to criticise people - obviously people have had a difficult two years - but we really need to reduce our discretionary contacts.
"If we do that across the board as a society, and continue to practice public health measures, then we can bring this back under control, because we know that the boosters will have an effect."
When asked if there is a chance of further restrictions when NPHET meets again, Dr de Gascun said they cannot exclude that possibility if the number of contacts cannot be reduced.
The virus is "not getting tired" he said, and because it is now more transmissible, we are not getting "the same bang for our buck" from public health measures as we did 18 months ago.
He said any measure that could reduce the amount of discretionary contacts a person has can be helpful.
"Perhaps the fact now that the Government has started to reintroduce restrictions may allow people to realise that this isn't over."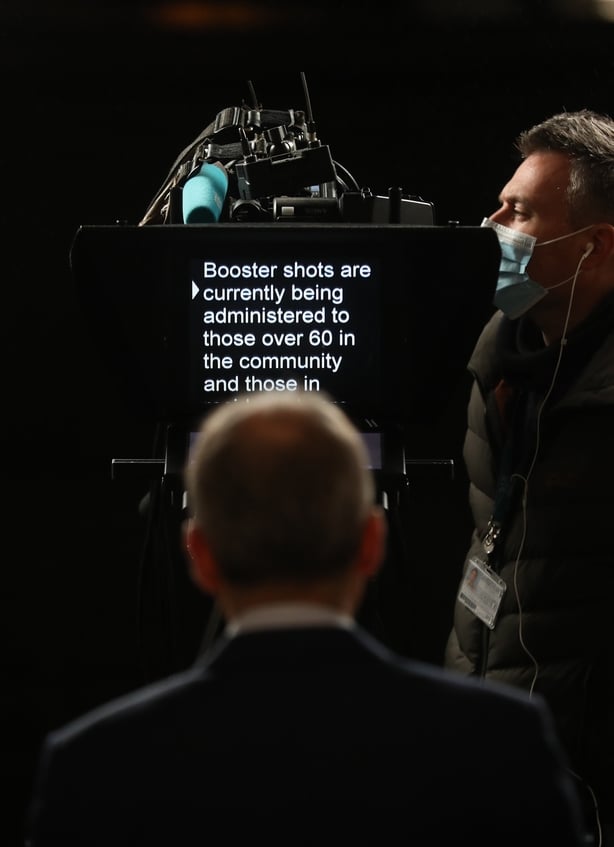 Dr de Gascun said the problem is that the virus changed and evolved and the vaccines "aren't quite as effective" and they realise now that the vaccine may be a three-dose primary course.
He said they are hopeful that the booster will increase levels of protection and increase the duration of protection against infection.
He said that outside of household contacts, everything should be considered discretionary to some degree.
"It's important that we try and plan out what our social interactions are for the week," he said.
"It can be a different person every week, we're not necessarily talking about bubbling up in the same way as we would have earlier in the pandemic."
Dr de Gascun said the hospitality and entertainment sectors had put in "a huge number" of mitigation measures to try and ensure people can return safely, so if you are planning to attend an event you could use antigen testing to mitigate the risk further.
He advised people to leave if they feel the setting is unsafe.
He said they do not want people to stop doing everything, but they want people to think about everything they do and reduce the number of discretionary contacts.
In relation to tomorrow's rugby match, Dr de Gascun said everyone in attendance should "absolutely" be wearing face masks apart from when they are eating or drinking.
In relation to antigen tests, he said it is important to educate people properly and inform them how to do the test, but he said the tests have limitations in and of themselves.
"With antigen testing there isn't necessarily an internal control," he said. "So the test might work, but we don't necessarily know the quality of the sample, we don't know that it's been effective.
"We also know that the sensitivity can be reduced in certain settings and that's why we want people to compensate for that reduced sensitivity by repeat testing, because you're very unlikely to get repeat false negatives.
"We want people to use them properly but also not to use them as a green light.
"In the context of the pandemic, they're an additional measure to mitigate risk but they're not a silver bullet, in the same way unfortunately that vaccines didn't turn out to be a silver bullet."
Dr de Gascun said that in order to get the benefit of the tests at a population level, people need to be doing them repeatedly if they are participating in high risk activities.
He said they want to implement measures that are sustainable in the long run.
He said antigen tests are not cheap and there will be a large number of families that will struggle with the recurring cost.