The Minister for Transport has indicated that Dublin's Metro Link will be delayed and will not be delivered by 2027.
Eamon Ryan said he was still "very confident" the project would go ahead.
However, when it would be delivered depends on the planning process, which he said was a "key uncertainty".
He said: "I think the existing [National Development Plan], if I recall rightly, said it would take five years. It would be completed by 2027. That was never likely to be achievable, I'll be honest.
"The budget forecast for it is likely to be much smaller than the final outcome. There's been a big cost inflation since then, particularly in big infrastructural projects.
"So those indicative numbers weren't ones that we expected to be able to meet."
The Green Party leader was speaking at the opening of a new €10.5m train station in Pelletstown in west Dublin, which is on the Dublin-Maynooth line.
He said the new NDP, which will be published in the first week of October, will show a significant switch towards public transport and the metro project "fits within that".
Mr Ryan also said the projects that are quickest and cheapest will be the ones that get completed first.
---
Read more
National Transport Authority outlines €3bn underground Metro plan
---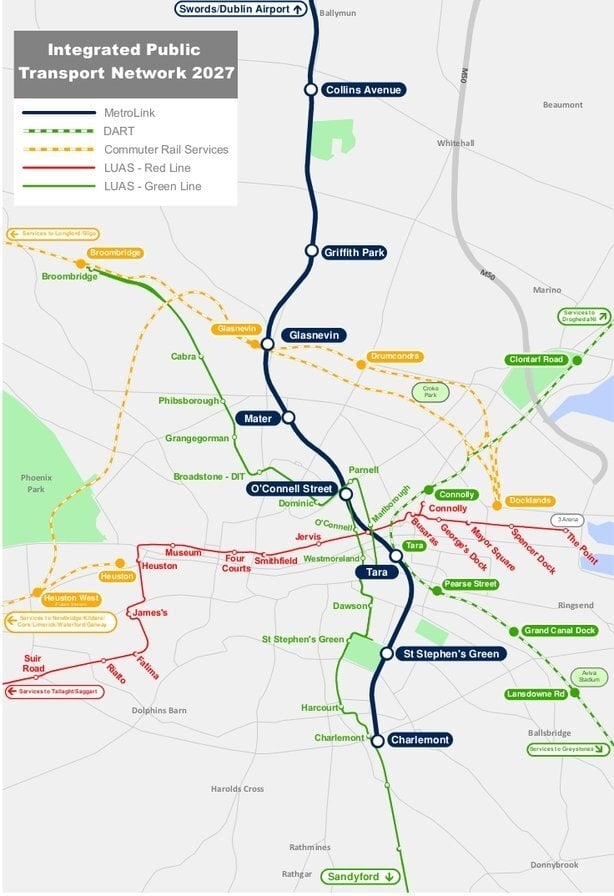 In 2018, the NTA said that the 26km track should be operational by 2027 if it succeeds in the planning process.
The line will run from Sandyford in south Dublin to beyond Swords in north Dublin and also take in Dublin Airport.
The Metro would travel overground from Sandyford to Charlemont where it will go underground to the airport.
The Luas Green line would shuttle between Brides Glen and Sandyford and from Charlemont to Broombridge.
It would mean a journey time of 20 minutes from the city centre to the airport and 50 minutes from Sandyford to Swords with trains coming every two minutes in each direction.
Meanwhile, the new station at Pelletstown will serve the communities of Ashington and Royal Canal Park.
📣 Welcome to Pelletstown! Our newest station now open - 94 trains daily on weekdays between Pelletstown and Dublin City Centre, and journey time from 12
minutes.
ℹ️ Minor changes to Maynooth / M3 Parkway to Dublin Connolly timetables, full details at https://t.co/r50m24kCsx pic.twitter.com/EYJG31qw6E

— Iarnród Éireann #StaySafe (@IrishRail) September 26, 2021
It is the first new station to open in Ireland for eight years and will see 94 trains stopping each day.
The journey to Dublin city centre will be 12 minutes and 2,000 boardings a day are expected at its peak.
Iarnród Éireann CEO Jim Meade said it is hoped that the station will be electrified for future DART use.