The Government did not advise President Michael D Higgins to decline an invitation to attend a church service to mark the centenaries of the partition of Ireland and the formation of Northern Ireland.
The Government has clarified that it would be constitutionally prohibited from doing so.
The service is due to take place next month and will also be attended by Britain's Queen Elizabeth.
It is a focal point of a programme of events this year to mark 100 years since the island of Ireland was partitioned.
A spokesman for President Higgins said he was not in a position to attend the ceremony, which is being organised by the leaders of the main Christian churches.
The President is currently in Italy and is due to meet Pope Francis at the Vatican tomorrow.
President Higgins visited the graves of Italian philosopher and writer Antonio Gramsci and of English poet John Keats, at the Cimitero Acattolico in Rome. pic.twitter.com/DXlzrLTFWu

— President of Ireland (@PresidentIRL) September 16, 2021
A spokesperson for the Taoiseach said that any invitation for a Government representative to attend the ceremony in Armagh would be considered.
DUP leader Jeffrey Donaldson has said that there needs to be "an honest explanation" as to why the President will not attend.
Speaking on RTÉ's Drivetime, Mr Donaldson said that he has to take the statement by the Government that it did not advise President Higgins at "face value".
He said: "But in the absence of an explanation from anyone as to why this decision was taken, you can understand why there are many people in Northern Ireland who feel, perhaps, somewhere in the middle of all of this, there is politics.
"And, I think it would be better all around if at least let's be honest with each other, if the President can't attend or won't attend the event, then, let's have an honest explanation as to why that is so that we can at least understand the reasons why, maybe in the future, we can find a way of addressing that."
He urged the President to make a "clear statement" so that the issue can be resolved.
Mr Donaldson said that there was cross-border collaboration in preparation for a ceremony honouring the centenary of World War I.
He said: "When I chaired the World War I centenary committee we worked very closely with President Higgins and with the Irish Government in marking the centenary of that conflict and recognising that it was part of our shared history.
"I think everyone made a huge effort to ensure that it was done in a dignified and inclusive way.
"So I think it's disappointing that we reached the stage in our journey where we can't mark the centenary of Northern Ireland without this sort of situation where the President, whether he's been given advice or otherwise and I can't be sure of that, feels that it is not an event that he can attend."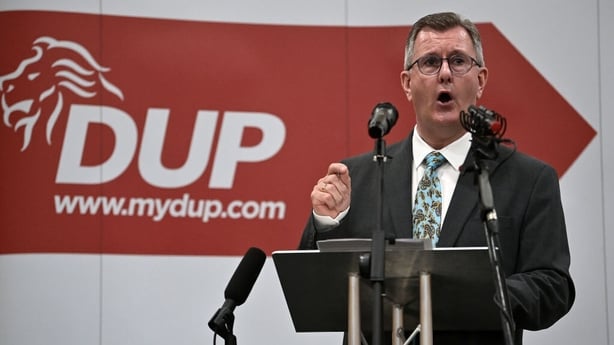 Alliance Party MP Stephen Farry has said he hoped President Higgins would reconsider his position.
Speaking on RTÉ's Morning Ireland Mr Farry said he does not see this event as being a celebration of partition or of the creation of Northern Ireland but "about marking the reality of Northern Ireland that has existed for 100 years".
"We are trying to have an inclusive approach towards the decade of centenaries", he said.
However, the Aontú leader has said the President was right not to attend the event.
Peadar Tóibín said there is not a president in the world who would attend an event to mark, commemorate or celebrate the partition of his country.
He said that there is nothing healthy is commemorating something that has been so destructive to the Irish people.
Asked about the controversy around the President's attendance, a spokesman for the church leaders who are organising the event said their "absolute focus" is on the prayerful nature of this event, which he said was a service of reflection and hope from a faith perspective.
Additional reporting PA