There was an outburst of cheers, tears and applause at Dublin airport late last night as Team Ireland returned home, among them, medal-winning swimmers and cyclists.
They arrived into Dublin Airport just before 10.30pm.
A short time later, the athletes were reunited with their families, friends and well-wishers in the arrivals hall.
Aer Lingus crew and staff formed a guard of honour as part of the welcome with Minister of State for Sport
Jack Chambers also in attendance at the homecoming.
The return of the Paralympic athletes marked the end of two weeks of intense competition where they showcased their grit, skill and determination in Tokyo.
It resulted in four golds, two silvers and a bronze for Ireland.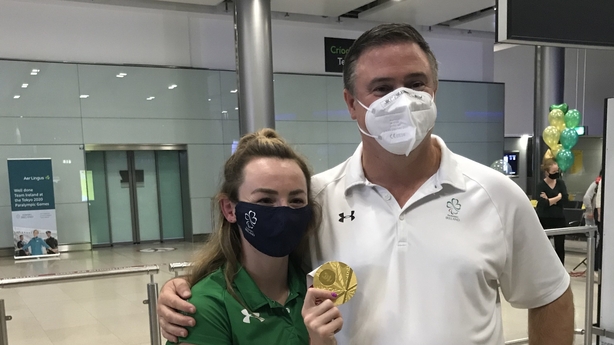 26-year-old Dubliner Ellen Keane who won gold in the 100m breaststroke described her excitement at being reunited with her family and how she is looking forward to some rest.
"It has been a long five years, so I just want to take some time, chill out, be a normal person for a few weeks and then get back into the pool," she said.
Para swimmer Nicole Turner, 19, who secured a silver medal victory in the 50-metre butterfly, described it as an "amazing" feeling to be reunited with her family.
Her mother Bernie described her as an inspiration to all young children who have a disability.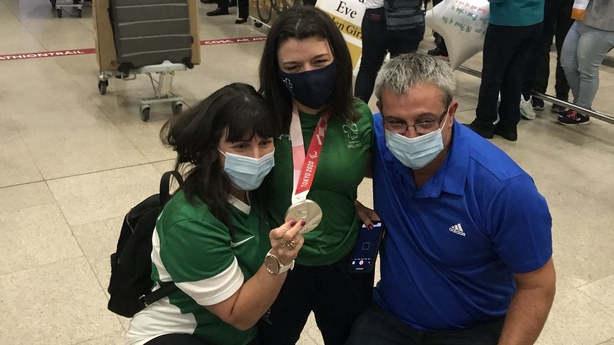 "It is not the end of the world. You can look at your sport and you can achieve what she has done."
Tandem cyclists Katie-George Dunlevy and Eve McCrystal cycled their way into the history books taking two gold medals and a silver in their races at the Games.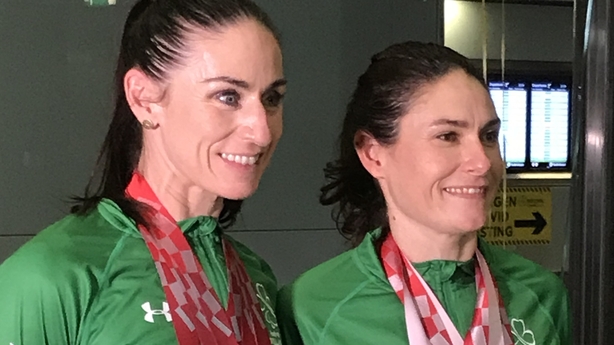 Speaking at Dublin Airport on their return, they said joint success is sweeter.
"It is a different feeling. It is amazing." said Ms McCrystal.
Ms Dunlevy described the numerous celebrations that have been planned with her family in Dublin, Donegal and the UK while Eve said she was "bursting" to be reunited with her children.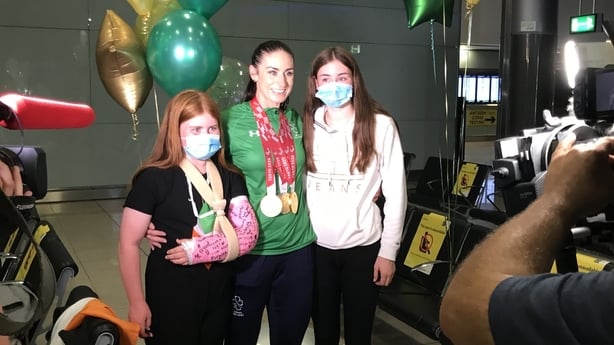 Portlaoise hand cyclist Gary O Reilly returned home from his first Paralympics after clinching a bronze for Ireland.
Reunited with his fiancé Hazel, he said he was overwhelmed by those who had taken the time to come to Dublin Airport to personally congratulate him.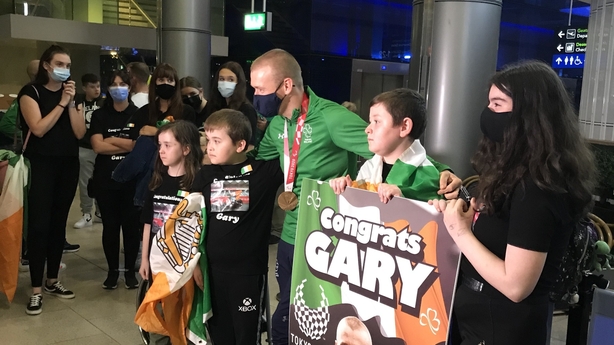 Jason Smyth, frequently referred to as the fastest Paralympian on the planet, who also triumphed with a medal in Tokyo, arrived back in Belfast last week.
Other athletes who took part in the Games have been praised for breaking their personal best records.
Limerick teenager Roisin Ni Riain, the youngest athlete among Team Ireland, said she felt more confident after taking part and it was now "onwards and upwards to Paris" where the next Paralympics will be held in 2024.
Praising the "fantastic" efforts at the Tokyo Games, the President of Paralympics Ireland, Eimear Breathnach, said that these 29 athletes have shown what they can do with the right supports.
Ms Breathnach said the visibility of people with disabilities should lead to improved recognition about what is possible when the proper facilities are in place.
She added the organisation is "so proud" of the Paralympians who were training for five years for the Games, at times when they were not sure they would go ahead due to the pandemic.
Local communities have planned small parades and homecoming celebrations to mark the return of the medal winners.