Families with children who have been born through surrogacy are calling on the Government to enact legislation to regulate it in Irish law.
Those born through international surrogacy are in a legal limbo, according to Irish Families Through Surrogacy, because their mothers have no rights over their children.
The Department of Health has said publication of the bill is a priority for the Government.
However, a spokesperson has said it is not possible to give a definitive timeline for the publication of the legislation, or its subsequent passage through the Houses of the Oireachtas.
---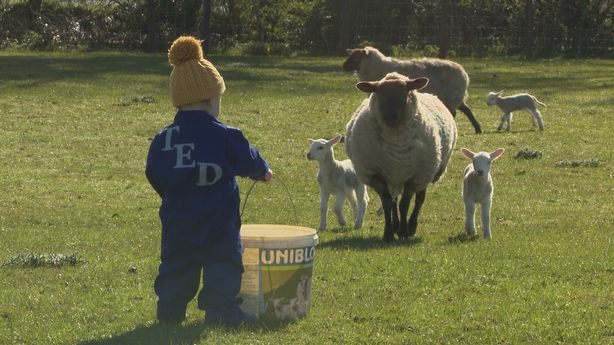 "There's no equality for them in terms of their rights as children in this family like every other family and we think they deserve that."
In rural Co Wicklow, Ted and Elsie don their wellington boots with the help of their parents to feed sheep on the family farm.
While Ted does the feeding, Elsie wanders off to see what's in the next field.
Trailing a close distance behind are parents Cathy and Keith Wheatley, who have the family they always wanted.
Their first-born Helen was a "miracle baby".
However, seven months into her pregnancy, Cathy's uterus ruptured, and baby Helen died.
Photos of Helen adorn the walls of their cottage; she is still very much part of the family.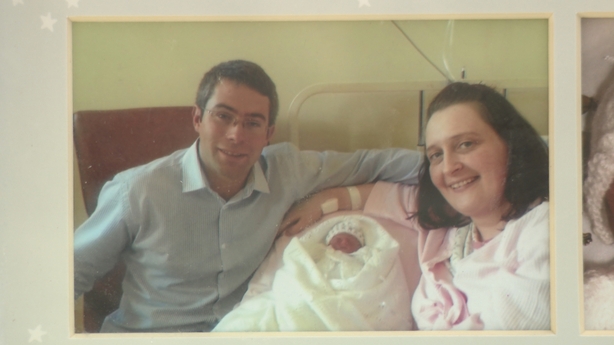 "It's something you never get over and it's the reason why we needed to go down the route of surrogacy," said Cathy.
Despite rounds of IVF and medicated cycles, Cathy's uterus was so damaged she could not carry another child.
They decided on surrogacy in Ukraine, and their twins, who are 18 months old, are the result of a long but rewarding process.
They are not alone. Parents right across Ireland have children born to surrogates in Ukraine, the US and Canada.
Cancer, cystic fibrosis, congenital heart disease, miscarriages and failed IVF are among the reasons Irish couples turn to surrogacy as a last resort.
The spotlight fell on Ukraine recently when Sinead and Mark Gallagher-Hedderman sought to return home with their baby who was born through a surrogate.
Theo was just over a week old when they faced Mandatory Hotel Quarantine due to Covid-19.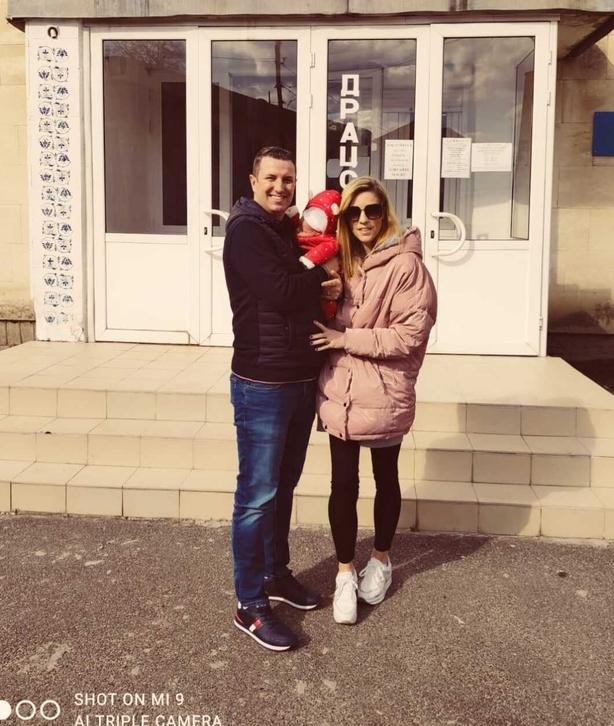 Minister for Health Stephen Donnelly enacted a new regulation, which for the first time, recognised surrogacy in Irish law.
It provided an exemption for couples returning to Ireland once their baby was under 28 days old - that included babies born via surrogacy.
Mark and Sinead's story helped surrogate parents feel more comfortable in telling their stories and the legal uncertainty in which they find themselves.
Like other fathers of surrogate children, Keith Wheatley and Mark Hedderman have guardianship over their babies because they are recognised as being the biological fathers.
This is not the case for mothers, who can apply for guardianship after two years. They remain so until they are 18 years old.
Step-parent adoption doesn't sit well with Cathy Wheatley.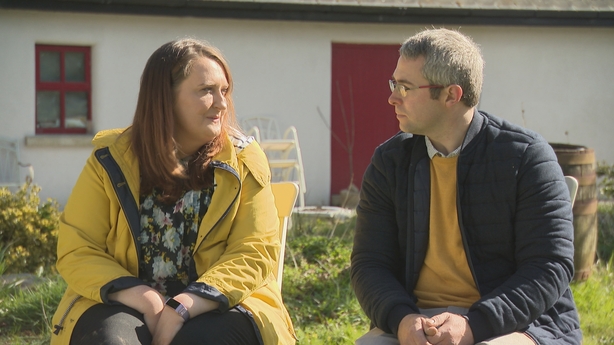 "I'm not their step-parent and while there are fantastic step-parents out there, that's not my role," she said.
The process is long and arduous.
"It will take two years to be evaluated, there's a lot of red tape involved in it and even when it gets to that point where you are assessed by Tusla and it goes to the Adoption Authority, there's no guarantee that the Adoption Authority will accept the application."
In a Freedom of Information response seen by RTÉ News, the Adoption Authority said that because there was no legislative framework regarding surrogacy and Donor Assisted Human Reproduction (DAHR), it had not been able to process any adoption applications which relate to surrogacy/DAHR.
It advised that "the Adoption Authority will not be in a position to process such applications until the Surrogacy and Assisted Human Reproduction Bills are commenced into law."
Asked about that statement this week, the Adoption Authority said that due to the current legal vacuum, the legal status and rights of all involved are governed by legislation dealing with non-surrogate births and children.
We need your consent to load this rte-player contentWe use rte-player to manage extra content that can set cookies on your device and collect data about your activity. Please review their details and accept them to load the content.Manage Preferences
CEO Patricia Casey said a proposal for an Assisted Human Reproduction Bill to regulate many aspects of surrogacy has been in existence since 2017 and as drafted, the legislation would only apply to surrogacy arrangements conducted entirely in Ireland and not those with an international element.
"The proposal has still not been made law and no timeline is presently available in relation to any possible enactment," she said.
The proposed legislation covers issues such as the minimum requirements to be a surrogate, the legal status of all involved, the regulation of any financial aspect of the surrogacy arrangement and the process of consent.
It is currently being drafted by the Department of Health, in conjunction with the Office of the Attorney General.
A spokesperson for the Department couldn't confirm when it would be brought before the Oireachtas.
"It is not possible at this time to give a definitive timeline for the publication of this legislation, nor its subsequent passage through the Houses of the Oireachtas."
However, he added publication of the bill "is a priority for Government".
"I'm minding my friend's child and I can't wait to see the joy in their faces, it's a privilege to be able to have that role."
In the meantime, the Adoption Authority has said it is "happy to receive and consider all adoption applications".
However, it cautioned that those applications which include surrogacy require "careful and detailed consideration to ensure that all aspects of the application comply with the provisions of the Adoption Acts 2010 and 2017".
Rights and interests of children reviewed
There's speculation that those drafting the bill in the Department of Health are considering a recent report by the Special Rapporteur on Child Protection Professor Conor O'Mahoney.
Published in December, Prof O'Mahoney reviewed the rights and best interests of children in the context of donor assisted human reproduction and surrogacy in Irish law.
The report recommends that the Oireachtas amend the Children and Family Relationships Act 2015 to address several anomalies arising in respect of the recognition of family relationships in Donor Assisted Human Reproduction procedures.
It suggests enacting "comprehensive legislation" regulating surrogacy "at the earliest opportunity" which makes provision for the recognition of both domestic and international surrogacy arrangements.
The Children and Family Relationships Act 2015 has been beneficial for those who have been born of same sex couples.
In May of last year, final sections of the legislation were enacted, allowing same-sex female couples to be legally recognised as co-parents of their children.
Irish families through surrogacy have welcomed this recognition and are asking that their children be given the same protection under Irish law.
Back in Wicklow, it concerns the Wheatleys that Ted and Elsie Wheatley don't have the same inheritance rights as every other child in Ireland, particularly given the fact that they are growing up on a farm.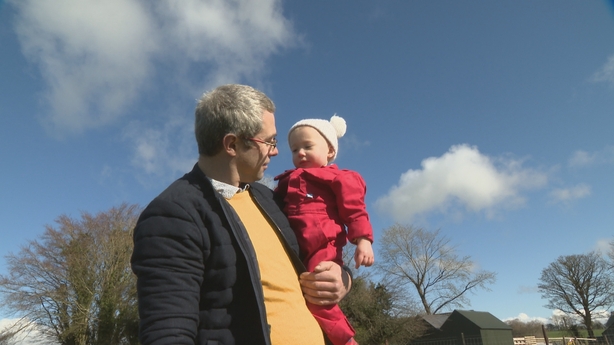 "There's no equality for them in terms of their rights as children in this family like every other family and we think they deserve that," said Cathy.
Solicitor Annette Hickey who represents many surrogate couples in Ireland - including Sinead and Mark Hedderman - said couples shouldn't have to undergo such court processes.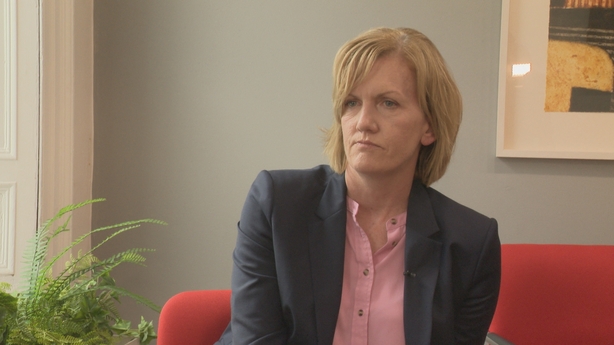 She has been working for couples who have pursued surrogacy for the past eight years and recalls the first surrogate mother she spoke to in a domestic case.
"I asked her without realising it: how will you be able to give up the child? She'd had three children herself already. She said this is different, it's not my child, I'm not giving up, I'm minding my friend's child and I can't wait to see the joy in their faces, it's a privilege to be able to have that role."
That woman, according to Ms Hickey, couldn't believe her name was going on the birth cert.
"Legally we were saying there's nothing we can do about that, that's the way it is at the moment," she said.
So, what is the situation in Ukraine?
"My view as a lawyer and a woman and a mother is that in the Ukraine, the situation is absolutely under control.."
Attorney at law Olga Danchenko specialises in family law, surrogacy cases and the "exit process" for international intended parents.
Surrogacy cases were "very, very rare" when she began working in the area 10 years ago, but then "a lot of things changed" and the number of surrogates increased.
Unfortunately, she said, there are no official statistics.
In the past surrogates in Ukraine, she said, were "a little bit shy" to say they were offering the service. Now they are more educated about the process, and they know their rights.
There are rules in Ukraine around surrogacy.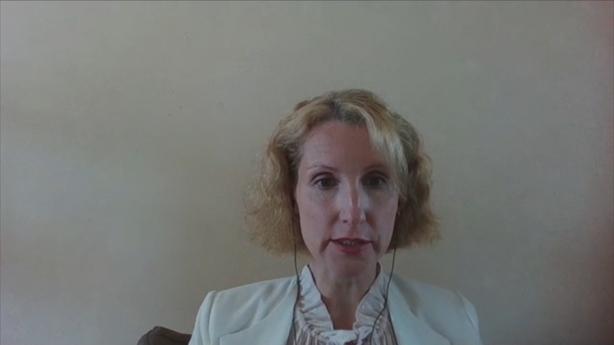 The woman must be at least 18 years old, be married to a man and already have given birth to a child.
She must undergo a full health screening and she is monitored throughout the pregnancy.
The clinics are licensed by the Ministry of Health and are under the control of Ukrainian authorities.
There are the same risks of complications for surrogates and their babies as there are for any other pregnancy. Therefore, by entering the contracts, all parties "should be absolutely aware of all of the possible implications," according to Ms Danchenko.
When asked about how some view the process as exploitative, she said it is the most common question that she is asked.
"I participate in a lot of international conferences and the main issues are ethical - like the exploitation of women and commodification and baby-selling of course. My view as a lawyer and a woman and a mother is that in the Ukraine, the situation is absolutely under control, because in the agencies, surrogates undergo screening, and it is not only medical screening."
Ms Danchenko says an increasing number of agencies have their own psychologists even though a mental checkup does not form part of the eligibility criteria.
Surrogates are aware that the couples seeking them to carry their babies "have a very sad past history", she said. "Some even say that they take care more in this pregnancy than in their past natural pregnancy."
She does not see any "facts" of exploitation or commodification.
"They get compensation for this pain and discomfort, because pregnancy is a very, very special condition. It is justified that they get some compensation, but it doesn't mean that these financial aspects make this phenomenon bad or non-ethical."
The family lawyer commends the work of Irish lawyers and officials in the Department of Foreign Affairs. The latter, she said, are known to have issued emergency travel documents over a weekend.
"I have never seen this with other Embassies, so for me it is why I'm absolutely happy and even sometimes relaxed, because I know I can rely on the Irish part of it too".
Guidelines issued in 2012
"What we want is legal recognition that our children have two parents, because they have two parents who love them beyond belief."
The Department of Foreign Affairs says that in 2012, guidelines were issued as a result of surrogacy arrangements being entered into outside the Irish State on citizenship, parentage, guardianship and travel document issues in relation to children born abroad.
In accordance with those guidelines, the passport service "may issue" an Emergency Travel certificate (ETC) to a child born abroad of a surrogacy arrangement where the "commissioning adults" intend the child to live with them in the State.
All other requirements - including relating to citizenship and consent of the child's legal guardians - must also be met.
Figures obtained from the Department show that in the past five years, 137 ETCs were issued to children born abroad as a result of Surrogacy Arrangements.
25 ETCs were issued in 2016, 2018 and 2020. 27 were issued in 2017, and 28 in 2019.
The Department advises that it can only issue an ETC in accordance with the guidelines.
It says the Irish authorities also need to satisfy themselves that the requirements of local law have been complied with and will not facilitate the unlawful movement of children across national boundaries.
This makes the absence of legislation here even more baffling.
As Annette Hickey points out, once the baby is born in Ukraine, the Irish couple are put on the birth cert there.
The "contradiction" she says can be difficult for people to understand.
In Ukraine, the surrogate mother hands over the rights of the child and the Irish mother is recognised until she gets home to Ireland.
Essentially, according to Ms Hickey, the motherhood status is taken off the woman in question on the flight to Ireland.
If the surrogate then lands in Ireland, it leads to further questions regarding who the mother is, she adds.
In Ireland, the woman who gave birth to the child is legally viewed as the mother.
There are mothers out there, according to Cathy Wheatley, who celebrate Mother's Day but who are not recognised as parents under Irish law.
"What we want is legal recognition that our children have two parents, because they have two parents who love them beyond belief," she said.
"They've brought so much joy and healing and happiness to us, and we'll just continue to fight for their rights and what they want."