Every day for the past week, we have been hearing from some of Ireland's most inspirational teenagers in our 'Quaran-teen' series of reports. They have been sharing their experiences and hopes for the future.
It has been a challenging year for 17-year-old Sean Collins; not only is he studying for his Leaving Cert, but he is also helping to care for his mother and sister.
Sean's sister Kathryn is two years older than him and has SATB2, a chromosomal intellectual disability. She is non-verbal and needs a lot of help with day-to-day activities such as feeding herself.
In 2016, Sean was named Connacht/Ulster Young Carer of the Year for his work in helping take care of Kathryn.
Sean's caring also extends to his mother Annette. She has stage four secondary breast cancer.
He said: "Mum first got diagnosed when I was eight, so that would be about nine years ago. Then she got re-diagnosed when I was 12 so this time, unfortunately ,we don't have the idea that she's going to beat it.
"It is permanent this time and it's something we've to live with, it's challenging, there's no point lying about it."
Kathryn is currently living in residential care so the family are limited in how much they can see her.
"The biggest challenge now with lockdown is actually seeing Kathryn because with restrictions and guidelines, if Kathryn shows any symptoms when she comes home, we have to keep her for 14 days and that would be a huge task on me and my mum because mum is getting weaker," Sean explained.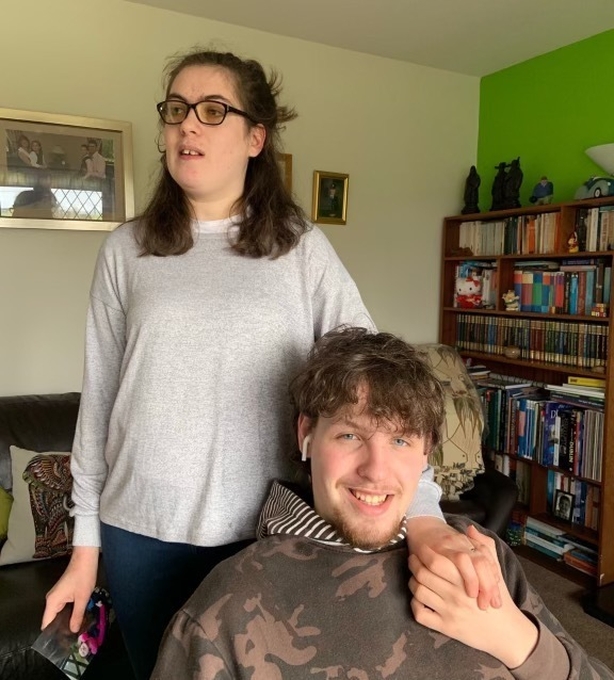 "Kathryn is a huge part of our family. We can video call her but there is no substitute for real life," he said.
Sean feels he has to be more careful than his classmates when it comes to Covid-19 as his main priority is "ensuring mum and Kathryn are kept safe".
"If one of us did bring something home, mum wouldn't be able to get her chemotherapy or anything," he added.
He said the last year has "taken its toll on me physically and mentally" and he said he has often felt isolated. Social media has been a big help to him and he emphasised how important it is to check in on friends.
"I was incredibly grateful to the people who checked up on me so I think it's incredibly important to communicate and talk it out," he said.
Sean said he is looking forward to completing his Leaving Cert and hopes to study political science and social policy in college in September.