The Eurovision winning songwriter and former RTÉ broadcaster Shay Healy has died at the age of 78.
From Sandymount in Dublin, he originally worked in RTÉ as a trainee cameraman, but soon found himself on the other side of the lens.
A lifelong love for music saw him present music programmes and he later appeared on light entertainment and comedy shows.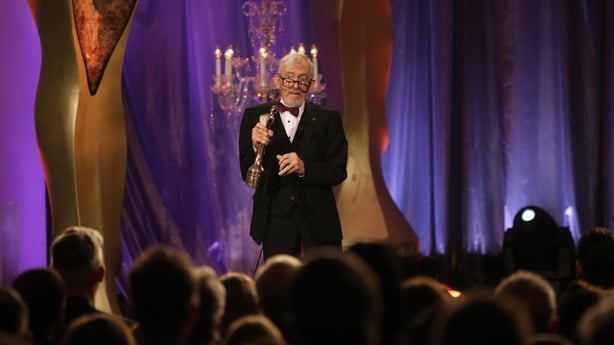 He was also a talented songwriter and his song 'What's Another Year', sung by Johnny Logan won the Eurovision Song Contest in 1980.
Alongside writing, Mr Healy continued his broadcasting career most notably with the late night talk show 'Nighthawks'.
It covered entertainment and current affairs and made the news itself following an interview with former minister for justice Sean Doherty about phone tapping, which eventually led to the resignation of Charles Haughey as taoiseach.
Mr Healy later founded his own production company.
He was diagnosed with Parkinson's disease in 2004, but continued working and performing.
Shay Healy on life, loss and facing Parkinson's disease pic.twitter.com/rzcDQLFxJV

— Claire Byrne Live (@ClaireByrneLive) October 1, 2018
In 2018, he featured in a report for the Claire Byrne Live programme about his battle with Parkinson's disease.
He and his wife Dymphna had two sons, and she predeceased him in 2017.
President Michael D Higgins paid tribute to Mr Healy, saying that his death "will have been heard with sadness by so many across the community of music and music-making in Ireland".
He added: "Shay's talents extended across so many areas and continued, even when challenged by illness, into the modern decades.
"His approach to everything he did was original and conveyed with enthusiasm.
"The range of his song-writing was such that it included not just songs that could compete with real prospect at Eurovision, but also songs that responded to contemporary events and that could take their place in the folk community.
"I treasure the correspondence I received from him over the years at different points of both of our lives. To have known him as a friend was a great privilege. He was loyal in his friendship and generous in its expression."
"To have known him as a friend was a great privilege. He was loyal in his friendship and generous in its expression."

Statement from President Higgins on the death of Shay Healy, in full: https://t.co/4ACMnlnyPb

— President of Ireland (@PresidentIRL) April 10, 2021
---
Shay Healy interviews Michael D Higgins in 1988
We need your consent to load this rte-player contentWe use rte-player to manage extra content that can set cookies on your device and collect data about your activity. Please review their details and accept them to load the content.Manage Preferences
---
Read more: Tributes paid to 'genius of music and comedy' Shay Healy
---
Speaking this morning, Johnny Logan said his death was "very hard to take".
He told RTÉ Radio: "Shay was very easy to like and very easy to love. My thoughts and prayers are with his sons. I am sure they are heartbroken."
He recalled how Mr Healy approached him during the 1979 Castlebar Song Contest.
"He told me that he had a song, and wanted me to perform it [if chosen to represent Ireland] at the Eurovision. That is how the story of What's Another Year began."
Mr Healy told Mr Logan that the song was about his father trying to get over the death of his mother.
"That was very useful to know when it came to performing it," Mr Logan said.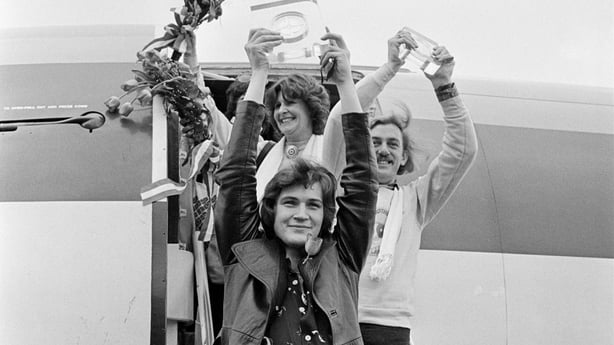 Linda Martin recalled winning the 1983 Castlebar Song Contest with a song written by Shay Healy called Edge Of The Universe.
"I have wonderful memories of him. Clever, kind and witty. He was so talented," she said.
Musician Phil Coulter told the same programme that the songwriting community in Ireland had lost one of its "legendary figures. There is nobody who got more out of winning a Eurovision than Shay".
"He wore a t-shirt during the rehearsals of the finals saying 'it is imperative that I win this contest'. That was typical of Shay Healy."
He added: "He never allowed himself to wallow in self-pity. He has left a great legacy behind."
Fr Brian D'Arcy recalled his sense of humour and how he once told him that "a good country song has to have a mother, religion and tragedy in it.
"The perfect line would be 'my mother was drowned in the bath at Lourdes'. It was pure witticism with him."
So sorry to hear of the death of songwriter and broadcaster Shay Healy after a brave and dignified battle with illness.

He brought so much joy with his Eurovision success, and informed millions with his skilful interviews.

My deepest sympathies to his family on their loss. pic.twitter.com/ARDb5JIhLu

— Micheál Martin (@MichealMartinTD) April 10, 2021
Riverdance producer John McColgan said he and Shay Healy first met as cameramen in RTÉ.
"We have never really been apart for the last 50 years. I was immensely fond of him. He was incredibly talented," he said.
Mr McColgan said during the pandemic he could only see Shay through a "crack in the window" of the nursing home where he spent his final days battling Parkinson's disease.
He was allowed in to see him in his room last Tuesday as he was so ill.
"It was the last time I saw him. I was honoured to be his friend," he said.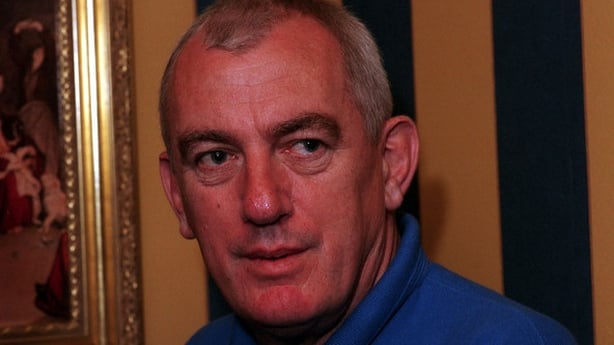 Minister for Tourism, Culture, Arts, Gaeltacht, Sport and Media, Catherine Martin described Shay Healy as "a gifted songwriter and a national treasure".
She added: "His beautiful song writing inspired a generation of Irish artists to take their place on the world stage.
"His time as a broadcaster brought Shay into our homes where the Irish public fell in love with the man and with his irreverent and vital spirit.
"His battle with Parkinson's disease in his later years was so difficult but also a source of great inspiration for many dealing with the same struggles. I wish to offer my deepest condolences to the family and friends of Shay at this very difficult time."