Dominaykas Dambrauskas lives in Kells, Co Meath and once restrictions are lifted and the hospitality sector reopens, he will start work at the Headfort Arms Hotel. 
"I would like to be employed. I would like to earn more money. Everyone gets a job; my Dad has a job and I want to be like him. I would like to work in a cafe, a shop or even with the police," he explains. 
The 20-year-old has Down syndrome and plays the leading role in a short film, 'Underestimate me! That'll be fun!', which has been produced by the learners at Prosper Meath, a community organisation providing day services for people with disabilities. 
"Times have changed. People are more accepting now. What we ask now is that people have expectations of people with disabilities and there's no better way to have expectations that through employment" explained Shane Carolan, Day Service Manager at Prosper Meath. 
Shane also took part in the film, which aims to highlight the discrimination people with disabilities face when it comes to employment. 
The film follows Dominaykas as he navigates the interview process. 
The thought-provoking video challenges the attitudes that exist around employing people with disabilities and highlights how an open mind can lead to a better future for all. 
We need your consent to load this rte-player contentWe use rte-player to manage extra content that can set cookies on your device and collect data about your activity. Please review their details and accept them to load the content.Manage Preferences
It sees one of interviewers dismiss Dominaykas as a candidate for a job but later in the day, as the interviewer goes about his life, he meets Dominaykas in different scenarios. 
"The film is important in what it highlights for people with disabilities. We're not asking for 39 hours a week, we're talking about a day a week, maybe a couple of hours and let them prove their worth to themselves," said Shane.
"We're not setting anyone up for failure. There's a lot of work that goes on in getting our service users job ready and it's important to find a placement of work that they want to work in," he added. 
Emma Brady, 28, also worked on the film. She said it has given her a new goal. 
"I would like to work as a beautician or in a spa, back massage and all of that. I'd love that," she said. 
Local filmmaker Shay Casserly, who is a tutor with Louth Meath Further Education and Training, said working on the film was an uplifting experience.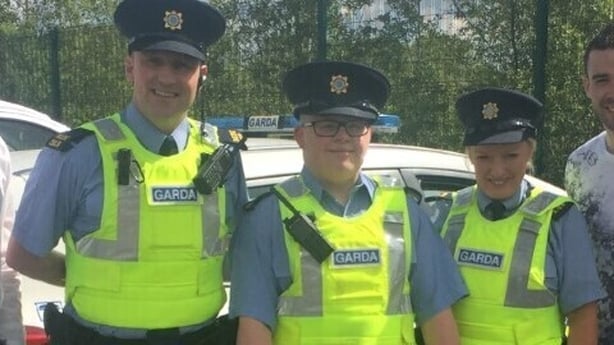 "Our goal is to change perceptions. The crew from Kells have been very inspiring. Twelve years ago, my son was born with Down syndrome and I suppose this was a doorway to give him a voice in the future," he said. 
The film was made pre-Covid but only launched this weekend to mark World Down syndrome Day.
In recent weeks Dominaykas has been offered a job at the local hotel in Kells, The Headfort Arms. 
"We've had valued team members with a disability working with us before and we're looking forward to welcome Dominaykas to our team when we re-open again," said Olivia Duff, Director of the Headfort Arms Hotel. 
"We need to instill a culture of focusing on the ability and not the disability and we all need to have that mindset in the workplace," she added. 
According to Down syndrome Ireland, the more than 95% of graduates employed following their Ability programme have been furloughed, with two being supported to work remotely since the pandemic.
Additionally, 80% of adults with Down syndrome say they are unable to find courses that are interesting and accessible in their local communities.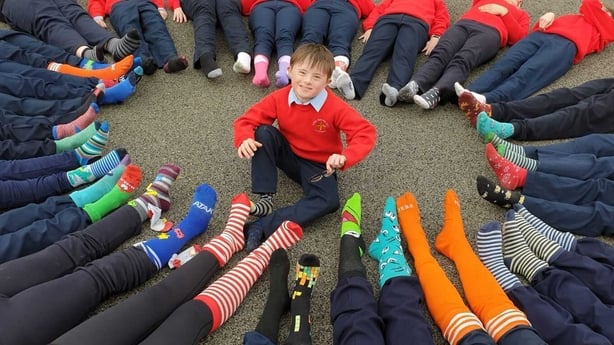 In response to members' concerns, DSI has developed 'Ability Online', a ten-week adult education course that can be delivered remotely and combines online tasks and group Zoom discussions. 
"We need to break some of the perceptions that exist out there. We need to find people with down syndrome the opportunities to follow their dreams," said Barry Sheridan, CEO Down syndrome Ireland. 
After a challenging year, he is urging employers to look at opportunities that may exist in their workforce. 
"Look at the opportunities that might be available within your workplace to help them help you," he said. 
All over the world today people are being encouraged to wear colourful socks as part of the 'Lots of Socks' campaign, which represents the extra chromosome that people with Down syndrome have, and is internationally recognised to raise awareness about Down syndrome. 
"Get your colourful and funny socks out and be part of the celebrations and bring joy and smiles to people's faces over the weekend," he added.