Taoiseach Micheál Martin has apologised to the women and children of mother-and-baby homes for a "profound generational wrong".
"The State failed you," he said. "Each of you deserved so much better."
He said the women and children had nothing to be ashamed of. "The shame was not theirs it was ours. It was our shame that we did not show them the respect and compassion which we as a country owed them. It remains our shame."
Taoiseach Micheál Martin apologises for the "profound and generational wrong" to survivors of mother-and-baby homes. | Read more: https://t.co/LHm8XVVo3A pic.twitter.com/ICBNUdndTU

— RTÉ News (@rtenews) January 13, 2021
Speaking in the Dáil, Mr Martin said the report from the Commission of Investigation into the homes has afforded the country a "moment for us as a society to recognise a profound failure of empathy, understanding and basic humanity over a lengthy period".
He said the commission's report reveals the dominant role of the Churches and their moral code and lays bare the failures of the State. 
They have produced the definitive account, he said, of how Ireland responded to the needs of single women and their children at a time when they "most needed support and protection". 
The lack of birth information is a "terrible burden" on the lives of survivors, he said.
Some children who were subsequently boarded out experienced heart-breaking exploitation, neglect and abuse within the families and communities in which they were placed which he described as "unforgiveable".
He said that many left these shores to escape this prejudice and escape their families.
The Taoiseach said: "On behalf of the Government, the State and its citizens, I apologise for the profound generational wrong visited upon Irish mothers and their children who ended up in a Mother and Baby Home or a County Home.
"As the commission says plainly - 'they should not have been there'."
Micheál Martin apologised for the shame and stigma which the women and children were subjected to and which, for some, he said "remains a burden to this day".
"In apologising, I want to emphasise that each of you were in an institution because of the wrongs of others.  Each of you is blameless, each of you did nothing wrong and has nothing to be ashamed of."
He said the lack of respect for the "fundamental dignity and rights" for mothers and children who spent time in these institutions was "humbly acknowledged and deeply regretted".
"We honoured piety, but failed to show even basic kindness to those who needed it most."
In his State apology, the Taoiseach said the nation must understand and accept the failings of its past.
He said "we must also learn from them".
Mr Martin said Ireland must always seek to create a "more just society, grounded in respect, diversity, tolerance and equality".
Institutionalisation creates power structures, he said which can lead to abuses of power. He said it must never again be an option for our country in any circumstance.
Mr Martin said that testimonies show that this treatment of women and their children was a "direct result" of how the State and society acted. 
The report, he said, presents us with profound questions. 
He said "we embraced a perverse religious morality and control, judgementalism and moral certainty but shunned our daughters".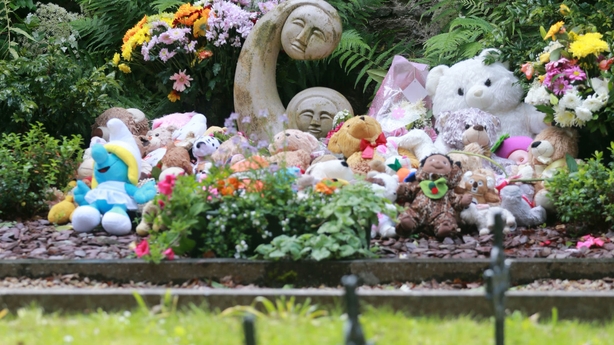 Following the Taoiseach's apology, Tánaiste Leo Varadkar said for too many years Ireland was a cold house for children born outside of marriage and he paid tribute to the work of historian Catherine Corless.
Tánaiste Leo Varadkar says Catherine Corless lit the candle to let us read this "dark chapter of our history." | Read more: https://t.co/LHm8XVVo3A pic.twitter.com/IMwCTp69LF

— RTÉ News (@rtenews) January 13, 2021
---
Read More:
Report shines light on history that permeates today
'Appalling level of infant mortality' in mother-and-baby homes
Dark, difficult, shameful chapter of Irish history, says Taoiseach
---
We need your consent to load this rte-player contentWe use rte-player to manage extra content that can set cookies on your device and collect data about your activity. Please review their details and accept them to load the content.Manage Preferences
Also speaking in the Dáil the Minister for Children, Roderic O'Gorman said of the women and children of the mother-and-baby homes that it was their campaigning and their commitment to the truth that has brought us to this day.
By this report we are ensuring that their testimonies are heard, acknowledged and understood, he said.
"We are affirming in the strongest possible terms that they were wronged, and that they wronged nobody."
The Minister for Children said: "You have waited long, too long for this recognition."
There exists very little trust between the state and those who have been so grievously wronged, Mr O'Gorman said. 
He said the publication of this report does not end this story. 
"My hope is that it marks the first step in the new relationship where we will reject the policy if denial as the states response to grievance; Where the state will engage with empathy, humility and generosity with those who were wronged and where will strive to rebuild the trust so grievously shattered."
He said the publication of the report into mother and baby homes is an occasion to acknowledge as the government, the role that the state played in this and to apologise for that.
Children Minister @rodericogorman tells Dail he has written to religious bodies about contributing to the restorative justice scheme being introduced by Govt re mother and baby homes. @rtenews

— Paul Cunningham (@RTENewsPaulC) January 13, 2021
"To acknowledge the neglect, the hurt caused, and in many cases, the terrible toll that this has taken on so many of our citizens across decades", Minister O'Gorman said.
He said "central to the response" to the report on Mother and baby Homes is "access to personal information". 
---
Read more:
Church 'out-stepped its role' and became 'controlling' - Diarmuid Martin
Mother-and-baby home report, survivors stories
Read the full report
---
Roderic O'Gorman said "legislation on information and tracing is being advanced this year, centered on a person's right to information about themselves and founded on GDPR principles". 
He said his department is working to put in place mechanisms whereby survivors and adoptees can seek personal information via GDPR, when the commission archive transfers to my own departments at the end of February.
The Taoiseach said the production of the report was possible due to a "depth of courage shown by all those who shared their personal experiences with the commission". 
He said that the report would not have been possible without the "steady determination" of the survivors, their advocates and researchers who worked with them.
Mr Martin said he wanted to acknowledge in particular the work of historian Catherine Corless. 
He said that the fathers of the children, families and friends should have been there to protect them, "but so often it was not".
Mr Martin said that the most striking finding from the report is the feeling of shame for those who became pregnant outside of marriage and the stigma felt by their children. 
Extracts, he said, shone a light on the attitudes that women encountered. 
Some of the pregnancies he said were as a result of rape and incest. Children, he said, were treated like outcasts in school and wider society. 
Mr Martin said the Government is committed to implementing a number of measures and supports for survivors.
A Commission of Investigation found there was "an appalling level of infant mortality" in the homes over a 76-year period.
The report, which is the result of a five-year investigation, also said the proportion of women admitted to Ireland's mother-and-baby homes was probably the highest in the world in the 20th Century.
The Commission of Investigation's report states that 9,000 children died in the institutions and found that mortality rates were very high in the period compared to the overall national rate of infant mortality.
It said there was no evidence that the women were forced into mother-and-baby homes by church or State authorities, but, "most women had no alternative".
Women were brought to mother-and-baby homes by their parents or other family members, without being consulted as to their destination.
The Government said a new inter-departmental group will set up a redress scheme for the survivors of mother-and-baby homes.
A Restorative Recognition Programme will be set up, which will be led by the Department of Children. The group will decide on the design of a redress programme.
The Taoiseach has said that religious orders involved in mother-and-baby homes should make a contribution to the scheme.
---
The National Counselling Service has been asked to provide counselling to former residents through its counselling locations.
For information on available supports and information on how to access the HSE live team, call 1800 817 517, Monday to Friday from 8am to 8pm and Saturday and Sunday from 9am to 5pm.
For a list of local helplines, click here