Arlene Foster and Michelle O'Neill have shared a post-Executive meeting platform for the first time in more than two months.
A row with the DUP over the Bobby Storey funeral halted the joint public press conferences by the heads of Northern Ireland's power-sharing administration, at a key time during their response to the pandemic.
Sinn Féin's leader in Northern Ireland has accepted that a large crowd at the funeral this summer undermined public health messaging on coronavirus.
Michelle O'Neill told RTÉ News that she regrets what happened when large numbers attended the veteran republican's funeral in June, including herself and party leader Mary Lou McDonald.
She said she hopes the practice of the first and deputy first ministers sharing a platform on pandemic policy issues can be restored for what will be a challenging winter.
The other parties in the Stormont powersharing administration claimed that credibility with the public had been undermined.
First Minister and DUP leader Arlene Foster suspended her practice of hosting a joint news conference with Ms O'Neill when delivering Covid-19 updates.
Ms O'Neill rejected any suggestion the hiatus had harmed the response to the health crisis, and said they were still out delivering the same message and their policies were aligned around their approach to the virus.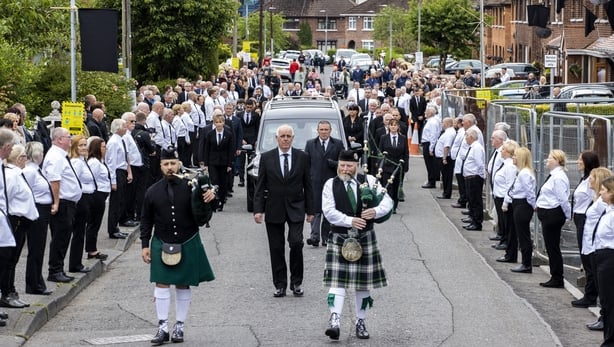 Last night, Ms O'Neill acknowledged Stormont's public health messaging capacity had been undermined by the row.
She said: "It wasn't my intention this would happen, but it did, I accept this and I regret this is the case.
"I accept that we have not been able to deliver clear messaging in the format that was the practice before this controversy."
Ms O'Neill said she hopes that cohesion at leadership level in the executive can be restored for the challenges that lie ahead and said she was committed to rebuilding public trust.
Localised restrictions for Belfast, Ballymena
This morning, Ms Foster said: "It is right that the Deputy First Minister has acknowledged the undermining of the public messaging as a result of what happened, and the deep hurt and anger that was caused as a result of Michelle O'Neill's action."
Statement by DUP Leader Arlene Foster MLA @DUPleader pic.twitter.com/Ozr8w6SMNV

— DUP (@duponline) September 10, 2020
Sinn Féin President Mary Lou McDonald said she accepts that she and Ms O'Neill should not have attended the funeral as it undermined public health messaging.
Speaking on RTÉ's Morning Ireland, Ms McDonald said she knows that the large numbers who were out on the streets at the funeral gave rise to a very heartfelt and legitimate public concern.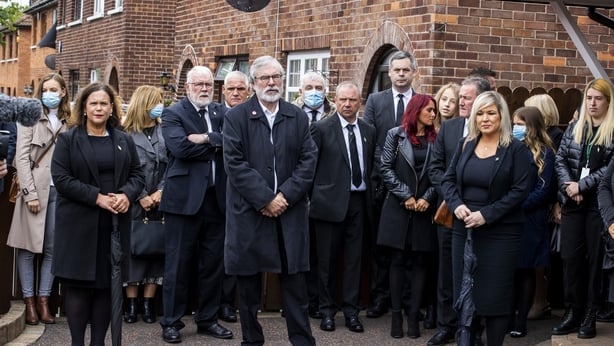 She said that Ms O'Neill has been expressing "her and our" regret that there was any undermining of the public health messaging.
"All of us have to do our best," she said.
Ms McDonald said that there is a need for joint effort across the island, in Northern Ireland and from all the parties in the NI Executive to stand on a common platform so the public can get a clear message and the confidence in a common purpose from those in government.
Speaking on the same programme, Taoiseach Micheál Martin said he welcomed Ms O'Neill's statement, but said the response of Sinn Féin was one of denial for far too long.
Mr Martin said it had damaged the public faith in the executive and should have happened earlier.
Taoiseach says he welcomes statement from Sinn Féin's Michelle O'Neill, who acknowledged public health messaging was undermined by the funeral of Bobby Storey. He adds that it should have come sooner | https://t.co/Mv8pa3hjZ1 pic.twitter.com/epUXkfT34m

— RTÉ News (@rtenews) September 10, 2020
Mr Storey's funeral was investigated by police over potential breaches by mourners of social distancing rules.
Large crowds, with marshals, were present as the cortege passed through west Belfast.
Ms O'Neill initially stood by her decision to attend the service for the senior republican but did apologise to families bereaved during lockdown for any hurt caused by scenes of hundreds of people lining the route.
Additional reporting PA