Stormont First Minister Arlene Foster said damage has been done to relationships right across the Executive over the Bobby Storey funeral controversy.
Deputy First Minister - and Sinn Féin's leader in Northern Ireland - Michelle O'Neill, is facing calls from the other four parties at Stormont to stand down from her government role pending police and Assembly standards investigations into the scenes in west Belfast when hundreds lined the streets on Tuesday.
Ms O'Neill said a "lack of understanding on behalf of the clergy" led to confusion around the numbers allowed to attend Mr Storey's funeral.
She insisted that funeral services were covered by new guidelines for church services that came into effect in Northern Ireland on Monday, allowing for congregation numbers based on the size of the church.
This is in direct contradiction to the position of senior church figures, who insist they were advised by Stormont last week that the revised guidelines did not cover funerals and weddings.
Following Ms O'Neill's claims, the Diocese of Down and Connor said its position on its understanding of the guidance [on funerals] remained unchanged.
The Deputy First Minister insisted that a public gathering in respect of Mr Storey's funeral only applied to the cortege. She said numbers were limited to 30 in that.
The hundreds that gathered on the roadsides, Ms O'Neill contended, were outside the control of the organisers.
Earlier today, Ms O'Neill said she would never apologise for attending the funeral of the IRA veteran but was sorry for any hurt caused to other bereaved families in recent days.
Arlene Foster said Ms O'Neill's apology fell short and reiterated her demand that she step aside. She said it was her clear view that she had broken the public health guidelines.
The First Minister said the incident had damaged relationships "right across the Executive" and also damaged her power-sharing partner's credibility in giving out Covid-19 public messaging.
Sinn Féin's Michelle O'Neill has said she is sorry for the hurt caused to grieving families by concerns over social distancing at the funeral of Bobby Storey. Stormont First Minister Arlene Foster has said the statement doesn't go far enough | More: https://t.co/R5l1iXuuvx pic.twitter.com/tcJxTh684F

— RTÉ News (@rtenews) July 3, 2020
"There was no recognition [by Ms O'Neill] of any wrongdoing or recognition that there was a problem, no recognition that the credibility of the Executive has been damaged," Mrs Foster said.
"We need to recognise that there is a problem and try to deal with the problem."
Asked if she thought Ms O'Neill should have attended the funeral, Mrs Foster said there were other ways to pay your respects, noting that she had to do so herself during the past 15 weeks of lockdown.
"She could have found a way," the First Minister said.
Stormont First Minister Arlene Foster says Michelle O'Neill's statement does not go far enough, and says she should consider stepping aside while investigations into the matter are under way | More: https://t.co/M36JnDVRCg pic.twitter.com/cbH79PbnlX

— RTÉ News (@rtenews) July 3, 2020
Yesterday, Mrs Foster revealed she would not collapse the institutions in the way the late Martin McGuinness did when he quit as a joint head of government in January 2017.
She said it was vital Northern Ireland had a government amid the coronavirus emergency.
Ms O'Neill today again insisted she acted within the rules in respect of all the things that were within her control. "I will never apologise for attending the funeral of my friend," she said.
But Ms O'Neill acknowledged some bereaved families had been left upset. "I am also concerned that those grieving families are experiencing more hurt over recent days," she said. "I am sorry for that."
She added: "I would never set out to hurt any family or compound their grief at such a sad time.
"In terms of my attendance at the funeral I am confident I can stand over the fact I worked within the guidelines and regulations in terms of attending a requiem mass, which was allowed, and also to walk in a funeral cortege of up to 30 people."
The leaders of the five main Executive parties at Stormont met this morning in an effort to resolve the row.
A statement from Ms O'Neill apologising for the hurt caused to families was issued while the meeting was taking place inside Parliament Buildings.
Ulster Unionist leader Steve Aiken and SDLP leader Colum Eastwood, who both participated in what have been described as "robust" exchanges, said Ms O'Neill's remarks did not go far enough.
They rejected her claim that she stuck to the rules, insisting there were clear breaches.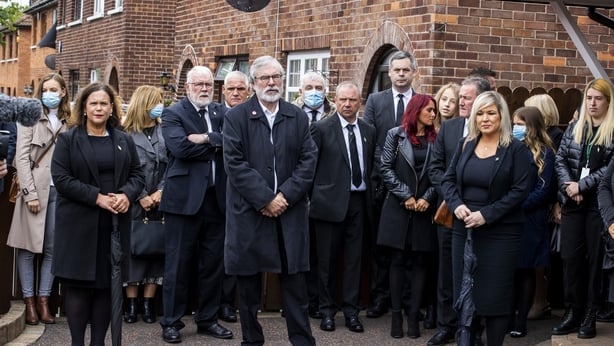 Mr Aiken claimed the rules on the number of people allowed inside a church for a funeral were broken with the Storey funeral, as was the restriction on the numbers allowed at outdoor gatherings.
The UUP leader also said it was stated "very clearly" in the guidelines that it should only be family attending funerals.
"Which part of Michelle O'Neill or indeed Conor Murphy (Stormont Finance minister) or indeed any of the other Sinn Féin representatives, which part of family were they?", he asked.
SDLP leader Colum Eastwood MP described Ms O'Neill's statement as a "half apology". He said if she was "incapable of showing contrition for her actions or accepting wrongdoing then she should stand aside".
Stormont First Minister Arlene Foster says the other party leaders at Stormont agreed that Michelle O'Neill had broken regulations, which she said leads to a problem of working together and a credibility issue for their messaging| More: https://t.co/M36JnDVRCg pic.twitter.com/0WpUbPSC1z

— RTÉ News (@rtenews) July 3, 2020
Earlier, Sinn Féin leader Mary Lou McDonald also apologised for any hurt caused by the large crowds that lined the streets for Mr Storey's funeral.
Speaking on Newstalk, Ms McDonald said she wanted to apologise to anyone who was hurt by the gathering.
"I am acutely conscious of everyone who has lost a loved one and buried them in the most difficult and heart-breaking and lonely of circumstances at the heart of the pandemic," she said.
"The very fact that people could not have church services if that is what they wished or even enter cemeteries or crematoriums was incredibly, incredibly hard.
"Can I also say that I do understand that looking at the images of very busy pathways in west Belfast, and taking all of that in, obviously has jolted and has caused some hurt among some of those families, and for that I am very sorry.
"That certainly would never have been my intention or Michelle's (O'Neill) intention or the intention of the Storey family as they laid Bobby to rest."
Ms McDonald said that after everything the public has been through over the last number of months, particularly bereaved families, nobody wants to cause hurt, upset or any further pressure on those who are still grieving.
She said she "absolutely, categorically" does not accept claims that it is 'one rule for Sinn Féin and another rule for others'.
"I've had kids out of school since March, I am very careful in terms of rules and regulations", she said. "I shop once a week and when I shop I am fully masked. There's one rule for all of us."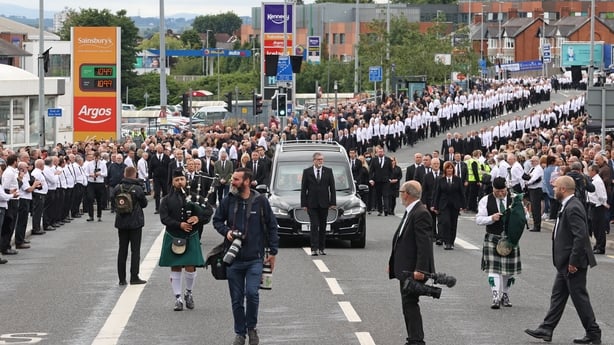 The British and Irish governments have been in touch with the five Stormont party leaders, attempting to find a formula to diffuse the row.
---
Read More:
Sinn Féin leader says O'Neill should not step aside during inquiry
Funeral for Bobby Storey held in Belfast
---
While Stormont is anticipated to sign off guidance that would allow more people to attend a funeral, depending on the size of the church, that has not yet been announced.
Northern Irish ministers have picked up the pace of reopening the economy over recent weeks.
Pubs which serve food, hotels and some visitor attractions opened their doors today after coronavirus restrictions were amended.
Additional reporting PA