Sinn Féin leader Mary Lou McDonald has said Michelle O'Neill should not step aside as Northern Ireland's Deputy First Minister, and that nobody should be punished for attending the funeral of a friend.
She was responding after the DUP called on Ms O'Neill to stand aside while police investigate alleged social distancing breaches at the funeral in Belfast of veteran republican, Bobby Storey.
Ms McDonald said "the whole island has come through a difficult time" and none more so than families that have lost a loved one as a result of the pandemic. 
"I don't think anybody should be punished or asked to step aside or step down because they attended the funeral of their friend, no I don't," she said.
She said she herself has nothing to apologise for in relation to her attendance, and that she was honoured to be asked by Mr Storey's family to attend the funeral mass.
"One of the great marks of respect and decency is how you say your goodbyes to people," she said.
"We have been through an incredibly difficult time for people who have been bereaved. I was pleased to have the opportunity to say goodbye to a friend of mine. Had Bobby died a week earlier, I would not have been in a position to do that because I could not travel."
Ms McDonald said those organising the funeral "did their very best to maintain social distancing" but that "when it is somebody that is known or admired or loved - or somebody loses their life in tragic circumstances - people will come out."
She said: "There needs to be - above all else in this circumstance - absolute thought and sensitivity to the families in question."
We need your consent to load this rte-player contentWe use rte-player to manage extra content that can set cookies on your device and collect data about your activity. Please review their details and accept them to load the content.Manage Preferences
Yesterday, Ms O'Neill, who is also Sinn Féin's leader in Northern Ireland, said she believed her actions were within public health guidelines and regulations linked to the pandemic emergency.
Answering questions from members of Stormont's Executive Office Committee, Ms O'Neill said she would not be standing aside from her position as the joint head of government.
Four of the five parties that make up the Stormont Executive have now called on Ms O'Neill to step aside.
Thousands of people gathered in west Belfast on Tuesday for the funeral of Mr Storey, who died in England two weeks ago.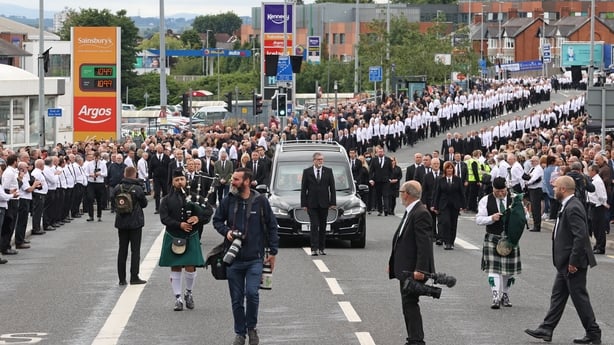 The mourners also included former Sinn Féin leader Gerry Adams, as well as a number of party TDs and Assembly members.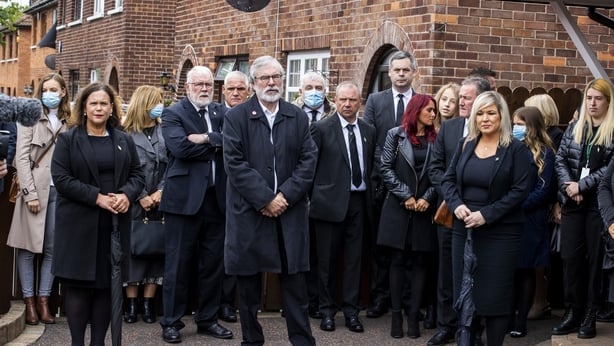 Guidance set by the Northern Ireland Executive says a maximum of 30 people should attend a funeral, and friends should only attend when there are no family members in attendance.
The PSNI is investigating potential breaches of lockdown rules.
DUP MP @J_Donaldson_MP tells BBC @DUPleader Arlene Foster has written to N Ireland's Deputy First Minister @moneillsf asking her to step aside while @PoliceServiceNI investigates alleged breaches of Covid-19 restrictions at funeral of senior republican on Tuesday @rtenews

— Vincent Kearney (@vincekearney) July 2, 2020
Mr Donaldson said his party met this morning to discuss their response after Ms O'Neill refused to apologise for her actions yesterday, claiming she has "failed to recognise the public mood on this". 
"I think now is the time to step up and demonstrate respect and integrity," he told the BBC. 
"The law on these matters is clear and what happened at that funeral has sent out a very, very bad message to people in Northern Ireland. 
"In light of the failure of Sinn Féin yesterday to grasp the opportunity to apologise, it is our view that the deputy first minister must now step back from her role while these matters are investigated by the PSNI. 
"We will be asking the standards authorities in the Assembly to examine whether those MLAs who attended the funeral broke the code of conduct for MLAs, and we will also be asking the PSNI to specifically investigate any potential regulatory breaches by executive ministers including the deputy first minister. 
"Given the seriousness of this situation, given the need to rebuild public confidence, given the need to have clarity in the Executive message on Covid-19 and the risk to the public, then yes that's what we believe should now happen." 
Mr Donaldson said the message from the Northern Ireland Executive has been damaged by Ms O'Neill's actions but stopped short of threatening to collapse Stormont.
"We're in the middle of a pandemic ... the Executive stepped up to the mark, what happened this week damaged and undermined what the Executive has been doing but are we seriously saying that the right thing to do is bring the Executive crashing down because of the wrongdoing of Sinn Féin?
"Sinn Féin need to step up now and take responsibility for what they have done," he said.
Today's scheduled joint media conference on the coronavirus emergency with Mrs Foster and Ms O'Neill has been cancelled.
SDLP leader Colum Eastwood said he thinks there is "a huge level of public anger" regarding Ms O'Neill's actions and the call for her to step aside during the inquiry is because he believes she has broken her own rules regarding social distancing during the pandemic.
Speaking on RTÉ's Today with Sarah McInerney, he said: "The point about this is Michelle O'Neill makes the rules. She communicated the public health message, rightly so, and the public went with it. I can tell you the number of people who buried people during the pandemic who were not able to do the normal thing, bury your loved one with your community around you, and they are absolutely furious.
"Sinn Féin are doubling down on this argument. It's absolutely clear they are wrong."
He said Sinn Féin "want to dismiss this as people playing politics but that is not the case at all"
DUP MP for East Antrim Sammy Wilson said he he does not think it is a political argument. 
"The photos have indicated quite clearly the rules were broken by someone who has been making those rules," he said, adding that he thinks it has cost Sinn Féin a lot of credibility.
"She preached at us that we had to do these things and there would be penalties if we didn't. And then arrogantly she believes these things don't apply to her."
SF different and not in a good way - Varadkar
Tánaiste and Minister for Enterprise, Trade and Employment Leo Varadkar said: "I think it is important that politicians try to lead by example - there are rules and regulations that we make and we expect others to stick to them. 
Speaking in Dublin, he said: "I don't want to comment on a funeral because you know, ultimately it was a funeral and I think we need to respect that.
"I do think there was a huge contrast between what we saw last Saturday where Micheál Martin became Taoiseach and his family couldn't travel up from Cork to be with him. 
"In contrast, Michelle O'Neill turned up for a photo-op. It does show a different attitude. Sinn Féin is different to other parties and not in a good way."