Staggered drop-off times, socially distant queues and shoe-sanitising were all part of the new regime as childcare services reopened their doors this morning.
While there was some tears and lingering goodbyes at two crèches we visited this morning, there was smiles, skipping and shouts of joy - and that wasn't just the children - as babies, toddlers and pre-schoolers returned to the places they are cared for, following a more than three-and-a-half month absence.
While children are now divided into groups known as pods, in reality things don't look very different to before.
These pods are generally in line with the rooms or groupings that crèches normally operate for children of different age groups.
While the children are no longer allowed to mix or share toys with children from other pods, within their own pod there is no requirement for social distancing.
There are two staff in each pod and those adults must try to maintain social distance with each other and other staff members but not with the children.
Guidelines advise staff against kissing children but they're being told they should respond if a child initiates physical contact.
Items from home such as toys, soothers and blankets can no longer be brought to and from crèche but can be kept on the premises.
Childcare facilities are taking different measures as they tailor the guidelines to work within individual settings.
In the Clever Cloggs Creche in Clontarf that RTÉ visited this morning, children were instructed to bring their lunches in clear plastic bags to reduce the number of items being brought in and out of the premises.
Children arriving for the montessori class stood with one parent accompanying them at red stickers that were placed on the wall two metres apart.
With a wave and a smile they were greeted by the owner Louise O'Hara and other staff members and they appeared unfazed by the new requirements to sanitise their shoes on a mat, drop their plastic lunch bags and wash their hands, with most focused on seeing their much-missed friends or being reunited with their favourite game or toy inside.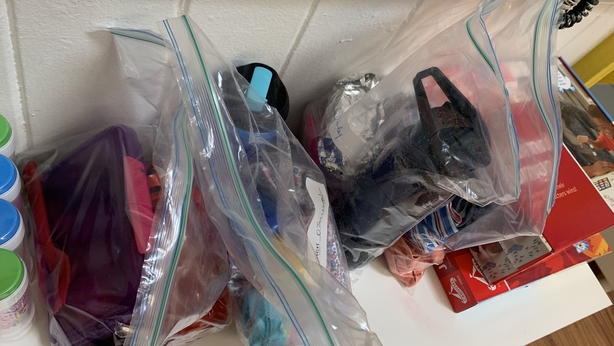 Many bounded in the door with excitement giving their parents a cursory goodbye.
Parents, who are now required to not enter the premises, strained their necks to ensure the child - who has been by their side for the past 15 weeks - was safely inside, before generally expressing happiness and relief that this day had finally arrived.
Glen Worley described it as a "game changer" for him and his wife, who are both working from home. This was his second drop of the day, he had arrived an hour earlier with his baby, his toddler son was now going through the doors. Both are only staying for two hours today as they ease back into crèche but he was happy to make four separate journeys to make that happen.
Nadine Kiernan described it as a day of mixed emotions but she said she was glad her daughter was returning to childcare as she herself has been out working throughout the lockdown.
She said her father who was caring for her daughter while he was working from home, had to rely a lot on television, "It'll make it so much easier, everyone will be able to concentrate a lot better on getting things done".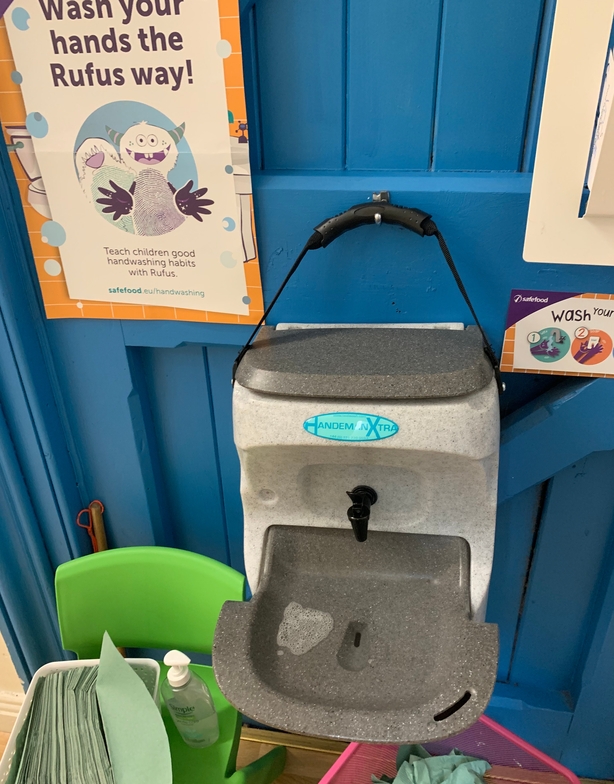 Lorna Wafer said she was keen for her daughter Jessica to mix socially with other children and she had no reservations about her return to childcare saying it was important for her well-being.
Jessica, who is four, was excited about seeing her friends and playing with the dolls.
Annette McKeown Islam said both she and her two children were excited about a return to normality.
She too had no hesitation in sending them back: "It's a process we all have to figure out so we have to participate to see how it works."
Clever Cloggs owner Louise O'Hara said she was nervous before coming in this morning after an absence of almost four months but delighted with how well it had gone.
"The children have come back and it's like they've never been away. It's no nice to see and hear the sound of them in the classrooms."
She said from the child's point of view "there's not much difference, the children are coming back to their same classrooms with the teacher and the same toys and go about the day as they were.
"The staff are more aware, hygiene levels have been upped, hand-washing has been upped and more policies have been put in place to prevent the spread of Covid-19 in crèches."
Early Childhood Ireland said that the comprehensive guidelines issues by the Department of Children helped providers have the confidence to reopen and gave parents reassurance.
But CEO Teresa Heeney said the Department would have to monitor the new measures to ensure that parents understood them, that children could play freely and that staff felt safe.
The Federation of Early Childhood Providers said the funding model is not sufficient to cover the operating costs of providers and that many face going out of business in the weeks ahead.
Seas Suas, a body representing independent childcare providers, said of the 44 members it surveyed, 15% will remain closed. One quarter of those reopening said only 25-35% of children are returning in July and August.
It is saying the €75m in funding for the sector will only last until August and it believes that €130m will be needed to fund services over the next six months.
it called on the new Children's Minister Roderick O'Gorman to prioritise sustainability of the sector.