Disability groups have criticised the delay by the Department of Education in providing guidelines to schools about how to run the summer programme for children with special needs announced last week.
Inclusion Ireland and the autism organisation AsIAm say parents are reporting that many schools are not taking part due to a lack of guidelines and availability of staff.
They also say there is confusion among those opting for home tuition about the application process.
The Department of Education says 8,000 children have been registered for Summer Provision since it was announced last week but it will not reveal how many schools have so far signed up to provide it
In a statement to RTÉ News, the department said it appreciates there are concerns among many parents who have yet to confirm place on Summer Provision in a school
It says it is working intensively to provide more information for schools on how they can operate.
Those guidelines are due to be issued in the coming days
Lorraine Dempsey, CEO of Inclusion Ireland, said parents are reporting to the organisations that a lot of schools that traditionally provide the July programme say they are not in a position to offer the planned Summer Provision.
She said they are citing a lack of guidelines for running the programme and the availability of staff as barriers to running the scheme.
Ms Dempsey said while there is an option of a home-based scheme, this will not be suitable for some parents due to the nature of their child's disability.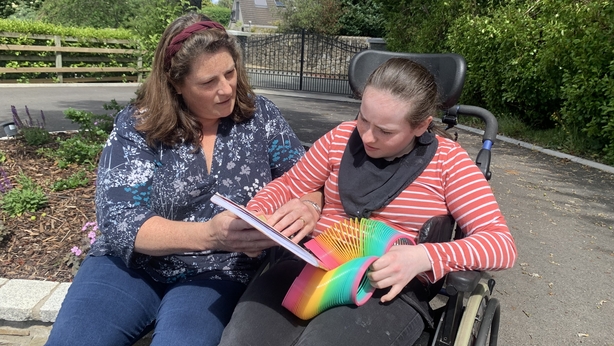 She also said that for those schools that are running the programme there are problems with provision of schools transport and while this might be addressed by the department compensating parents for transporting their children, this wont be feasible for some who have other children or who live long distances from the schools their children attend
Adam Harris, the CEO of the autism organisation AsIAm, said there has been confusion too among those opting for home tuition, with many finding it difficult to navigate the application process.
He said up to yesterday those who had applied for this scheme had not received any information from the department and assumed they had to wait for confirmation or approval before they could proceed with hiring a tutor
Yesterday, the department issued letters to those who had applied encouraging them to check their child's eligibility for the scheme with their school principal and once they confirmed this to proceed with the process of hiring a tutor.
It also suggested that parents look for help from their schools to find a tutor in their area, to consult a number of websites, or to check with advocacy groups.
However, Mr Harris said the department need to be more proactive in helping parents to identify tutors.
Both groups have also expressed concerns about the requirements for parents to submit an application form after the home programme has been delivered.
They want to ascertain who will be liable to pay if a parent proceeds with hiring a tutor and later finds they were not eligible.
Nessa Moran, from Dundrum in Dublin, is a mother of three, whose eldest son Donagh has Down syndrome and autism.
The eight-year-old attends a special school that normally runs a July provision scheme but this week informed parents that it would not take part in this year's Summer Provision due to the lack of availability of staff.
She said the announcement last week of a summer programme had given parents like her a glimmer of hope, but that had been cruelly dashed because of what she says is a failure by the department to fully consult with schools about what they could provide.
She said while she will be able to opt for home tuition this was not her preferred option as she saw the programme as an opportunity to reintegrate Donagh into the school routine, get him out of apartment they are living in, and to give the family respite.
Ms Moran said "this has been a huge blow to parents who are on their knees, they are worn out, they are completely demoralised with the whole situation.
"They're distressed and they find themselves in a position where they can no longer cope having tried to cope since March. And what I cannot understand is why the Department of Education announced a programme to much fanfare and failed to engage meaningfully with all the relevant stakeholders, with the teachers, the SNAs and schools in order to discuss how to operate a summer programme in the midst of a pandemic.
"How can any teacher or SNA participate in a programme without proper guidance from the department?"
She said carers have been the forgotten ones during this emergency, saying "parents of children with disabilities are constantly on the fringes of society, battling to access the most basic of service. However bad it was before the Covid crisis, all those services have evaporated and what we are looking for is a pathway to returning to school. The summer programme was the ideal platform to reintegrate children like Donagh to the school environment.
"These children are the most vulnerable in society and I think if we can't look after the most vulnerable it's a damning indictment of the Government and of the State as a whole".