The chair of Democrats Abroad Ireland has said the Democratic organisation in the United States is extremely concerned by the "escalating rhetoric and lack of compassion" showed by President Donald Trump. 
Protests have taken places across a number of cities in the wake of the death in police custody in Minneapolis of African American man George Floyd.
Carija Ihus said police brutality has to end and there cannot be riots to gain attention. 
Speaking on RTÉ's Today with Sarah McInerney, Ms Ihus said "racism and systemic racism" is not a black or white issue or a Democrat or Republican issue, but it is "a problem nationwide" in the US. 
She said Democrats do not support anyone being violent including the police, the National Guard or demonstrators. 
She said "we are appalled by the murder" of Mr Floyd and of David McAtee in Louisville and "we are very, very concerned" about the fact that Mr Trump has ratcheted up his rhetoric.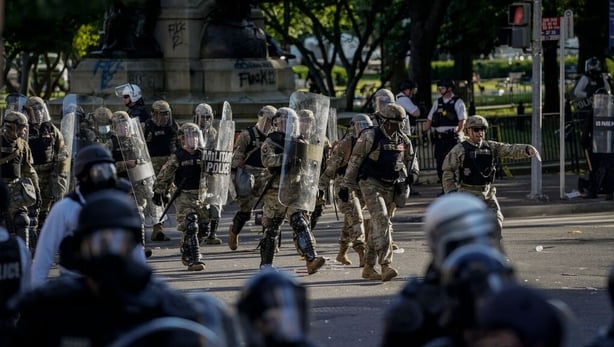 Mr McAtee was fatally shot in Kentucky early yesterday as police and National Guard troops fired weapons while dispersing a crowd of protesters.
The chief of police in Louisville was fired and two officers placed on administrative leave after authorities learned the officers had fired their weapons without using body cameras to record what happened, Mayor Greg Fischer said.
The death of Mr McAtee marked the second time Louisville police did not use their body cameras during a shooting incident in which an unarmed black resident was killed.
In March, Louisville officers shot and killed 26-year-old Breonna Taylor while serving a "no knock" search warrant at her apartment.
---
Read More:
Trump threatens military mobilisation against violent protests 
Trump blames left-wing activists as violence sweeps US 
Police officer charged over death of George Floyd
---
Ms Ihus said Mr Trump had shown a lack of leadership and is "not being compassionate or addressing the concerns of those protesting and not listening to them". 
She said Mr Floyd's brother and father spoke to Mr Trump and he did not listen to them, while Democrat Joe Biden spoke to them and did listen to what they had to say. 
Ms Ihus also criticised the fact that peaceful protesters in Washington DC last night had "police violence used against them" to clear space so that Mr Trump could walk to a church and hold up a bible for what she called "a photo opportunity".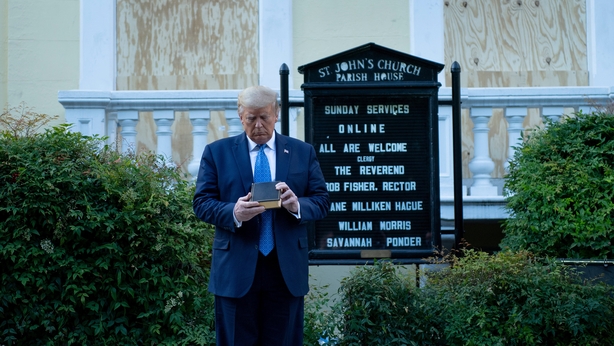 She said it seems "no one in Republican leadership is listening" or addressing the civil rights issues. 
Greg Swenson, a spokesperson for Republicans Overseas, said Mr Trump has been compassionate and "on the other hand he has to demonstrate to the mayors and governors that they have got to keep law and order". 
Mr Swenson said that peaceful protests are absolutely necessary but riots "are not a tool for fighting oppression, they are oppression". 
He said that the situation needs leadership to restore order first as nothing can be accomplished by peaceful protests while there is violence. 
He said that Mr Trump has condemned police behaviour and said criticism of the president is attributable to "Trump derangement syndrome". 
Mr Swenson said that it is absurd to say the protests they are being driven by people on the right "... it is the radical left and I think the president is right to call out the rioters".