Bus and train timetables will be scaled back next week to 80% capacity, due to reduced demand caused by the coronavirus emergency.
Liz Canavan, Assistant Secretary at the Department of Taoiseach, told a briefing this morning that Iarnród Éireann will operate a reduced schedule from next Monday, while Dublin Bus, Bus Éireann and Go Ahead will scale back from next Wednesday.
In a statement, the National Transport Authority said that passenger demand was down by around 80% and the new timetables were based on public health advice on social distancing.
Meanwhile, the National Bus and Rail Union has accepted that a reduction in transport services to "Saturday plus" levels will still enable social distancing due to the 80% drop in passenger numbers.
General Secretary Dermot O'Leary said the requirement to facilitate social distancing on buses and trains had been paramount in engagements with transport operators.
He said the union had insisted that the current fleet numbers would be maintained to allow for it.
However, he said they now recognised that the 80% reduction in passenger journeys had literally provided enough space to move to a "Saturday plus" service, and facilitate social distancing in most circumstances.
Mr O'Leary said the NBRU remained concerned that up to 40% of the Bus Éireann fleet does not have protective screens, and urged the company to introduce measures to remove the requirement for driver/interaction - including the elimination of cash transactions.
He said the one overriding principle for transport workers was that the HSE-recommended protection measures were implemented, including vital disinfecting of driver cabs, customer/staff interaction areas and touch points.
He said NBRU members saw their role as continuing to provide critical public transport services to facilitate access to hospitals, doctors, pharmacies, supermarkets and other vital services for workers who rely on them.
Earlier, SIPTU, which represents 5,000 public transport workers, called on the Government and NTA to reverse the decision.
John Murphy, SIPTU's Transport Sector Organiser, said: "Our members are concerned that packing more people into fewer transport vehicles will increase the risk of exposure to the Covid-19 virus for passengers and staff, particularly at peak travel times."
He also called on the NTA to introduce new lower limits to be enforced on buses, trams and train carriages so that social distancing can be maintained.
The NTA defended its decision by saying that the reduction will allow transport companies such as Iarnród Éireann to conserve maintenance materials and components in a situation where the supply chain for materials could be disrupted.
It said it would also make it easier for operators to ensure continuity of services in the context of increasing rates of Covid-19 in Ireland.
Extra service will be introduced where heavy demand occurs, it said, and journey times will be faster because of reduced general traffic.
NTA Chief Executive Officer Anne Graham said: "The revised schedules we are announcing today, will ensure that those who need to, can continue to get around, on services that remain frequent and reliable, now and in the weeks ahead."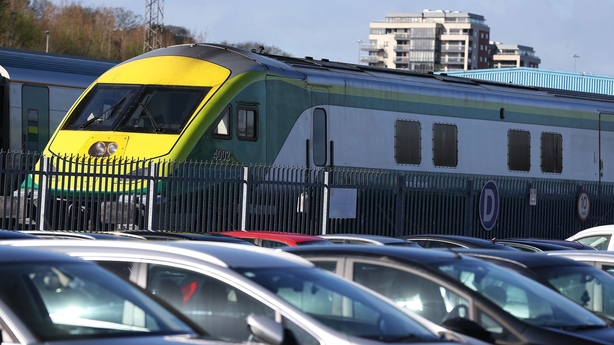 ---
Read more:
Emergency group meets as Covid-19 deaths double
Live - 'Unprecedented' demand for income supports
British Prime Minister Boris Johnson tests positive for Covid-19
---
Meanwhile, the Department of Foreign Affairs is assisting 2,000 people in 86 countries who want to return to Ireland.
During the Government briefing this morning, Ms Canavan urged people in Australia looking to come back to contact the consulate there.
Clearance has been given for a repatriation flight from Peru.
Prison visits will also now be cancelled in order to reduce the risk of spreading the virus to the 7,000 people who live and work there.
Ms Canavan said there had been unprecedented demand for income supports since 13 March, and the level of demand amounted to ten months of the usual number of claims in just ten days.
She said Revenue had issued detailed guidance on eligibility for the temporary wage subsidy scheme and she insisted the declaration by the employer on application was not a declaration of insolvency.
Reporting: John Kilraine, Sandra Hurley