The Health Service Executive's Assistant National Director for Public and Child Health has said "it looks increasingly likely that the world will experience a significant outbreak of Covid-19 over the next six to 12 months."
Speaking on RTÉ's Six One, Dr Kevin Kelleher said he believes this spread will "potentially be much worse than the winter flu."
He said he is satisfied that the HSE is prepared to deal with a case of coronavirus if it is confirmed in Ireland.
Dr Kelleher explained that "you do not have to do anything, if you have been to an area at risk in the last 14 days, and you don't feel unwell."
He said if you do become ill with symptoms like cough, fever, and shortness of breath, get in touch with your GP by phone.
You will be assessed and tested quickly, he said, and test results will be available with 24 hours.
He added that during this 24-hour period, people should self-isolate, which he said involves keeping away from other people in your home, staying in one room, using a bathroom after everyone else, keeping good hand hygiene, and eating separately until results are returned.
Earlier, the Department of Health said that Ireland remains in a containment phase in relation to the coronavirus.
Chief Medical Officer at the department Dr Tony Holohan said there have still been no confirmed cases here.
In a briefing, he said that one of the most important aspects would be the willingness of people to report if they have symptoms if they have returned from an at risk area.
He also said there were established international guidelines on mass gatherings developed around influenza.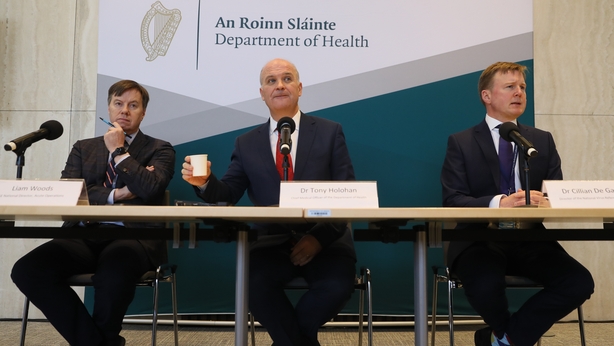 ---
Read more:
Coronavirus: Latest advice as cases rise abroad
Coronavirus death toll in northern Italy rises to 11
IRFU announces Ireland v Italy matches in March will not go ahead
---
Liam Woods, Health Service Executive National Director of Acute Operations, said there were isolation rooms in hospitals which are already used for a number of health matters.
He said the HSE had capacity for isolation rooms and would keep looking at it in relation to Covid-19.
Dr Cillian De Gascun, Director of the National Reference Laboratory at UCD, said it had the capacity to scale up testing if necessary.
It comes as the Irish Rugby Football Union confirmed that the Ireland vs Italy Six Nations matches scheduled between 6 and 8 March will not proceed as scheduled.

IRFU Chief Executive Philip Browne said the organisation was acting on Government advice and that IRFU was "perfectly happy to comply" with its recommendations.
The IRFU is looking at the possibility of rescheduling the games at a later date
Earlier, speaking on RTÉ's Morning Ireland, Minister for Transport, Tourism and Sport Shane Ross said there is no travel ban and Italian fans may still come to Ireland, but they would not encourage measures which would heighten the risk of the disease spreading - such as the mass gathering of fans in a stadium.
Mr Ross said the risks involved with going ahead with St Patrick's Day celebrations next month will also have to be monitored and that a decision will have to be taken nearer the time.
He said while no one wanted to discourage Irish people from travelling or tourists coming here, the Government was prepared to take responsible, difficult decisions if needed and he would row in behind any difficult decisions.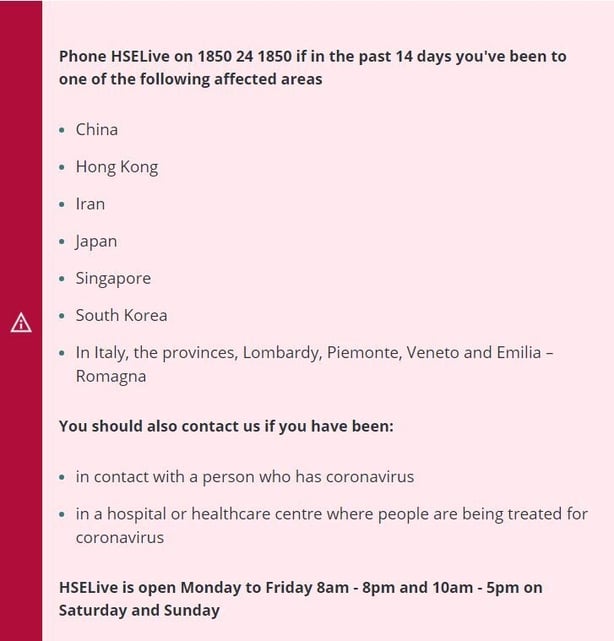 There have been no confirmed reports of coronavirus in Ireland, with more than 90 suspected cases turning out to be negative for Covid-19.
Meanwhile, pupils of a Co Donegal school who have just returned from a ski trip to Italy are to stay at home for a few days as a precaution.
While the pupils of Loreto Community School in Milford were not in a restricted area for Covid-19, the school has decided that "as a precaution and to allay fears, they will remain at home for the next few days until we have further guidance."
Parents of the pupils were contacted by the school last night and told that they will email them more information today.