Brendan Howlin has addressed the future of Labour as the race to replace him begins, saying the party under a new leader will be central to the formulation of public policy in the decades to come.
Speaking at Labour's Executive Committee, the outgoing leader said the party has been a "progressive force for change and improvement in the decades up to now".
Mr Howlin added the party will support proposals from the next government that are in line with its policies on health and housing, adding that all elected TDs have been given "their marching orders from the people to sort out the crises in housing and health".
The committee which met following the announcement by Mr Howlin this week that he is to stand down has also agreed the process for electing a new leader.
Nominations will be open until next Friday at midday.
Any candidate will have to have the backing of two members of the parliamentary party.
If there is more than one candidate, the process will take around six weeks and will involve hustings around the country.
At least 2,500 members of the party will vote for the leader which - if there is a contest - will be announced on 4 April.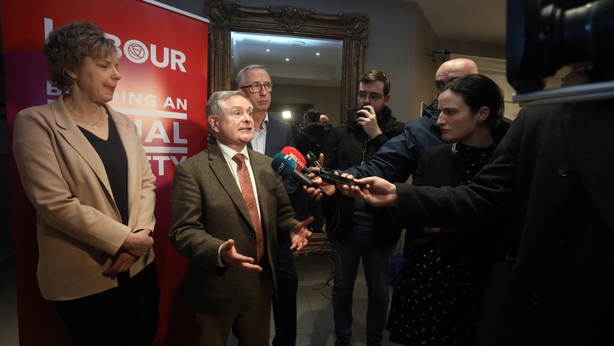 It is widely expected that Tipperary TD Alan Kelly will enter the contest, with Louth TD Ged Nash and Dublin Bay North TD Aodhán Ó Ríordáin also considered to be front runners.
Cork East TD Sean Sherlock has already said he will not contest the leadership race, while the new Dublin Fingal TD Duncan Smith said his candidacy was unlikely.
Whoever takes over will have to reboot a party that expected to gain seats in a General Election defined by change, but ended up returning with only six seats, one fewer than in the previous Dáil.
---
Brendan Howlin: From union activist to minister and Labour leader
---
Attending Labour's Executive Committee today, Mr Howlin also said that he will not be offering himself as candidate for Ceann Conhairle in the new Dáil.
He said it is "gratifying" that his name is being linked with the position, which will be voted on this week, and it is a role he has huge respect for, but it is not a role he will be putting his name forward to fill.
Outgoing Labour Party leader says he will not be a candidate for the position of Ceann Comhairle "The position is a very important one in the House, one I've enormous respect for. But it's not one that I intend to offer myself as a candidate to fill." pic.twitter.com/xKQs0GTh1j

— Mary Regan (@MaryERegan) February 15, 2020
Mr Howlin said he did not regret the role Labour played in government from 2011 to 2016, saying it had helped fix the country's economic woes but had also made mistakes, including promising things it could not deliver in office.
Mr Howlin said he would not be backing any candidate and that a decision on the new leader would be a matter for the party membership.
Additional Reporting Paul Cunningham