Brendan Howlin has announced that he is stepping down as leader of the Labour Party in the next few weeks.
It follows his party's lacklustre performance in the General Election, as it failed to capitalise on a swing to the left and ended up with six seats, down from seven in the last Dáil.
Mr Howlin told RTÉ's Six One News that now was the right time to stand down, for himself and for the party.
He said he did not regret the role Labour played in government from 2011 to 2016, saying it had helped fix the country's economic woes but had also made mistakes, including promising things it could not deliver in office.
Mr Howlin said he would not be backing any candidate and that a decision on the new leader would be a matter for the party membership. He has asked the party's executive to set a leadership contest in train as soon as possible.
Labour TD for Louth, Ged Nash, confirmed to RTÉ News that he was "actively considering" running for the leadership.
Mr Nash said he would consult his local network and the wider Labour membership before making a final decision.
We need your consent to load this rte-player contentWe use rte-player to manage extra content that can set cookies on your device and collect data about your activity. Please review their details and accept them to load the content.Manage Preferences
The new Labour TD for Dublin Fingal, Duncan Smith, declined to say whether he would mount a leadership challenge.
"Today is about Brendan Howlin and I won't be making any further comment on the next leadership contest, including my intentions, at this time," he told RTÉ News.
Labour Cork East TD, Seán Sherlock, has ruled himself out of the race.
Earlier, Mr Howlin said that his party had not been given a mandate to form part of the next government, but could influence things from the opposition benches.
The six Labour votes could be pivotal yet in deciding who becomes Taoiseach, he told a news conference in Dublin.
Mr Howlin also said he was not interested in becoming Ceann Comhairle.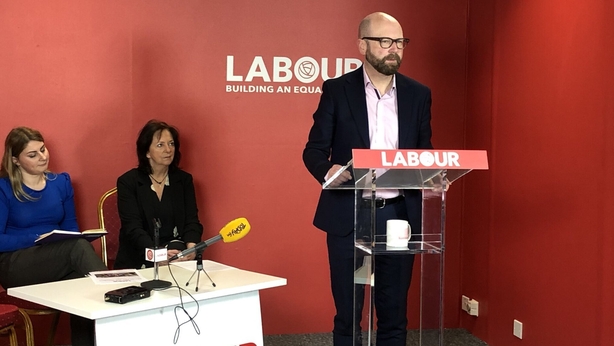 Speaking after a parliamentary party meeting, Mr Howlin said it was an honour to lead Labour, but said "now is the right time to pass on the baton to a new generation".
He added: "It has been undoubtedly a difficult election for us but I believe we have succeeded in sowing the seeds for future growth."
Mr Howlin said he would continue to represent the people of Wexford, and thanked them for their continued support.
---
Read more:
From union activist to minister and Labour leader
Varadkar says Sinn Féin must now build coalition
Sinn Féin meets Green Party and SPBP
Election 2020 headlines
---
Coming from a Wexford family steeped in Labour and trade union activism, Brendan Howlin first served as a senator, before becoming a TD in 1987.
He became one of 33 TDs elected in Labour's spring tide in 1991, and got his first taste of ministerial office in the Department of Health in the Fianna Fail-Labour coalition government led by Albert Reynolds in 1993.
Later he served as environment minister in the rainbow coalition led by John Bruton.
In the aftermath of the economic crash in 2011, he became minister for public expenditure and reform in the Fine Gael-Labour coalition, when cutbacks proved controversial.
In 2016, he took the long coveted job of Labour leader after previously losing out to both Ruairi Quinn and Pat Rabbitte.
He hoped Labour would secure 10 Dail seats in the 2020 general election, but it won just six - one fewer than in the last election.
Additional reporting Micheál Lehane