Talks formally got under way today between Sinn Féin, the Green Party, and People Before Profit on the potential for forming a coalition government.
Sinn Féin president Mary Lou McDonald met Green leader Eamon Ryan as well as representatives of People Before Profit. She will meet the Social Democrats tomorrow.
"Sinn Féin wants to form a government of change and our objective is a government that builds homes, cuts rents and freezes them, reduces the pension age to 65, gives workers and families a break, and advances Irish unity," said Ms McDonald.
"This afternoon I met with Richard Boyd Barrett TD and Gerry Carroll MLA of People Before Profit, and we had a good discussion about the potential for a government of change and the issues that might form part of a programme for government.
"We have agreed to stay in touch over the coming days."
Earlier, Ms McDonald said she had a "useful and constructive" meeting with Mr Ryan.
"We have agreed to begin exchanging ideas, and we will talk and meet again over the coming days."
In a statement, Mr Ryan said his party had opened discussions with a number of parties, and had met the leaders of Sinn Féin, Fianna Fáil, and Fine Gael.
"All meetings were positive and there has been a willingness amongst the other leaders to engage with the Green Party and the increased mandate of the party," he said, adding that he would be speaking to Labour, the Social Democrats and Solidarity People before Profit over the coming days.
We need your consent to load this rte-player contentWe use rte-player to manage extra content that can set cookies on your device and collect data about your activity. Please review their details and accept them to load the content.Manage Preferences
Also today, Sinn Féin's health spokesperson Louise O'Reilly said she believes there is no reason for lengthy talks on government formation.
The Dublin Fingal TD said there is a real mood among the people for change and Sinn Féin is very serious about delivering on the mandate it has been given.
Solidarity-People Before Profit TD for Dublin South-Central, Bríd Smith, said if other parties are sincere about letting Ms McDonald try her best, they should stand back and allow her to form a Sinn Féin-led government.
She said that the country needs decent public services and claims by Fianna Fáil TD, Jim O'Callaghan, to suggest any change that might deliver this would threaten the economy and turn Ireland into Venezuela, displayed a huge degree of arrogance.
Fianna Fáil TD for Donegal North East, Charlie McConalogue, said his party is narrowly the largest in the Dáil and wants to deliver an outcome that addresses the issues raised during the election.
He said Fianna Fáil will engage constructively on ways to do this.
---
Read more:
Howlin steps down as Labour leader
Political parties plot next move in government talks
The TDs of the 33rd Dáil
---
Fianna Fáil's Barry Andrews MEP said, however, that his party should not go into government with Sinn Féin, saying the party's policy platform was incompatible with Fianna Fáil's.
The party's Galway East TD Anne Rabbitte said she would "absolutely" not support Mary Lou McDonald for Taoiseach.
Speaking to Galway Bay FM, Ms Rabbitte - who was re-elected after a gruelling battle with 22-year-old Sinn Féin candidate Louis O'Hara - said her party may well talk to Sinn Féin but that does not mean it will be part of the next government.
Sinn Féin faces a mammoth task to weave together a government without either Fianna Fáil or Fine Gael as it will require 80-plus seats to get over the line.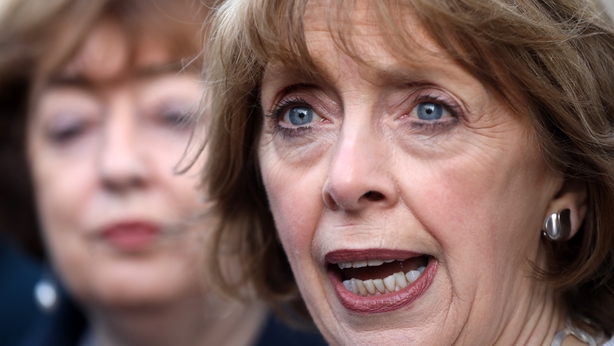 Other options that include Fianna Fáil or Fine Gael will most likely come back into view sooner or later.
There are even suggestions of a Fianna Fáil-led minority government facilitated by Fine Gael, something Tánaiste Simon Coveney repeatedly ruled out in recent days.
Co-leader of the Social Democrats Róisín Shortall has also warned that without a bloc of in excess of 80 TDs striking an agreement, then politicians would be back out on the election trail.
That reality is likely to focus minds in the weeks, and possibly even months, of talks ahead.
Solidarity-People Before Profit TD Richard Boyd Barrett said earlier he was keen to talk to Ms McDonald and other left parties.
He told RTÉ's Morning Ireland that he "very much wants to see" a left government.
He said Solidarity-PBP has a lot of policy overlap with Sinn Féin, and that he would vote for Ms McDonald as Taoiseach if a deal could be done on the delivery of key areas like health and housing.
Mr Boyd Barrett added that he would be opposed to the Green Party's proposal to impose carbon taxes on "ordinary people" who struggle to pay the bills, but said there could be common ground for talks if there were plans to tax the aviation industry.
Fine Gael TD Ciarán Cannon has said it would be reckless to allow Sinn Féin to get into power, and that they should not be allowed to have the upper hand when it comes to the formation of the next administration.
He described as "nonsense" any suggestion that Sinn Féin is the only entity that can form a government.
He told Galway Bay FM that his party should be actively seeking to be a part of the next administration, and that the country requires people with "experience and knowledge" to manage the state.
Mr Cannon said it would be "irresponsible" for Fine Gael to sit on the sidelines while Sinn Féin attempts to form a government.
Fine Gael TD Michael Creed has said there is a "clear responsibility" now on Sinn Féin, the Green Party and Fianna Fáil to deliver change.
The Minister for Agriculture, Food and the Marine told RTÉ's Today with Sean O'Rourke that, in normal circumstances, Fine Gael would like to be in government.
But the clear message from the election, he said, is that people want change and do not believe Fine Gael is capable of delivering that change.
Additional reporting Pat McGrath