Fine Gael leader Leo Varadkar has said responsibility now falls on Sinn Féin to build a coalition and negotiate a socialist Programme for Government that keeps their promises.
They should then seek a Dáil majority for it, he added.
Speaking to the media after addressing the European Financial Forum in Dublin, Mr Varadkar said Sinn Féin has emerged as the largest party in terms of votes and they did this by making a lot of promises to people in this country.
He said Fine Gael is willing to step back and let Sinn Féin try to form a government, adding that he had not yet been contacted by Sinn Féin leader Mary Lou McDonald.
Mr Varadkar said he now expects to be the next leader of the opposition, provided his own parliamentary party want him to do that.
"We were defeated in this election, there is no point in trying to dress that up in any way," he said.
"It may have been a tight finish, but we were defeated so that means that people are saying to us that Fine Gael should go into opposition and we are absolutely willing to do that."
He said the party has not been involved in any talks regarding a super grand coalition involving Fine Gael, Fianna Fáil and the Green Party, but added that any conversations that happen between party leaders in this period remain confidential.
Mr Varadkar said that until a new government is formed, all the ministers and ministers of state will continue to fulfil their duties as they are required to under the Constitution.
---
Read more:
Howlin steps down as Labour leader
Sinn Féin has constructive talks with Green Party
Election 2020 headlines
---
But any major financial or policy decisions will be deferred until a new government has formed, he added.
Where they cannot be deferred they will be made in consultation with the leaders of the other main parties.
The Fine Gael leader said his party is the one that founded the State, established the institutions and made this country a Republic.
We need your consent to load this rte-player contentWe use rte-player to manage extra content that can set cookies on your device and collect data about your activity. Please review their details and accept them to load the content.Manage Preferences
He added: "There is another party that was founded in 1971 called Sinn Féin which has a fake history that says otherwise, but we're the ones who founded the State, we're the ones who established institutions, we're the ones who made this country a Republic.
"We will stand by the State and the Republic and if we're needed in order to give the country political stability with governance, well then we're willing to talk to other parties about that."
"But I think in the first instance the onus is on Sinn Féin as the lead party to honour its promises that it made to the Irish people, to form a government led by them, to get a socialist republican Programme for Government through the Dáil and it is their duty now to do that."
Mr Varadkar said he has no idea what the likely outcome of all the political negotiations would be and that anything is possible, including a second general election.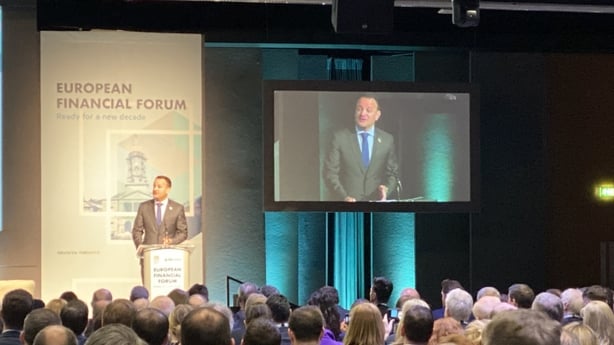 He said he would use the time on the opposition benches to make changes to Fine Gael.
Mr Varadkar explained that he did not have the opportunity while Taoiseach to modernise and reform the party as he was busy with the work of Government and State, so he now relishes the opportunity to do that.
Asked what he meant by the reference in his speech to the "dark future" prophesied by WB Yeats not coming to pass, Mr Varadkar said he was referring to a situation whereby public policy in relation to business and trade would lurch dramatically to the left.
This would cause investors to consider whether Ireland is a warm place for them and the consequence of that would be a weaker economy and less resources to invest in the things that matter, he said.
Mr Varadkar added that he does not yet think that has come to pass, although it is a risk.
Meanwhile, the Taoiseach today spoke to EU Council President Charles Michel ahead of next week's meeting of EU leaders, which is due to discuss the union's six-year budgets plans from 2021 to 2027.
According to a government spokesman, Mr Varadkar emphasised the need to protect the budget for the Common Agricultural Policy in the interest of rural Ireland and family farms and pressed for an increased allocation for the Peace Plus programme for Northern Ireland and the border counties.
MEP McGuinness backs Varadkar
Fine Gael MEP Mairead McGuinness has pledged her support for Mr Varadkar to remain as leader of Fine Gael.
"I don't think there will be questions asked about his leadership because that's not the fundamental issue," she said. 
"For me and for my colleagues the issue is: we were doing good by the economy, by Brexit and we were making progress on health and housing, but it wasn't enough."
Speaking to RTÉ News in at the European Parliament in Strasbourg, Ms McGuinness said Fine Gael had to listen to what the voters had said and that the voters had wanted change.
"Clearly the onus is now on the left-leaning Sinn Fein party to work with others to try and form a government, and it is not our place to lead in that," she added.
Additional reporting Tony Connelly