The funeral of the late broadcaster Keelin Shanley has heard that she was a warm-hearted and incredibly curious person, who loved getting stories out of people.
In a moving eulogy, her husband Conor Ferguson said that they were there to celebrate a very full life, and that Keelin was a humble person who wanted to just get on with things.
The award-winning journalist died last Saturday aged 51 following an illness.
President Michael D Higgins and Taoiseach Leo Varadkar were among those who attended the funeral at St Paul's Church in Glenageary, Co Dublin.
Among the chief mourners at the humanist service were Keelin's husband, their children and her extended family, many friends and RTÉ colleagues.
They included chair of the RTÉ board Moya Doherty, Director-General Dee Forbes, and Managing Director of News and Current Affairs Jon Williams.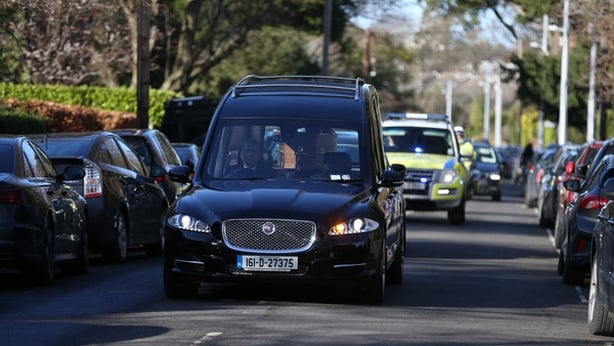 Mr Ferguson told the funeral service that Keelin would have been surprised and honoured at the reaction to her death, and that she was a person who was shy on the one hand while also doing a very public job.
He said she was loads of fun, but had a trajectory in mind for her career and was never afraid of any challenge. He said she loved her work, loved stories and loved people.
Mr Ferguson also thanked everyone for the messages they had got since her death, and said the family has been overwhelmed by the love and support shown to her - he said Keelin would have been stunned at the national reaction.
He gave particular thanks to the team at RTÉ News, especially Jon Williams, Deputy Managing Director Hilary McGouran, and her Six One co-anchor Caitríona Perry, as well as all of her friends in RTÉ News and Current Affairs.
Mr Ferguson also thanked St Vincent's Hospital, who he said could not have shown any more kindness.
He said everyone found Keelin charming, warm-hearted, whip smart, incredibly curious, bossy at times, stubborn and incredibly loving to all of her family. He said they had been very lucky to have her.
Celebrant Susie Kennedy said Keelin would be greatly missed in her public role as a journalist of great integrity, professionalism and compassion, and would be sorely missed by her family and many close friends.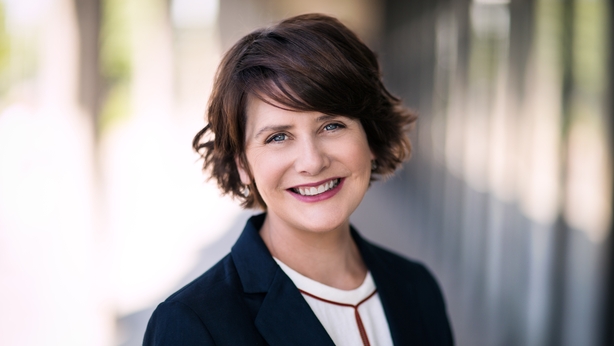 In his eulogy, the journalist's brother Eoin recalled Keelin, the eldest sibling, as "filling the role of big sister admirably and with gusto".
He thanked her for introducing him to The Cure, The Smiths and Elvis Costello and admired her "endless curiosity".
Keelin was a voracious reader from an early age, he told mourners, and recalled her reading to him "long into the night, curled up next to her blue rag doll Lucy". Keelin would later give the name Lucy to her own daughter.
"She idolised Lucy and Ben," he said.
Eoin concluded his eulogy by revealing that, a week before she died, Keelin had told him: "I've had a wonderful life."
Keelin's close friend and colleague Niamh O'Connor said she had grown up in the corridors of RTÉ, and felt at home there.
Speaking of her award winning documentaries, she said Keelin was fearless and great fun to work with. With Keelin, she said you worked harder than you ever did before.
She said it was a journalism of compassion and humanity, and that she raised our expectations for ourselves and what we did. She said she was good at life, and her only regret was leaving her family.
She described Keelin as a "wickedly funny, irreverent, brilliant friend".
Music at the humanist service was provided by Liam Ó Maonlaí and Fiachna Ó Braonáin of the Hothouse Flowers, who performed 'This Is The Sea' by the Waterboys.