Dublin Airport has said this Christmas is set to be its busiest on record, with almost 1.2 million passengers expected to arrive at and depart over the festive season.
The country's other main airports are also expecting significant increases in passenger numbers this Christmas.
Dublin Airport estimates that just over 1,170,000 passengers will pass through its doors between today and 3 January - a 3% rise on the same period 12 months ago, making this the airport's busiest Christmas in its 79-year history.
It said there has been a notable rise in the numbers of people, especially from Eastern Europe, who are flying to Ireland to spend Christmas with their families already living here.
Flights at Dublin will halt on Christmas Eve at 11.20pm, before resuming early on St Stephen's Day.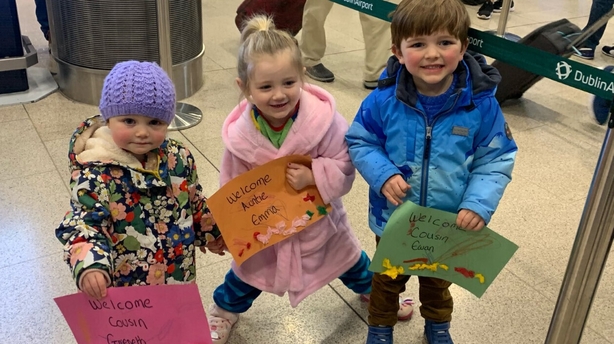 Meanwhile, Cork Airport is expecting just under 120,000 passengers over the festive period - an annual rise of almost 10%.
Shannon Airport said it will have 90,000 Christmas travellers.
Ireland West Airport at Knock is also expecting a record Christmas, with 33,000 passengers due to fly in and out.
---
Read more: Heavy traffic expected as Christmas exodus begins
---
Children from St Cronan's Junior National School in Swords performing at Dublin Airport #jinglebells #HomeForChristmas pic.twitter.com/DUzxHpweJx

— SharonGaffney (@Sharon_Gaffney) December 20, 2019