The Central Statistics Office has published crime detection figures for last year after a four-year gap in the data.
The figures reveal only one-in-ten sexual offences reported to gardaí last year has been solved, while detection rates for drug offences were significantly higher.
The last time data was published was in 2016 when the figures for the 2010-2014 time period were issued.
The CSO had suspended publication of crime detection figures over concern about garda recordkeeping.
However, citing an ongoing demand for the figures and new garda data governing rules, the CSO published detection rates for 2018 this morning.
For a crime to be marked as solved at least one suspected offender must be identified.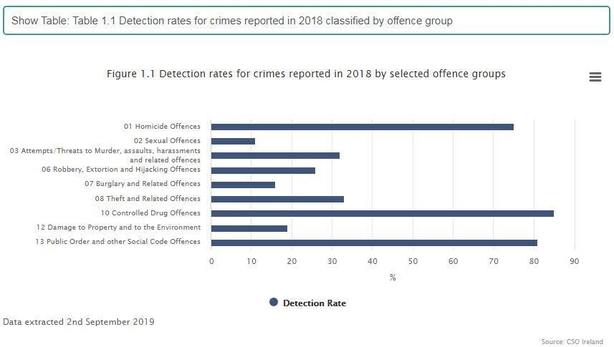 Gardaí solved 72% of murders and manslaughters, but the detection rate for incidents of rape and sexual assault was just over one-in-ten (11%).
Around one-in-six reported incidents of burglary last year had been detected by the beginning of September 2019 and around one-in-three incidents of theft.
The detection rate for drug offences stood at 85%.
It said today that detection rates for crimes reported in 2018 were likely to increase over time as more investigations were completed.
These figures were published in a category called "under reservation", with the CSO saying this was to reflect data quality issues.
Gardaí said new measures have been implemented to improve transparency and confidence.
These include gardaí no longer being able to manually mark a crime as solved, as the Pulse system will automatically do that once proceedings have been initiated.
We need your consent to load this rte-player contentWe use rte-player to manage extra content that can set cookies on your device and collect data about your activity. Please review their details and accept them to load the content.Manage Preferences
The Policing Authority has welcomed the publication of the figures and said it was important that the best possible data is made available for public scrutiny.
In a statement the authority said the publication confirms the concerns that it has been articulating over recent years in relation to the reliability of detection figures, and data quality more generally.
"The level of detections across all featured crime categories has been a significant source of concern and the Authority has stressed the need for this to be urgently addressed.
"This has been an enduring area of oversight for the Policing Authority over the past four years, and was a prominent feature of our recent work in relation to both the Homicide Review and the Youth Diversion Programme.
"Today's CSO release will be discussed with the Garda Commissioner at the December meeting of the Policing Authority and the Authority will continue to monitor the implementation of the new Garda Síochána Detections Improvement Plan, and its effect on detections figures."
In a statement, Minister for Justice Charlie Flanagan said that he noted the publication of the figures by the CSO.
In relation to the investigation and prosecution of sexual offences, the minister said that gardaí are "continuously improving its specialist services to respond to the needs of victims".
He said: "Divisional Protective Service Units are being rolled out on a nationwide basis. It is however disappointing to see that the proportion of sexual offences which have led to charge or summons has reduced for 2018.
"On the other hand it is important to note that this is a point-in-time assessment and that this number can be expected to increase further as investigations are completed by An Garda Síochána."