We were in fourth class when the parent of one of the children in our class died suddenly.
We all went to the funeral in our uniforms and sat in the church while the distraught family said their sad goodbyes.
I remember crying, unable to stop the tears when a nun tapped me on the shoulder, saying "what are you crying for, you don't know those people".
Looking back, I think her intervention was not as intentionally harsh as it felt at the time. Now I believe that she was trying to tell me, perhaps in a ham-fisted way, to be grateful that I still had my parents and that I was not directly impacted by the death.
Standing in a Dublin church this week, trying to take deep breaths to stop the wave of tears that threatened to overcome me, that memory came floating back - this is not your grief, I told myself, don't appropriate what isn't yours. But as I stole a glance around me, I saw that everyone else was crying too.
The funeral was that of Fr Tony Coote, a man whose life and untimely death has touched so many people, from those who knew him for most of his life to those who never met him at all, but had read his book or heard his story over the past 18 months.
I met Fr Tony when he appeared on Claire Byrne Live last September. He had been diagnosed six months previously with Motor Neurone Disease.
We need your consent to load this rte-player contentWe use rte-player to manage extra content that can set cookies on your device and collect data about your activity. Please review their details and accept them to load the content.Manage Preferences
He had also led a walk from Donegal to Cork to raise funds for research into the disease and was still campaigning and fundraising despite the rapid progression of his own condition. After that appearance, I developed a treasured friendship with him.
In winter of last year, he was conferred with an honorary doctorate from UCD, where he had previously served as chaplain.
That night, Professor Joe Carty said in his speech that everyone felt that Tony belongs to them - all of the people who worked with him, who benefitted from his compassion, his generosity, his commitment to show respect to everyone he met, his humour, his kindness and his humanity.
I realise now that not a truer word was spoken - I have never come across anyone who so many lay claim to.
I knew from the minute I met him that he was a different and rare person but to witness him dealing with the long, slow and cruel descent to his death was life-changing in itself.
He was just about still able to use his voice when he asked me if he could write to a family he had seen on Claire Byrne Live to offer them his goodwill and support.
He wrote his book, 'Live While You Can' as his independence ebbed away. He travelled, he went to the cinema, visited his favourite places, saw as many people as he could and batted away sympathy because he just needed to get on with living the life he had, as difficult as it now was.
After his funeral this week, I listened back to an interview Tony had done with Ryan Tubridy on the radio just a few weeks after his diagnosis.
His voice at that time was strong and clear, he spoke, as he often did in later months, about the fear of losing his voice but he was willing to accept that it was going to happen. I know it was devastating for him when it did happen, but he carried on, finding new ways to make himself heard.
Hearing that interview made me question my right to feel grief all over again - unfortunately, I never knew the Tony with the strong, clear voice, I met him when he was confined to his wheelchair, still with the good humour and the optimism, but in the firm, unrelenting grip of MND.
Tony says in his book that many people find it hard to relate to those who are dying and he describes how he always sought out the light in their eyes - the person is still there, if you look for them. The light in Tony's eyes was there right up to the end.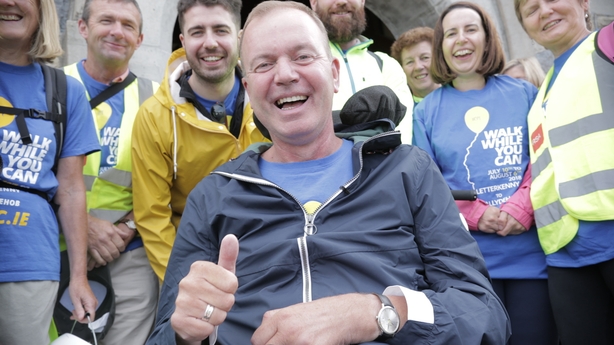 He had an impact on thousands of people in his life, in ways that we will probably never truly know about because everyone who knew him seems to have a special Fr Tony story.
An army of people from his parish came out this week to say goodbye, many of them worked tirelessly since his diagnosis to help him through his illness. One family who met him briefly in the west of Ireland during his fundraising walk, made the journey to Dublin to pay their respects.
People from all walks of life just wanted to bid him a final farewell.
And the grief all those people feel, whether they knew him personally, through his book, his interviews or his work is real and justified. He was a truly special person.
---
Read more:
Trinity announces professorship in memory of Fr Tony Coote
Priest who raised funds for motor neurone research dies
---
Claire Byrne Live returns to RTÉ One on Monday 9 September at 10.35pm. @ClaireByrneLive