The former US secretary of state, Hillary Clinton, has said her husband, former US president Bill Clinton, Senator George Mitchell and herself discussed their worries about Brexit's possible impact on the open border.
She told RTÉ News the arrangement was key to ensuring that Anglo-Irish relations remain peaceful and prosperous.
Mrs Clinton was speaking to RTÉ News during a visit to the Barretstown facility for seriously ill children in Co Kildare.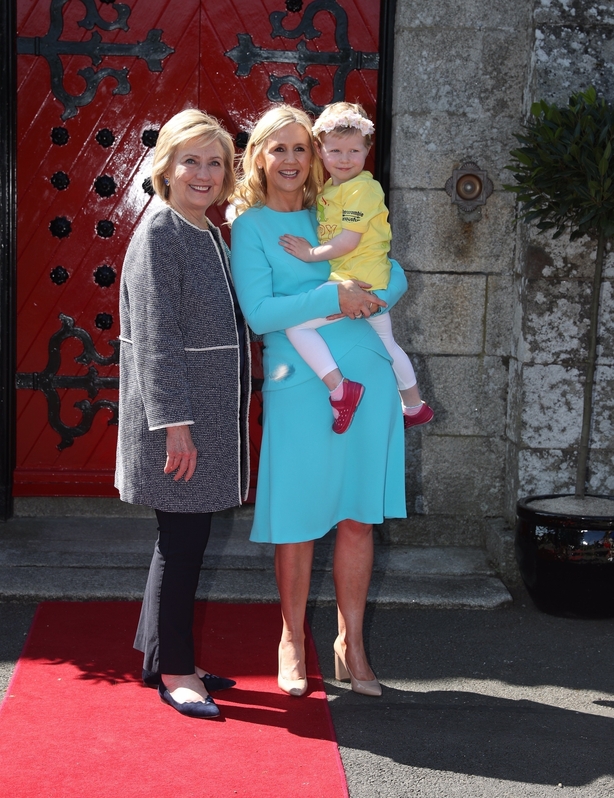 She will be the guest speaker at a dinner to celebrate the 25th anniversary of Barretstown's holiday facility, which was founded by film star Paul Newman.
Mrs Clinton was greeted at the castle by Sabina Higgins, who is the patron of the Barretstown organisation.
The former US first lady was also greeted by the organisation's chair, Maurice Pratt and CEO Dee Ahearn.
At present, 120 children with serious illnesses are beginning a one-week camp.
They come from all over Ireland and a number of EU countries.
To date, Barretstown has provided respite holidays to more than 50,000 children.
Mrs Clinton has visited a number of Mr Newman's facilities, but said she had wanted for a long time to visit this one because another personal friend had been instrumental in founding it.
That friend is Liz Robbins, who is a director of the Serious Fun Network, an umbrella group for Mr Newman's camps.
She raised funds for establishing Barretstown, and was involved with Mr Newman when he started his work on these projects.