Twenty five years after he ignored many layers of advice and granted Sinn Féin's Gerry Adams a temporary visa to the United States, the US president who exerted the most influence on Ireland's peace process was thanked in a unique way.
At an unveiling ceremony in Manhattan, Bill Clinton saw for the first time a portrait that he immediately acknowledged captures a part of him that he tried to keep hidden. The artist who created it said it is not an American painting, but very much an Irish painting.
Colin Davidson recalled how he felt last year when he travelled to New York and Mr Clinton sat for him as he began work on the portrait.
He said what he sensed during that meeting was a human being who had a real empathy and compassion for the people of Ireland, North and South.
He told the former president that he sensed he regretted and mourned for every single death of The Troubles and that he tried to convey that in the portrait.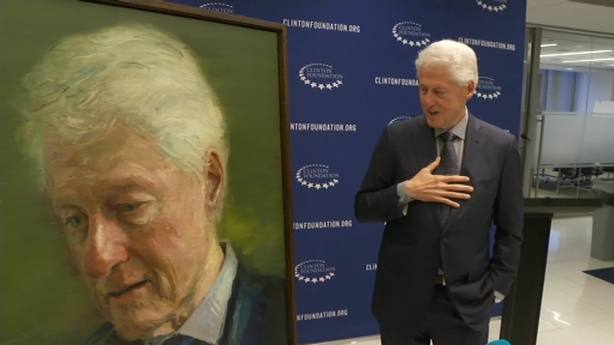 Staff at the New York office of the Clinton Foundation heard Mr Davidson recall how he was among the crowds outside Belfast City Hall at Christmas 1995 when Mr Clinton, accompanied by his wife Hilary, became the first serving US president to visit Northern Ireland.
The Co Down-based artist said he would like to think that after we have all gone, the portrait will continue to be a beacon of hope, just as the president's words outside Belfast City Hall were hope for us all in December 1995.
At 72, Bill Clinton is a more frail figure that the White House occupant who worked the transatlantic phones in April 1998, encouraging Northern Ireland's parties to reach what became the Good Friday Agreement.
He was very obviously moved when the cover was lifted from Mr Davidson's portrait and he saw the work for the first time.
"I am very grateful because the painting shows me in a way I would not be prepared to show myself"
Standing beside the painting, he said: "This actually captures a part of my personality I often try to keep hidden, because I try always to be upbeat. I always try to be positive, I always try to think that the best is around the corner."
A few minutes later, he said: "I am very grateful because the painting shows me in a way I would not be prepared to show myself, in my 'I don't know, but I sure hope so' mood. I don't know but I will be there until, in my immortal phrase, until the last dog dies, trying to make it so.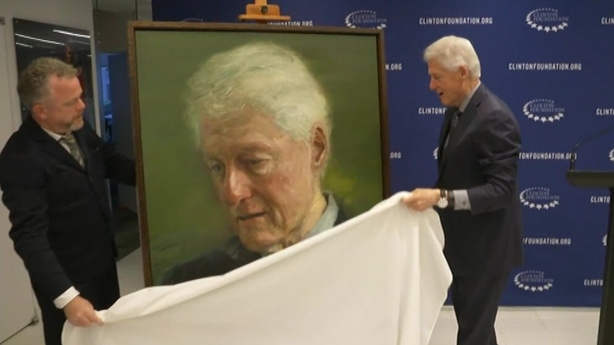 "We owe it to generations to come to make this the greatest age of discovery and empowerment and inclusion in human history, but to do it we have to meet some stern opposition."
The former president spoke without notes for several minutes, express his concerns on several fronts. He repeated his long-held views about the Brexit vote, saying he wished it did not happen.
He said the vote was undertaken with almost no consideration of the potential damage to Northern Ireland.
"I don't like living in an age of resentment and division, I like living in an age of possibility and hope"
He said he is also worried about how Brexit might affect the UK.
"Those who want a hard Brexit are portraying it as the liberation of the UK but if you look at the population trends and the wealth and productivity trends, they could be consigning one of the greatest nations in human history to a smaller role," said Mr Clinton.
In a comment about wider trends, he spoke of people being unmoored, grasping for a new identity, sometimes this can be very good but sometimes it can be quite destructive.
"I don't like living in an age of resentment and division, I like living in an age of possibility and hope and actually we are living in both, there's like this battle going on every day in countries all over the world," Mr Clinton said.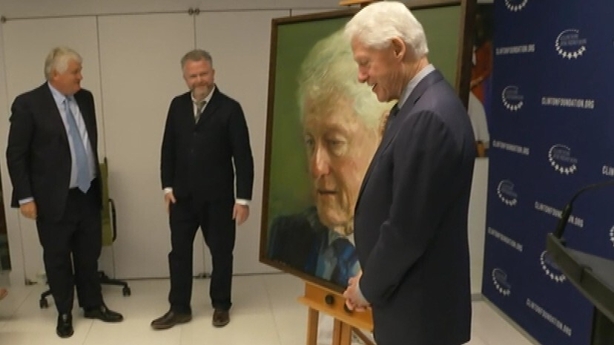 To coincide with the unveiling of the portrait, three universities announced the creation of Clinton Scholarships in Peace Studies, as an initiative to acknowledge his role in the peace process.
The President of Massachusetts University, Marty Meehan, DCU President, Brian Mac Craith and the University of Ulster President, Paddy Nixon, said the scholarships, each valued at €120,000, are evidence of the institutions' ongoing support for peace and reconciliation on the island of Ireland.
Ciaran Madden, the Irish Consul General in New York, said in his work as president, Mr Clinton had changed the course of Irish history for the better and generations of Irish men and women owe him a debt of gratitude.
Irish businessman Denis O'Brien was among the guests at the function and he was thanked for supporting the role of the Clinton Foundation in a number of countries.
---
Read more
Clinton wishes Brexit referendum hadn't happened
---