A retired General Officer of the Irish Defence Forces has said the Government is treating the Defence Forces with "contempt and disdain".
Brigadier General Ger Aherne said that having a situation where the military professionals and experts are excluded from formally advising Government on defence policy is dysfunctional.
He said military life is nomadic, and involves long periods of time away from loved ones. He said various add-ons that made military life bearable - such as married quarters for families - have not been retained.
He said the Government might not realise that the country's most loyal citizens are not being rewarded for their services to the State.
"The stats show that 84% of military personnel are below the average wage of the public service. But the Department of Defence recently stated that in the last five years, they have returned €97 million to the Exchequer."
He said that the Department of Defence has let down the Defence Forces, and has also let down the Government.
He said that a standing, statutory pay body is needed to continuously review Defence Forces pay, similar to a model used in the United Kingdom.
Brig Gen Aherne's comments come after a former senior member of the Defence Forces said members of the military are being treated with "contempt".
Cathal Berry, who was Head of the Medical School at the Defence Forces and Deputy Commander of the Army Ranger Wing, said that the uniformed units are completely excluded from influencing any defence policies.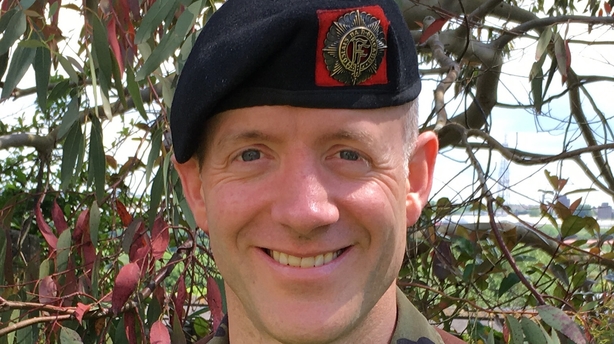 The former commandant said career administrators who do not have any military experience are making defence and security policies.
Speaking on RTÉ's Morning Ireland, Mr Berry said this would be like three Health Service Executive managers deciding to carry out surgeries one day and locking the experienced medical staff out of the operating theatre.
He added that poor salaries are causing members to leave in their "droves" and they are being "asked to choose between their job and their family".
He said Minister of State at the Department of Defence Paul Kehoe was "decent and approachable" but he does did not have the experience or expertise to deal with the problem.
Mr Berry called for "a complete change of the civilian management" team.
He described the issues as a "management-101 problem", which are completely solvable.
Currently, he said, if a soldier does a 24-hour duty on a Saturday they will receive €2 an hour, gross. This means they will be taking home around €1 an hour.
He said around €20m is handed back to the Exchequer from the Defence Forces budget every year and he would like Taoiseach Leo Varadkar to commit to paying troops the minimum wage as "every other employer is compelled to do".
In March a rolling recruitment process for the Defence Forces was announced.
At that time Mr Kehoe said he would not call the pay and conditions of members of the Defence Forces "poor" but described them as "challenging".
In a statement today a spokesperson for Minister Kehoe said: "like other areas of the public sector, members of the Defence Forces are benefitting from pay increases in accordance with national public service pay agreements.
"The focus of these increases is weighted in favour of those on lower pay.
"The Public Service Stability Agreement 2018-2020, provides for increases in pay ranging from 6.2% to 7.4% over the lifetime of the Agreement, which will see restoration of public sector payscales to pre-FEMPI levels for all those earning under €70,000."
The latest figures show there are just over 8,900 members of the Defence Forces, which is 600 below the 9,500 figure the Government has committed to maintaining.
Last year the problem of retention was highlighted after it emerged that large numbers of soldiers, sailors and Air Corps personnel are buying themselves out of the Defence Forces over pay and conditions.
Serving members of the Defence Forces are not allowed to strike and members of the Rangers Wing cannot be identified while serving.
A report by the Independent Pay Commission examining pay and conditions in the Defence Forces is expected to be published in the next few weeks.
A spokesperson for the minister said when the Commission's report is brought to Government "it will be given due consideration".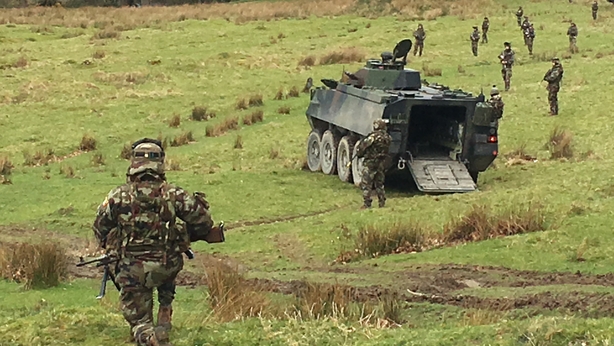 'Unprecedented' criticism
The comments by the former Head of the Defence Forces' Medical School on RTÉ's Morning Ireland were raised during Leaders' Questions in the Dáil this afternoon by Sinn Féin leader Mary Lou McDonald.
Ms McDonald said a long term career in the Defence Forces was unsustainable and unviable. She also said Defence Forces personnel were legally prevented from protesting and sidelined from public service pay negotiations.
Business and Enterprise Minister Heather Humphreys said the government was "extremely conscious" of the recruitment and retention difficulties. She also said the Defence Force members were benefiting from pay restoration.
Labour leader Brendan Howlin said that there has been "unprecedented" criticism of defence policy made by a retiring officer.
He said the comments were "extraordinary" and he has never heard anything like it in his life.
He cited the retention crisis, in which 9% of people are leaving.
He said that if someone can earn twice as much in a meat factory as they can in the Defence Forces, "that is just not good enough".
The Labour leader said that there is no reason why members of the Defence Forces cannot join a union.
He called on the Government to allow them to unionise.
Minister for Business, Heather Humphreys, said that she did not hear this morning's interview but she understands their concerns.
She said that issues of recruitment and retention were brought to the attention of the Public Pay Commission. That commission was then asked to compile a report on the issue. She said that when that report is brought to the Government in the coming weeks it will be given due consideration.
Mr Howlin said that a Minister for State is not an adequate replacement for having a Minister for Defence that has full cabinet rank as "it can't be a job-sharing role for the Taoiseach".
He said that this is necessary to rebuild confidence.
Ms Humphreys said that Minister Kehoe sits at Cabinet and nobody makes a stronger case for support for the Defence Forces than he does.
She said Cabinet is awaiting the report of the commission.
She said that there is an ongoing recruitment drive in the Defence Forces.
Additional reporting: Conor McMorrow, Edel McAllister