Minister for Defence Paul Kehoe has announced a rolling recruitment process for the Defence Forces.
Speaking at Coolmoney Camp in the Glen of Imaal, Co Wicklow, where the 59th Infantry Group was preparing for its deployment to Syria with United Nations Disengagement Observer Force (UNDOF), he said the new process will run throughout the year.
Asked about claims by representative groups that pay and conditions for Defence Force members are poor and affecting recruitment and retention, Mr Kehoe said this is being looked at by the Independent Pay Commission and he expects its report will be published within the next two to three months.
He said the Government will examine any recommendations from the commission. He said he would not call the pay and conditions poor but described them as "challenging".
Mr Kehoe said the Government is preparing legislation around the Working Time Directive and how it affects the Defence Forces, and he wants the issue of the directive to be concluded as soon as possible.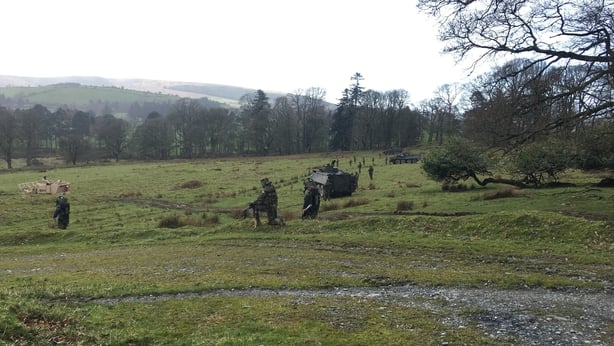 Lieutenant Colonel Louis Flynn, the Commanding Officer of the 59th Infantry Group on its mission with UNDOF, said he expects the group will experience challenging conditions on the Golan Heights but it is well prepared and trained and equipped for all eventualities.
He said current conditions are relatively calm as the area comes out of the civil war in Syria.
Asked about current tensions in the area between Israel and groups linked to Iran, he said the UNDOF mission is to monitor the ceasefire between Israel and the Syria and while it is aware of other actors in the area it is not actively engaged with them.