Large numbers of soldiers, sailors and Air Corps staff are buying themselves out of the Defence Forces because they are unhappy with the pay and conditions, according to the association which represents them.
PDFORRA said that since the start of this year, over 170 Defence Forces personnel, and over 1,200 in the last six years, have paid money to leave the service - with some paying over €40,000.
The association also said people are not being properly paid for working additional hours, which may mean some are being paid less than the National Minimum Wage.
It has also strongly criticised the Government for failing to implement the Working Time Directive, in spite of a recent High Court settlement.
The PDFORRA annual conference began in Co Mayo today.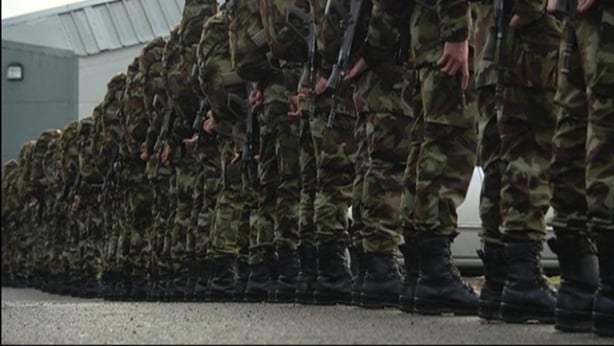 In spite of a successful recruitment campaign the Defence Forces has for many years been struggling to retain personnel.
The strength of the organisation - at just over 8,900 - is around 600 short of 9,500, the figure PDFORRA said that Minister of State with responsibility for Defence, Paul Kehoe, committed to last year
The association said that because of the pay and conditions, personnel are no longer prepared to remain in the service, preferring in some cases to pay large sums of money to leave.
It said 55 recruits and 118 privates and above, bought themselves out since 1 January this year, bringing the figure to 1,200 for the past six years.
Some paid €50, others €300, but staff with skills were prepared to pay over €6,000 and PDFORRA said these members also had to repay the cost of training received - in some cases as much as €34,000.
Large numbers of soldiers, sailors and Air Corps staff say they are struggling to make ends meet due to their pay and conditions | https://t.co/Qu5kO4j74S pic.twitter.com/0eSm9OAk8O

— RTÉ News (@rtenews) October 2, 2018
General Secretary Ger Guinan said the payments people are prepared to make to leave the service are indicative, not only of the dissatisfaction with low pay and poor conditions, but also of a crisis of manpower in the Defence Forces where pay starts at €27,000 including allowances.
Speaking on RTÉ's Morning Ireland, he said that members should be given wages similar to gardaí and that PDFORRA has made a submission to the Public Service Pay Commission.
Mr Guinan said while the entitlement to strike was not there, members would continue to leave if they are not properly paid.
"You have to take into consideration the military service that they actually do. A proper pay, commensurate with members of An Garda Síochána starting off, would be probably a more appropriate rate of pay.
"The entitlement to strike is not there but what will happen is that members will depart in ever increasing numbers," he said.
The association said its members are not being paid for working additional hours and that the military authorities are aware that some are working an average of 100 hours-a-week over a three-month period.
Mr Kehoe says he has now invited the association to discuss recommendations in an independent report in relation to allowances for four groups within the Defence Forces including cooks and members of the ranger wing.
Martin says Taoiseach is failing Defence Forces
The Taoiseach has been accused of failing the Defence Forces.
The accusation was made by Fianna Fáil Leader Micheál Martin during Leaders' Questions in the Dáil, who sought confirmation from Leo Varadkar regarding a report in today's Irish Times, which says two Naval Service vessels were unable to set sail last week because of a crew shortage.
Mr Martin also said Defence Force retirees say there is a lack of respect being shown to serving members and that the relationship with the Department of Defence is toxic, broken, dysfunctional and dangerous.
The Taoiseach said he could not confirm the Irish Times report, but, he said the Chief of Staff was compiling a report on it.
He added that after years of neglect and cutbacks, the Government was investing in the Defence Forces again, and that Mr Kehoe was attending the PDFORRA conference today.
Mr Varadkar acknowledged that there had been "an increase in departures" from the Defence Forces in recent years and there was a shortage of experts, pilots and engineers.
He noted the three year pay agreement with public servants, which is "only in its first year", and he said it provided for pay restoration to public servants earning less than €40,000 by the end of this year, and public servants earning less than €70,000 by the end of 2020.
Mr Varadkar said that would be about 7% for the Defence Forces and there would be a reversal of the 5% cuts to their allowances.
He said an evidence-based report from the Public Service Pay Commission would "allow us to act and make improvements in terms and conditions over and above those already agreed".
Additional Reporting by Ailbhe Conneely