The family of murdered journalist Lyra McKee have paid tribute to her as "a best friend and confidante" on the eve of her funeral.
Ms McKee was killed by dissident republicans during disturbances on the Creggan estate in Derry on Thursday.
The 29-year-old's funeral will take place in St Anne's Cathedral, Belfast, at 1pm today, and she will later be buried in Carnmoney cemetery.
In a statement, the family said: "On Thursday April 18 our beautiful Lyra was taken from us. A daughter, a sister, an aunt, a great-aunt, a partner, a niece, a cousin, and above all, a best friend and confidante to so many of us.
"A friend to all, a gentle innocent soul who wouldn't wish ill on anyone. Such a warm and innocent heart, she was the greatest listener, someone who had time for everyone.
"She was a smart, strong-minded woman who believed passionately in inclusivity, justice and truth. Lyra spoke to and made friends with anybody and everybody, no matter what their background, those of all political views and those with none. This openness, and her desire to bring people together, made her totally apolitical."
The McKee family added: "We would like to thank everyone for the outpouring of support and love we have witnessed this past few days. It has been of immense solace that Lyra meant so much to so many.
"We ask everyone who knew Lyra to continue her message of positivity and hope, by respecting her memory with dignity and respect. We as a family know that the whole community has been touched by the events of Thursday night and that many are rightly angry.
"However, we would ask that Lyra's life and her personal philosophy are used as an example to us all as we face this tragedy together. Lyra's answer would have been simple, the only way to overcome hatred and intolerance is with love, understanding and kindness.
"We are a private family and would ask as a family that our privacy is respected at this impossibly difficult time. We will, in time, speak to you all, but need space and time in the coming days and weeks to deal with the trauma of Lyra's sudden tragic death. Until that time, we would request that all media contact could be made via our legal representatives." 
A vigil took place in Dublin city centre yesterday evening in memory of the journalist.
The event took place at the Garden of Remembrance and was organised by the National Union of Journalists.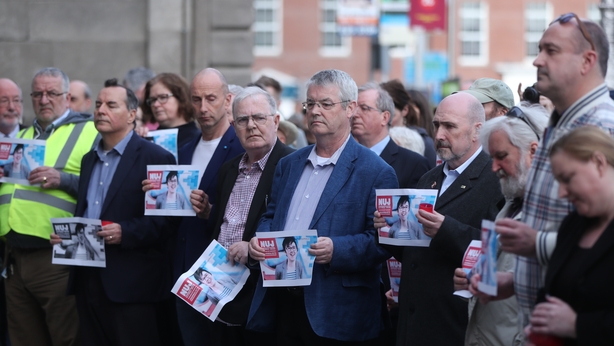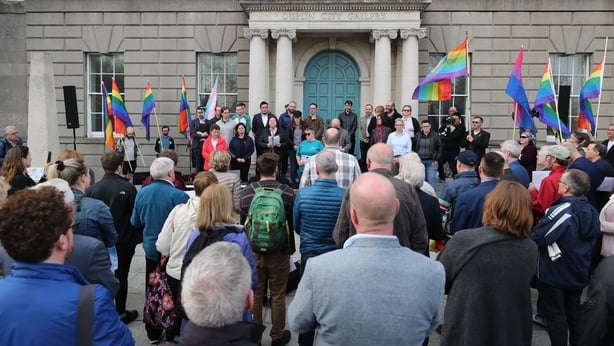 Vigil for #LyraMcKee opposite Garden of Remembrance. Lots of her NUJ colleagues here & there's beautiful music by the Dublin Gay and Lesbian choir Gloria #WeStandWithLyra pic.twitter.com/5ujmPdUMuW

— Ailbhe Conneely (@AilbheConneely) April 23, 2019
Ms McKee's funeral service will be led jointly by Dean of St Anne's Stephen Forde and Catholic priest Fr Martin Magill and is intended to be a cross-community, cross-border and multi-cultural service, while members of the National Union of Journalists will form a guard of honour.
Tánaiste and Minister for Foreign Affairs Simon Coveney will also attend the funeral, as will Minister for Children and Youth Affairs Katherine Zappone.
Mr Coveney met political representatives in Belfast yesterday to discuss the current impasse in Stormont, in light of Ms McKee's death.
Sinn Féin leader in the north of Ireland Michelle O'Neill was seen entering an Irish Government residence in Belfast for the meeting late yesterday afternoon.
The death of Ms McKee has caused widespread outrage among political and community leaders and sparked SDLP leader Colum Eastwood to call for talks between the Northern Ireland parties to restore the government in Stormont.
"There is an unmistakable public desire that the tragic and terrible loss of Lyra McKee marks a turning point for our peace and political process," Mr Eastwood's letter said.
"I am therefore writing to all party leaders and to the two governments to urge that talks are convened this week in order to finally restore government in Northern Ireland."
---
Read More:
---
'This was no accident' - Bradley
Speaking in the House of Commons yesterday, Northern Ireland Secretary Karen Bradley said: "To those responsible for this act of terrorism, we say we have heard your excuses and your hollow apologies. No one buys it.
"This was no accident. There is nothing that can justify this murderous act and you are being called out for what you really are."
Ms Bradley said the "voices of peace" are "louder than those who peddle hate and division in a city with so much to offer".
Ms Bradley added: "There is definitely a sense on the ground that this is the end. People don't want to see this happen again.
"Those communities that have been oppressed by the terrorists, oppressed by the dissidents, made to live on estates in a way they don't want to, live in those estates and not be part of that, are standing up and saying no, not in my name."
She added: "None of us can escape the symbolism of this, that it was Good Friday. It was a woman, a journalist, an innocent who was shot dead by terrorists. That is something that none of us can escape."
Labour's shadow Northern Ireland secretary Tony Lloyd said Ms McKee, "not the gunmen who mowed her down", truly represented the city.
He said: "It is important we do remember the brightness of Lyra's life, and we said this was a life well lived. A young woman who most certainly was a child of the peace agreement.
"A young woman that lived her life in the way she chose to live it and campaigned for the things she believed in. And we should remember that bright spark, not simply to remember the way in which that spark left the world."
'Left me without the love of my life'
Ms McKee, who was also a published author, was shot when a gunman opened fire on police during rioting in the Creggan area of Derry on 18 April.
Her partner, Sara Canning, told a vigil in the city on Friday that they had planned to grow old together.
She said Ms McKee's senseless murder had left her family without a beloved daughter, sister, aunt and great-aunt and "left me without the love of my life".
We need your consent to load this rte-player contentWe use rte-player to manage extra content that can set cookies on your device and collect data about your activity. Please review their details and accept them to load the content.Manage Preferences
Ms Canning said McKee's amazing potential was "snuffed out by a single barbaric act".
Ms McKee rose to prominence in 2014 after a blog post called "Letter to my 14-year-old self" in which she spoke about the struggle of growing up gay in Belfast.
In the five years since, her letter was turned into a short film, she became a published author with Angels With Blue Faces, and had recently signed a two-book deal with Faber & Faber, as well as appearing in domestic and international publications.
Named as one of the "30 under 30 in media" by Forbes Magazine in 2016, Ms McKee was cited for her passion of "dig(ging) into topics that others don't care about".
We need your consent to load this rte-player contentWe use rte-player to manage extra content that can set cookies on your device and collect data about your activity. Please review their details and accept them to load the content.Manage Preferences
Additional reporting PA