Taoiseach Leo Varadkar has said he was not aware that Irish MMA fighter Conor McGregor would be marching in today's St Patrick's Day parade in Chicago.
Mr Varadkar, who also marched in the parade, said he did not have a chance to talk to Mr McGregor.
Asked if he thought it was appropriate to have Mr McGregor taking part in the parade and representing Ireland in this way, the Taoiseach said it was up to the organisers of the event to decide who would march.
He also said he did not think Mr McGregor was representing the country.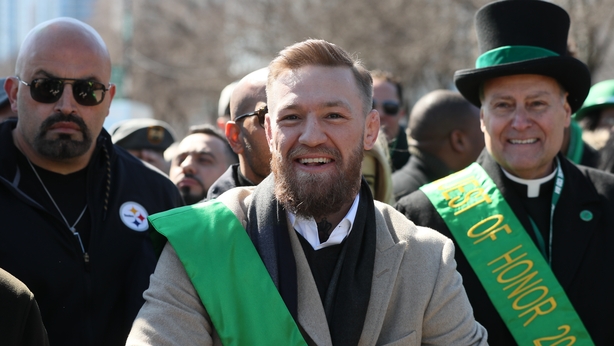 "That's what I, and Minister Michael Ring were doing. That's why we're here," he said
Mr Varadkar took part in the parade in Chicago this afternoon, where the festival was celebrated with the traditional greening of the city's river, and has taken a boat trip to see the green waters up close.
Mr Varadkar is in Chicago on the fourth day of his annual St Patrick's Day tour to the United States, and this evening's boat trip will mark the end of his official duties in the US to celebrate the holiday.
Taoiseach @campaignforleo and UFC fighter #ConorMcGregor among those marching in today's #StPatricksDay parade in Chicago. @rtenews pic.twitter.com/cwh9030Lb3

— Brian O'Donovan (@BrianOD_News) March 16, 2019
.@BrianOD_News reports from Chicago, where the traditional dyeing of the river for St Patrick's Day is taking place pic.twitter.com/OHE8TeCVOH

— RTÉ News (@rtenews) March 16, 2019
During his trip the Taoiseach said that US president Donald Trump could visit Ireland as early as June as part of his trip to Europe.
Mr Varadkar said "it would be most likely" Mr Trump would visit Ireland when he travels to Europe for the 75th anniversary of the D-Day landings later this year.
It comes after the US president confirmed he wanted to make the trip during a meeting with Mr Varadkar in the Oval Office in the White House on Thursday.
"He (Mr Trump) is going to travel to Europe for the D-Day anniversary and for the Nato anniversary so it's possible that he'll make the trip to Ireland before or after one of those but it's still early days yet," Mr Varadkar added.
"There's no firm dates discussed or agreed but he does intend to travel to Europe at least twice between now and the end of the year, it being added on to one of those visits would be most likely."
One of Mr Trump's golf courses is in the County Clare village of Doonbeg.