The weather this week has felt warmer than usual for February, especially considering that this time last year, we were in the grip of the 'Beast from the East'.
So why are we experiencing such warm weather in February? And is it connected with broader changes in our climate?
Senior climatologist from Met Éireann, Keith Lambkin, said that while this week's weather has been particularly warm, it is becoming part of "a growing trend".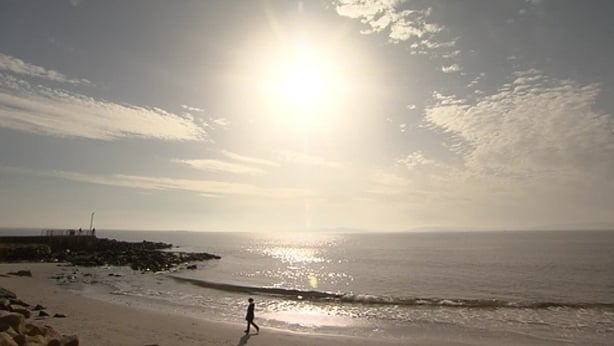 This is not the warmest February ever, if we look at maximum temperatures in most parts.
The highest February temperature on record from anywhere in the Republic is 18.1C in Phoenix Park, recorded way back in 1891.
But some parts of the country have this week broken their area's warmest February records.
For example, Belmullet, a station that has been open since 1956, had its hottest ever recorded February temperature on Monday, with a reading of 16.6C. Its old record, 15.1C, was set in 2008.
Staying in Mayo, Met Éireann's Claremorris station - which has been open since 1943 - smashed its old record of 13.8C, set in 1953, this week. It recorded a temperature of 16.5C on Monday.
"We will continue to monitor these over the next few days," said Mr Lambkin.
And while the above temperatures come from primary weather stations, Met Éireann points out that they also have many secondary temperature stations, which have not yet been analysed. They are not ruling out the possibility that the overall February record of 18.1C could have been challenged this week.
The below graph shows how February 2019 stacks up against the averages between 1981 and 2010. On the whole, this year's temperatures have been between 1.5C and 2.9C above 'normal'.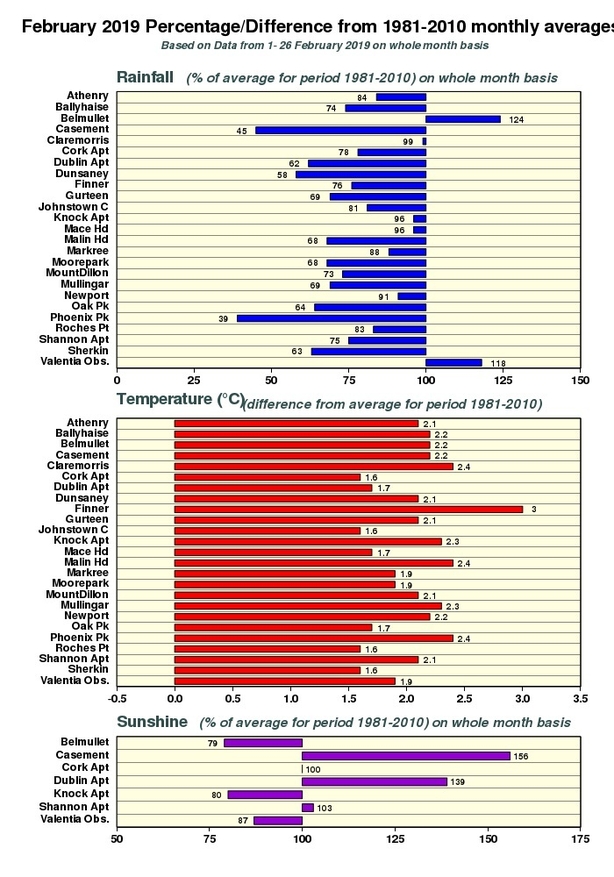 And Met Éireann has also shown how February temperatures from the last 30 years (the navy dots in the below graph) compare with the 30 years before that (the green dots).
"The shift towards warming is clearly visible," said Mr Lambkin.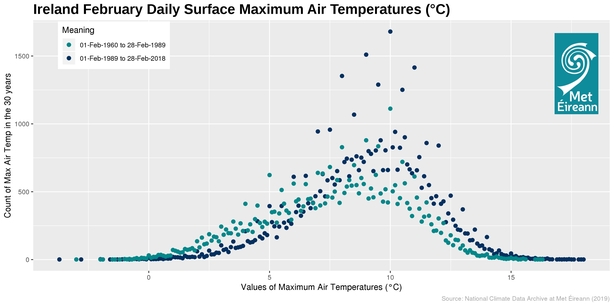 Wondering what the usual temperatures are for your area at this time of year? Met Éireann has data on the mean temperatures for each month at all the primary stations. These averages include the current year.
But there's no doubt about this February's contrast with last year's cold snap. Check out the chilly temperatures from the Phoenix Park this time last year (in blue to to the left of the chart) compared with now (to the right of the chart):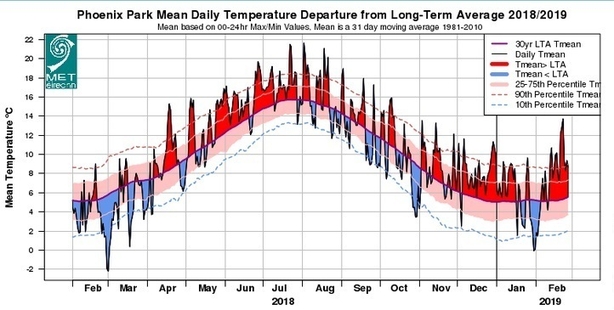 Just why is it so warm and sunny this week? Well, there's a saying within the meteorological community, according to Mr Lambkin, which says: 'Climate is what you expect, weather is what you get.'
"It is currently warm because these are the weather patterns we are currently experiencing," said Mr Lambkin.
NASA describes the difference between weather and climate as being "a measure of time".
"Weather is what conditions of the atmosphere are over a short period of time, and climate is how the atmosphere 'behaves' over relatively long periods of time," it says.
So, weather forecasters would give a thorough meteorological analysis of the current weather, describing how the current warm conditions are caused by a high pressure system across Europe, pulling warm air up from Spain.
We need your consent to load this rte-player contentWe use rte-player to manage extra content that can set cookies on your device and collect data about your activity. Please review their details and accept them to load the content.Manage Preferences
That's the current weather, not to be confused with the climate.
But that's not to say that the trend of warmer temperatures is not related to climate change. "Analysing our future climate models and past observations, we can say that we expect Spring to arrive earlier on average as we go forward," said Mr Lambkin.
"In fact we are already seeing this, not just in our temperature records but also in our phenology observations," he said, referring to changes in the start of the growing season by way of example.
"So while we are seeing the expected trend of warmer temperatures occurring earlier in the year, we can't categorically say at this point that this week's warm temperatures are directly caused by climate change. An in-depth attribution study, which takes some time, is required to try and answer that."
However, the climatologist added, it is "likely" that global warming is playing a part.
And despite the general trend of warming temperatures, this week's heat, and last year's cold snap, is proof that weather truly can be an unpredictable 'Beast'.