Irish nurses are striking over pay and staff shortages within the sector. But what are nurses actually making in Ireland?
Let's take a look at the numbers. These figures come from the INMO and are representative of the base salary scales for nurses and midwives as of 1 January 2019.
The representation below of incomes after tax are estimated, as a person's individual circumstances can affect their deductions. These basic salaries also do not include additional allowances, but we'll go into that later.
A newly qualified staff nurse or midwife, that is a nurse who has finished college, but has yet to be registered under the Nursing and Midwifery Board of Ireland (NMBI), would start on an annual salary of around €24,850.
After tax, that amounts to around €21,700, or a net monthly income of around €1,800. Broken down over a 39-hour working week, that is in the region of €11.50 per hour after tax. The INMO said most graduate nurses become registered with a nursing body within a matter of months.
However, the Department of Public Expenditure and Reform said that it is only a "matter of weeks" until qualified nurses are registered and moved on to a salary of €29,346.
A registered staff nurse or midwife starts at €29,346. After tax, that would work out at around €25,000 per year, some €2,100 per month, or around €500 per week. For a 39-hour working week, a nurse at this rung of the ladder would be getting around €13.50 per hour after tax.
The Department of Public Expenditure and Reform said that after three months, the nurse would move to €31,110 - point two of a 12-point salary scale.
That scale can reach a high of €44,343 in yearly increments.
"This is without allowances, overtime or premia payments which average at 20%," said a department spokesperson.
After three years on the maximum pay grade, a long service increment is applied, bringing this nurse up to €45,701 per year.
After tax, a salary at this side of the scale would give a nurse somewhere between €2,800 and €3,000 per month. That is in the region of around €18 per hour after tax.
A dual-qualified nurse is one who is trained and registered in two of the five disciplines. They can start on an annual salary of €35,806, which can slide up to €45,841 on the pay scale, again generally in yearly increments.
Public health nurses work in the community, usually from local health centres, and carry out house calls and school visits. They typically earn a gross salary of between €47,799 and €56,540.
A so-called 'senior' staff nurse or midwife can expect to be on an annual salary of €47,898.
The salaries for clinical nurses and clinical instructors at various managerial or specialist levels can vary. Usually, they fall on a scale between €45,000 and €64,000, approximately.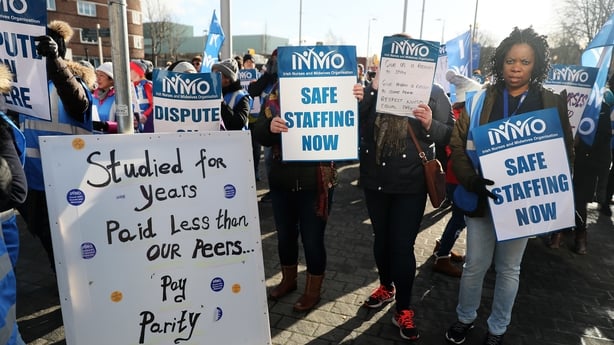 The INMO said that some nurses top up their salaries by volunteering to work more, such as overtime, unsociable shifts, or during holidays, for which they would receive additional payment.
However, the union argues that nurses should not have to "work themselves to the bone" just to make it to the same level as many other medical workers who have the same level of qualification (a Bachelor's degree) and who may be working on a more pleasant schedule.
**These take-home salaries have been calculated using the PwC income tax calculator, which takes Budget 2019 into account.**
---
Allowances
Nurses can also receive an allowance. The two most common forms of which are qualification or location allowance.
You can only get one or the other.
The location allowance is around €1,858 per year and is applied when a nurse works in a particularly specialised or high-intensity environment, such as a busy emergency department or a high-dependency unit.
The qualification allowance is €2,791 and applies to nurses who have an extra qualification, such as a Master's degree that is immediately relevant.
The INMO said that there were around 6,000 nurses receiving each of those allowances.
Once a nurse reaches a certain point, such as becoming a clinical nurse manager, they are no longer entitled to the allowance.
---
International comparisons
"Nurses in Ireland work the longest hours in the English-speaking world," said INMO spokesperson Michael Pidgeon.
Nurses in Ireland work a 39-hour week as a base.
In the UK and Canada, the standard week is 37.5 hours, in Australia it is 38 and in the US it is 37 hours, according to the union.
Mr Pidgeon said that this point is "rarely taken into account when comparing salaries, which is why we often use hourly rates" to show the differences.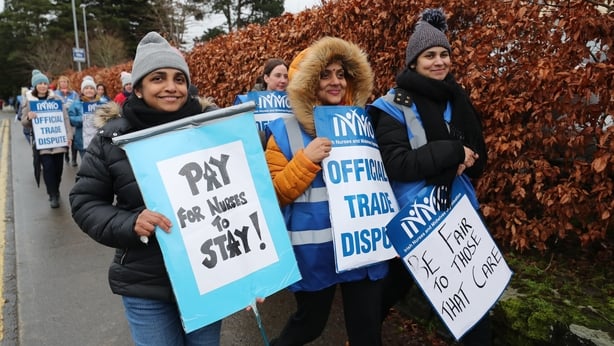 In a submission to the Government in 2017, the INMO compared pay levels in Canada, England, Australia and the US, using Purchasing Power Parity.
This is a system of comparing international finances by using a standardised unit across all countries, based on how far your money would go there.
It is not in any particular currency, so is supposed to be a true comparison.
The INMO does not include comparisons with the Middle East, as pay is so high in these countries that Ireland simply does not compete with them.
Here's the PPP comparison for an entry-level nurse: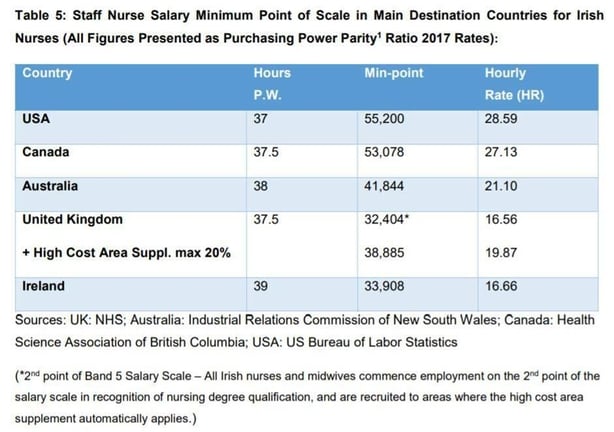 This is the mid-point level comparison: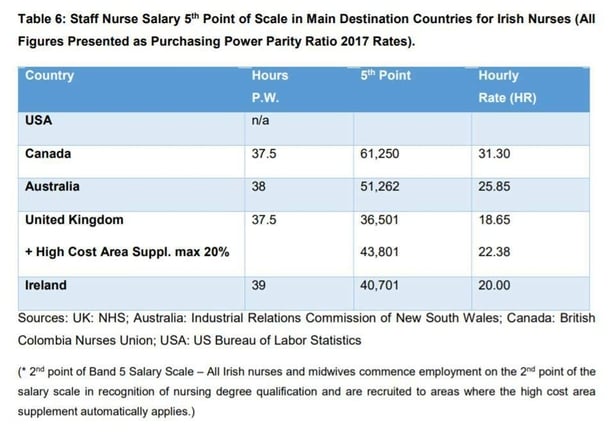 And here is the comparison of the most experienced nurses: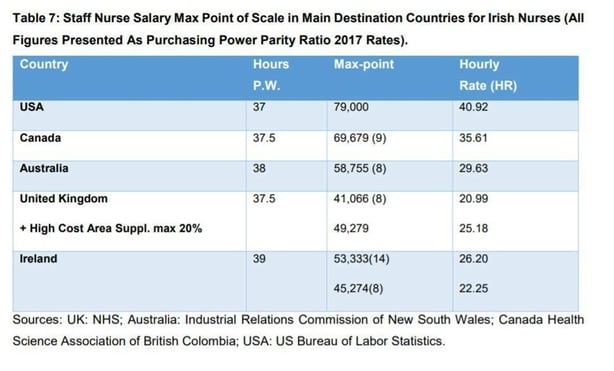 The INMO spokesperson argued that "nurses in Ireland do worse at every point on the scale than the USA, Canada, and Australia".
"They do similarly to the UK, but not if the nurse is working in London or a big city, where they can get the 'high cost area supplement' in the NHS," he said.
This supplement is given to nurses who live in expensive areas in the UK and is a contribution towards accommodation.
Even if they are being paid the same sum, they are able to have more of their own money after rent. This is why so many Irish nurses are attracted by London, said the INMO.
"Such an additional payment doesn't exist in Ireland, but makes the London salary much more attractive to Irish nurses, which is where we know most of them go," said the spokesperson.
Pay scales for newly qualified nurses:
---
Patient ratios
In California, it's the law to be 4:1
In Australia, it's usually either 4:1 or 6:1
In Ireland, the aim is to stay below 8:1, but nurses report that it is often worse than that. On day shifts, it can hit 12:1, while on night shifts, it can be 15:1.
The INMO argues, citing international studies, that once you go beyond eight patients per nurse, patient harm increases.
---
Emigration nation
Ireland trains 1,700 nurses and midwives a year.
According to a Freedom of Information request by the Irish Mail on Sunday in 2017, 1,343 nurses in Ireland registered with the NMBI (the nursing regulator) to work overseas.
Between 2007 and 2017, 19,386 nurses left Ireland. 
The INMO also thinks that this figure is likely to be an underestimate, as some nurses and midwives leave before registering with the NMBI.
In 2018, the INMO surveyed final year nursing and midwifery students if they were considering leaving. 71% said yes, citing pay as their main reason.