Muslim women living in Ireland have been marking the seventh World Hijab Day, which this year aims to challenge stereotypes and shatter boundaries.
The 150-seater venue for the World Hijab Day breakfast - a hotel in Dublin's Portobello area - was thronged, for the most part with women.
The majority were clad in ankle-length - mostly colourful - coats called jilbabs and sported hijabs of various shades, shapes and sizes.
Nobody wore the niqab, the veil that covers the whole face except for the eyes, which is very rarely seen in Ireland. 
The Arabic word "hijab" means "curtain" and describes many styles of head covering used by Muslim women throughout the world. 
According to Eshan Massod's "British Muslims-Media Guide" (2006), Muslim theologians differ on whether it and the niqab constitute a religious requirement.
The most relevant passage in Islam's most holy book, the Qur'an, records that the Prophet's wives were asked to cover themselves. However whether that should be taken literally or as a broader summons to women and men simply to dress modestly is a matter for ongoing debate. 
The organiser of this morning's WHD gathering is Lorraine O'Connor, a convert to Islam who is a native of the north Dublin suburb of Coolock. She believes that as a Muslim she has a religious duty to wear the hijab and says the only people who regularly see her hair are her husband, children and father-in-law.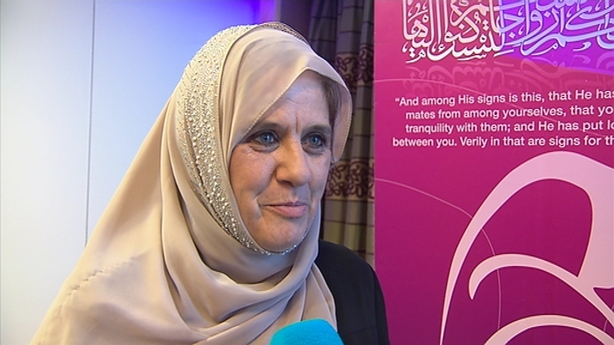 The chair of Muslim Sisters of Éire, a charitable organisation which organises a regular Friday evening soup kitchen for the capital's homeless at the GPO says most reaction to her dress code is positive. 
Ms O'Connor showed the breakfast gathering a video recorded at the GPO food stand which features a hilarious running commentary by a male Dubliner, possibly a homeless client, as he wishes her a happy birthday. Her message today to her mostly Muslim audience was to engage through activism with the rest of the population here.
On being told on one occasion by a passer-by who picked on her because of her dress code to "go back to your own country", she replied: "Where do you want me to go, Coolock or Darndale?"  
We need your consent to load this rte-player contentWe use rte-player to manage extra content that can set cookies on your device and collect data about your activity. Please review their details and accept them to load the content.Manage Preferences
Muslims - a category that includes both Sunnis and Shias - constitute the Republic of Ireland's third largest faith grouping, numbering 63,400 in the 2016 census.
Although that marked an increase of 28.9% on the 2011 count, they live in a predominantly Catholic society with 78.3% recorded as belonging to that denomination. 
This morning's meeting was addressed by seven speakers, mostly female and mostly wearing the hijab. A husband cradled his 16-month-old son as his Sudanese-born biochemist wife sat down with this journalist and a Pakistan-born female doctor to discuss on camera the positive and negative responses the "curtain" has evoked in their day to day lives. 
For the past 19 years, Dr Sabina Syed has lived in a number of Irish provincial towns. She says she has enjoyed explaining her choice of head covering, emphasising that she is delighted to affirm that her motivation comes from within herself and not from her husband or anyone else.
Her companion, Manal Elrufaie has lived here for 20 years. She speaks warmly about the acceptance of the hijab by her daughters' Catholic Church-managed secondary school, St Mary's College in Naas, Co Kildare. 
She recalls hearing complaints about other schools where the hijab has become a point of contention. [Under a Department of Education directive, school boards have the discretion to write their own rules about dress code on their campuses.]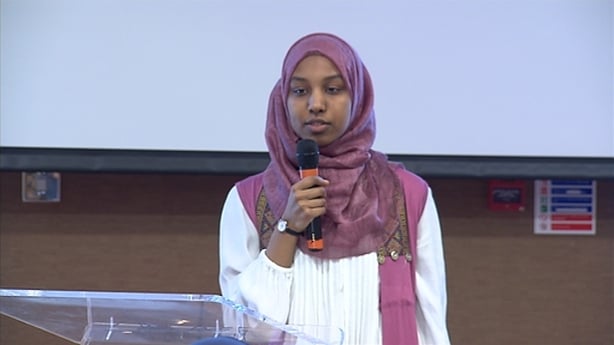 One of Ms Elrufaie's daughters was encouraged to make a presentation to her class about her dress code. And today another daughter, Sarah Babiker, a history and politics student at Trinity College, wore a striking pink niqab and matching hijab as she made her own presentation to the WHD breakfast.
She recounted how plans by a college debating society to debate a motion urging Middle Eastern women to accept western feminism were dropped recently following a series of representations which she clearly supported. She said the protestors feared that discussing such a motion would cause disunity at a time when the student population needed to find a middle ground.
Conceding that this left her and her fellow students in "a no-man's-land", she recalled the olive branch tendered on the first Christmas Day of the First World War by German soldiers at the front.    
She praised their offer to play football in No Man's Land with Allied troops with whom they had been exchanging fire from trenches hundreds of meters away. The example set by the Christmas Truce should be followed, she said, by everyone in today's Ireland where, as she put it in the title of her talk, "A Clash of Narratives" is evident.
This evening, the Muslim Sisters of Éire are rounding off World Hijab Day by setting up their regular Friday evening soup run for homeless people outside the GPO.