A group of transgender activists have staged a protest at RTÉ's Donnybrook campus over the inclusion of Graham Linehan in tonight's Prime Time programme on transgender issues.
An interview with the Father Ted creator was included in tonight's programme on RTÉ One.
Watch the programme here
A group of about 50 activists gathered at the RTÉ entrance this evening to express their disappointment over his inclusion.
Protest organiser Noah Halpin of the This Is Me group addressed the crowd, saying Mr Linehan has no expertise in subjects relating to trans-identity, gender recognition legislation or healthcare.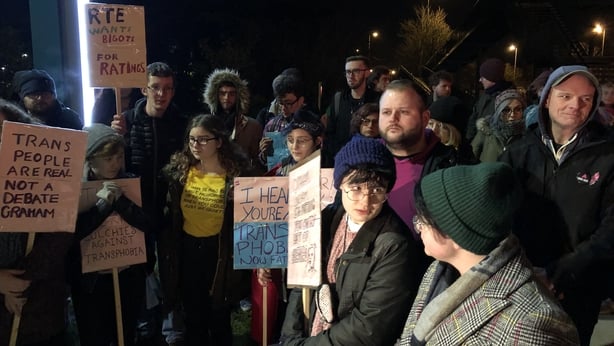 Mr Halpin said that by allowing Mr Linehan to have an input into the programme, RTÉ is proving it is succumbing to "rate-based reporting".
In a statement to the gathered protesters, Mr Halpin expressed upset that only two trans people will feature in the programme.
"No one is more expert in trans lives than trans people. This conversation must include trans people, and those with educated experience in subjects relating to trans identities. This is who Prime Time should be featuring to ensure complete accuracy," he said.
RTÉ has said that "ten contributors representing a broad range of views are interviewed" in the programme.
In a statement this evening, the broadcaster said: "The programme examines the exponential growth in the number of young people seeking to change gender, and the implications of the proposed new law allowing them to do so without their parents' consent.
"It also asks how society should treat 'female-only' spaces in the light of the growth in the number of transgender people."
RTÉ said it was "confident that viewers will find the programme to be a fair and responsible examination of an issue of considerable public importance".
Tonight on Prime Time we hear from the parent of a child who says they are transgender. That's RTÉ One at 9.35pm #RTEPT pic.twitter.com/EvvRDzt3lr

— RTÉ Prime Time (@RTE_PrimeTime) January 22, 2019
Rose Van Geest, one of the people who attended the protest, said that there is a lot of misinformation being spread about transgender people.
She said that one of the biggest misconceptions about being transgender is that it is "born from trauma or something else.
"I want people to see that I am trans, and that people can regard it as a bit more normal as opposed to the sort of freak-show it was shown as ten years ago, and sadly still today," she said.
Additional reporting: Mark O'Flynn