The head of the main organisation which represents members of the Irish Defence Forces has said he would find it very difficult to advise potential recruits to enlist.
Speaking on RTÉ's This Week, Ger Guinan, the General Secretary of PDFORRA, said that many soldiers and their families were struggling with low pay, unresolved issues over allowances and were struggling to find suitable accommodation.
Asked whether he could recommend a career in the Defence Forces to younger people he said: "In good conscience I'd find it very difficult.
"I know the defence forces has been very good to me and to many people, but at the same time at the moment it's a very difficult career to enter and sustain especially when you have a young family."
His comments come as Taoiseach Leo Varadkar was in the west African state of Mali, meeting Irish troops on overseas missions there.
Mr Guinan said people in the Defence Forces should have an expectation that they would be properly remunerated.
"Being forced out through economic necessity is not a good human resource policy" he said, adding "corporate knowledge is being lost at an alarming rate."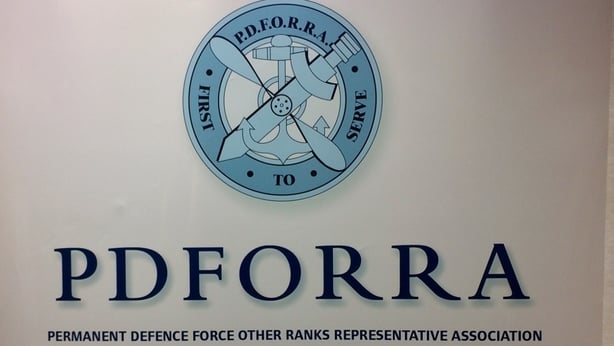 He said that while pay is being restored in line with public service pay agreement underlying cuts, "pay will still not be the same as it was in 2008."
The Defence Forces said that soldiers pay was being addressed by the Public Services Pay Commission whose work was ongoing, and therefore they couldn't comment.
The programme also heard from a young woman whose husband was due to travel on overseas mission to Syria later this year, who said that she, her husband and their two children were unable to find a home and were currently "couch surfing" in friends homes.
She felt proud of the role played by members of the Defence Forces, she said, but added that army families were being disrespected by the low levels of remuneration paid to troops.
We need your consent to load this rte-player contentWe use rte-player to manage extra content that can set cookies on your device and collect data about your activity. Please review their details and accept them to load the content.Manage Preferences
She said that many soldiers going on overseas missions were doing so primarily because it was their only means of putting money aside, for house deposits or other essential saving.
She also said that her husband, like many others, was now attempting to obtain sufficient skills to enable him to leave the Defence Forces as soon as possible.
The Department of Defence has said that the Public Service Pay Commission requested submissions from both management and staff representative associations.
The Government will give due consideration to the findings and recommendations of the Commission.
The Department said it could not comment on PDFORRA's submission having not seen it and it would not be appropriate to comment further at this stage on the ongoing work of the Commission.
Similar to other sectors in the public service, the pay of Permanent Defence Force personnel was reduced as one of the measures to assist in stabilising national finances during the financial crisis.
The Department said that pay was being restored to members of the Defence Forces and other public servants in accordance with public sector pay agreements, the focus of which was to provide the most necessary benefit to those on lowest pay levels.