The wife of an Irish soldier who was due to arrive home from a six-month tour of duty in the Golan Heights this morning has said trying to explain to her daughters that their daddy was not coming home for another two weeks was like "cancelling Christmas".
The Dáil was told this morning that 119 Defence Forces personnel serving in Syria, who were due to fly home earlier this week, will not now return until later this month.
Minister of State with responsibility for Defence Paul Kehoe said an issue arose in relation to diplomatic clearances last Monday, which could not be resolved to allow the rotation to proceed.
The soldiers who were due to replace those on the United Nations mission have also been delayed in travelling to Syria.
Speaking on RTÉ's News at One, Nuala Walsh, from Ballyfermot in Dublin, said she and her daughters have been counting down the days until her husband returned.
In particular, she said, her seven-year-old daughter Madison has been looking forward to his return and marking off the days in her homework journal.
Ms Walsh said she only found out on Monday evening that her husband would not be home this week and she had to break the news to Madison.
She said her daughter cried herself to sleep on Monday and woke several times during the night, saying she could not stop dreaming about her daddy.
She added that Madison was still very distressed and keeps asking if her daddy is okay and when he is coming home.
---
Read more:
Chief of Staff denies 'crisis' in the Defence Forces
Defence Forces staff 'buying themselves out of service'
---
We need your consent to load this rte-player contentWe use rte-player to manage extra content that can set cookies on your device and collect data about your activity. Please review their details and accept them to load the content.Manage Preferences
She said this was too big a mistake for the Department of Defence to make and there are little boys and girls all around Ireland who are devastated that their parents are not coming home today.
Minister Kehoe said it is now planned to rotate the contingents on Monday 15 October, with the soldiers in Syria arriving home the following day.
He said that he had been in direct contact with Ireland's honorary consul in Beirut, Georges Siam, to try to resolve the situation.
Mr Kehoe apologised for the impact the delay was having on the 119 personnel and their families.
He said allowances due to personnel while they are serving overseas will continue to be paid and their 30-day post deployment leave entitlements will only commence when they return.
Additionally, personnel delayed in returning home are to receive a €1,000 ex-gratia payment in recognition of the disruption caused to them and their families.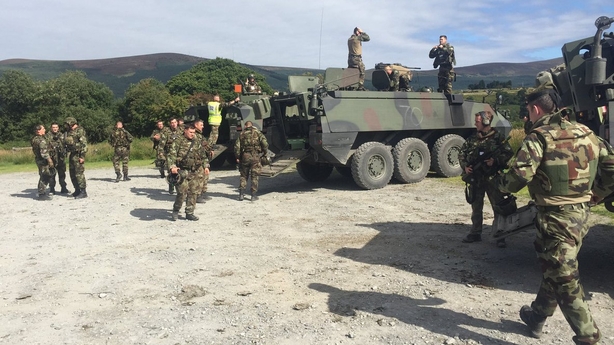 PDFORRA, the Defence Forces representative association, has said the incident should not have happened and has called for a thorough investigation.
The soldiers are members of the 57th Infantry Group, who are serving with the UN Disengagement Force in Syria.
They are due to be replaced by the 58th Infantry Group, which will be the first Irish Defence Forces contingent, since April 2015 to deploy directly to Camp Faouar on the Syrian side of the area of operation.