The first litter survey of Ireland's coasts and waterways has found that 40% of rivers, beaches and harbours were littered or heavily littered.
The survey, which was carried out by An Taisce for Irish Business Against Litter, found that only four out of 50 sites examined were clean to European standards.
It found only one beach, Salthill in Co Galway, and only one harbour, Kinsale in Co Cork, to be clean to European norms.
Lanesboro on the Shannon in Co Longford and Carrick-on-Shannon in Co Leitrim were the only two other sites found to be clean.
IBAL said there was a need to address litter issues in parts of the Wild Atlantic Way and it classed Doolin Pier in Co Clare as a litter blackspot.
The report said it had a high level of litter and dumping and was a very unpleasant sight for tourists.
It said the car park area was particularly bad and there did not appear to any bins or litter awareness notices at the pier.
IBAL spokesperson Conor Horgan said: "We know the success of the Wild Atlantic Way is placing strains on infrastructure of various kinds.
"Litter is a likely consequence of this and one local authorities need to manage to ensure the appeal of the Way is sustained."
The other two litter blackspots are both in Cork harbour.
They included Blackrock Castle, where majority of the litter appeared to be washed up rather than dumped, and the Ballincurra/Midleton area of the harbour, which was described as persistently heavily littered.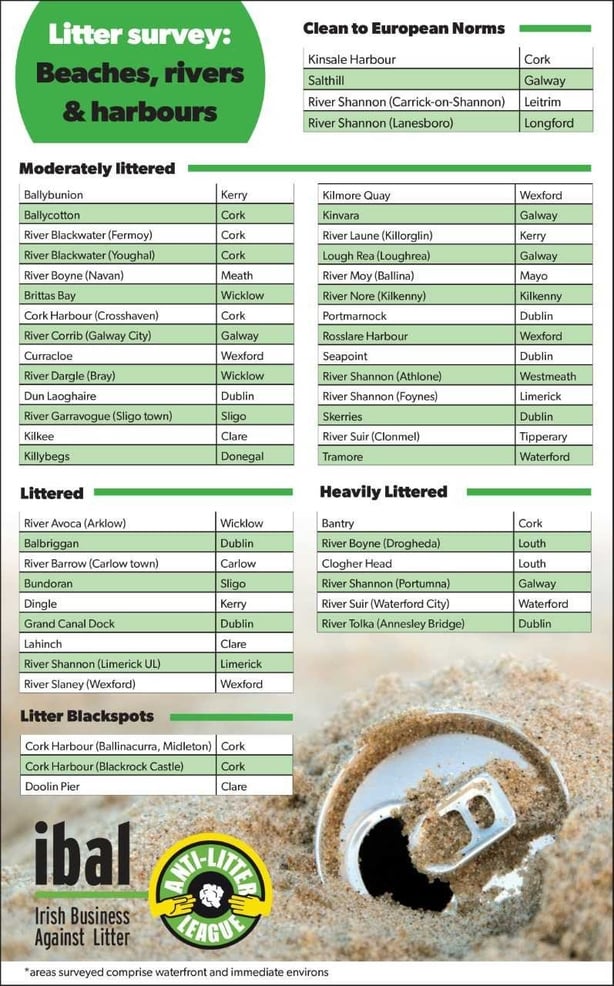 RTÉ Brainstorm: 'We're at a critical juncture for coastal management in Ireland'