Children's charity Barnardos has said that an increasing number of parents are being forced into debt to cover the cost of sending their children to school.
The organisation's annual school costs survey finds that the basic cost of sending a child to school has increased in 2018 across both primary and secondary level.
More than 2,000 parents took part in the survey, which found that it costs more than €360 to send a senior infant child to school, and significantly more for a first year pupil, at an average of €765.
It found that 11% of primary-school parents and 21% of secondary-school parents are forced to borrow money to cover the costs.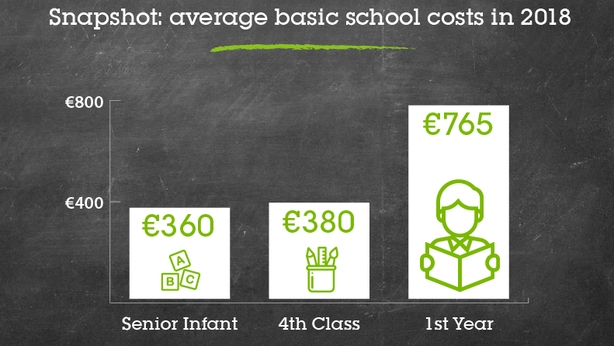 More than half of respondents reported an increase in the cost of schoolbooks this year, while the number of parents being asked to pay a voluntary contribution has also increased since last year.
Barnardos CEO Fergus Finlay said: "Parents are fed-up being forced to amass debt or fall behind on essential bills year after year in order to cover the most basic costs of their children's education."
The charity said that by refusing to fully fund the education system, the Government is placing families under significant stress.
Barnardos has called on all politicians to finally tackle the burden of school costs and make the provision of free education a political priority.
The Department of Education said the 'Back to School Allowance' has been increased by €2.1m this year and Minister for Education Richard Bruton will shortly be publishing a bill which will require schools to consult with parents' on school costs.
The charity has said that it is absurd and immoral that the Government is not prepared to spend the money necessary to make primary school education genuinely free.
Speaking on RTÉ's Morning Ireland, Mr Finlay said the total cost of making primary education free, apart from the cost of uniforms, would be €103m.
"It's a tiny proportion of the overall budget of the department," he said.
He added: "In a growing economy it is nothing, it is petty cash and in an economy that says that every child has a constitutional right to primary school education it is absurd and slightly immoral for a Government to say we're not prepared to spend that money.
"The return on that investment in terms of what it does for parents, what it does for children would be enormous," said Mr Finlay.